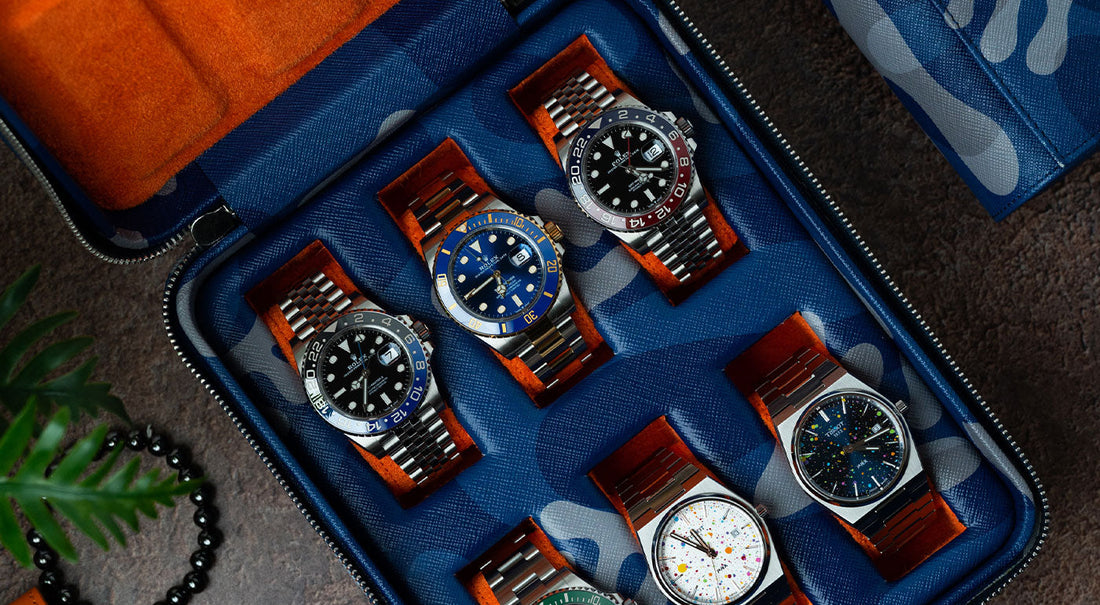 There are many who love the aesthetic and skills challenge of making a DIY watch case, where they can ply their woodworking hobby or leatherwork. But not everyone has the time or aptitude for a DIY watch case. Some prefer to make their DIY watch case with their woodworking skills. For those who would prefer to find the perfect watch case already made, those made by IFLW are truly beautiful pieces that will be a welcome addition to any watch lover's collection. 
Watch Cases
Watches are a significant piece of a complete style, which many collectors guard as works of art rather than items for daily use. Regardless of the size of the investment, protecting and storing watches is paramount to keeping them in perfect condition. That is where watch cases come in. In this article, we focus on the many styles of watch cases, particularly those from IFL Watches.
IFLW is a website for watch lovers, collectors, and those who have a passion for watches.
IFLW camouflage box
These watch cases are made in Italy and designed for luxury, but provide durable protection for craft timepieces. Ideal for travel, the IFLW Camouflage watch case fits perfectly in your suitcase and comes with space for either 6 or 10 watches, depending on the model. Velvety-soft Alcantara keeps the interior a safe watch storage space, meaning you don't have to worry about scratches on your watches' faces or bands. The long-lasting box also has a waterproof and scratch-resistant leather exterior.
These gorgeous camo watch cases come in three different eye-catching colour schemes: jungle green with a bold red interior, blue with a contrasting orange inner lining, or orange with neutral beige watch beds.
Details are crucial, and that's why IFLW spent over one year getting them right on this design. The camo style is unique and coordinates impeccably. For security, these boxes feature two silver zips that meet at the front, meaning that you can add a lock for extra safety. Furthermore, the cushion shape can accommodate different wrist sizes.
Mackenzie luxury watch case
If you are looking for a bigger storage box for your watches, then this is the product to go for. The Mackenzie watch case can store either 10 or 12 pieces. The box also has room for keeping jewelry and other small accessories. This Charles Simon masterpiece is crafted in cherrywood and leather, as well as aluminum and carbon fiber, with an ergonomic handle for easy carrying.
To guarantee the safety of your pieces, Mackenzie cases have a code lock on their handles. Adding extra functionality are the removable compartments to allow for easy cleaning. You can get the Mackenzie watch case in either black or marine blue.
Other products
Watch rolls
Alternative to watch box cases, you can opt for watch rolls. These come in Saffiano and EPI leather exteriors too. Each roll comes with a decadently soft Alcantara interior and a snap button for closing. Like the watch cases, watch rolls at IFLW are available in plain colors or camouflage. Basic colours include black, blue, pink, or grey, while camouflage can be green, blue, or orange.
Regardless of the item, when you buy from IFLW, durability, elegance, and uniqueness are certain. Whether you choose a DIY watch case or a watch roll, the quality is unmatched.
Rolex Day-Date Puzzle Dial - Which Celebrities Own It
These timepieces, available in white, rose, or yellow gold, feature jigsaw-inspired enamel...