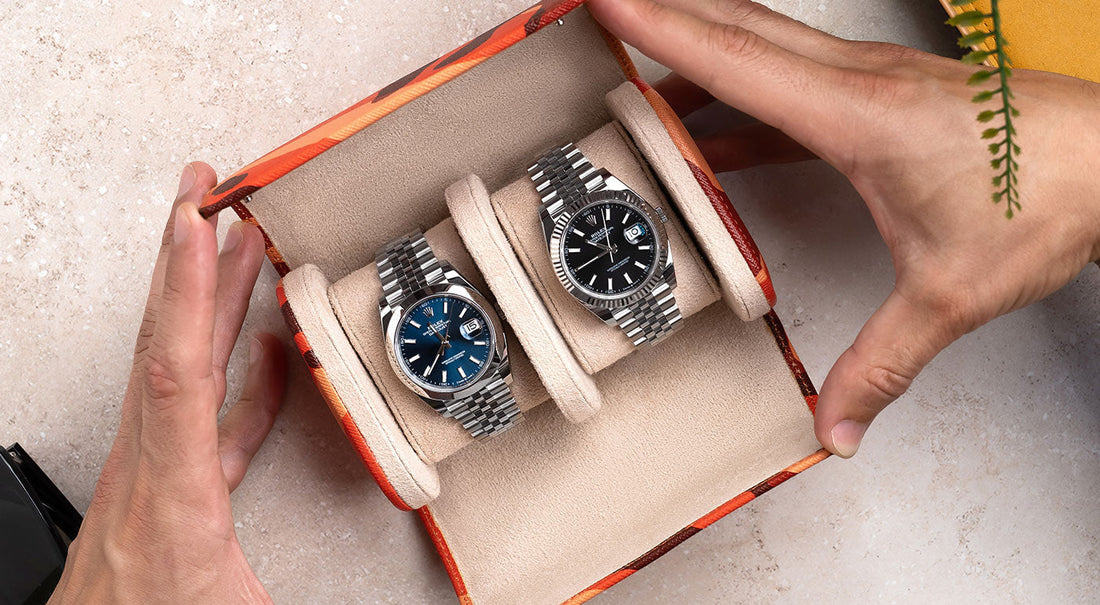 Find Your Next Rolex Leather Watch Roll
Looking for a stylish way to carry and store your precious Rolex watches? Then you should consider a leather watch roll. These types of cases are elegant and look beautiful on a dressing table, in a wardrobe or even in a display cabinet. There are several designs available and the cases can hold from 1 to 4 watches. The interior's made from suede-like material, which keeps your watches safe from scratches and other damage. Plus, the roll-up design makes it easy to pack up and take on the go — no more fumbling with individual boxes.
Leather material
A leather watch roll's designed to protect your timepiece from scratches, dust and other environmental elements while it's not in use. It also provides a convenient way to keep track of your other smaller accessories, such as keys and cufflinks. The best part? These rolls are made from high-quality leather that will last for years—even if you're an active person who tends to drop things frequently.
Suede lining
Just as expensive-looking as the exterior is an ultra-luxurious interior. The suede Alcantara®️ lining is soft and comfortable, helping to protect your watch from scratches. It adds a touch of luxury that your elegant Rolex watches deserve. This interior can be cleaned with a damp cloth or water.
The watch roll design
You're obviously not going to want to wear your Rolex on your wrist all the time. A leather watch roll is, thus, the perfect solution for your Rolex. Made with soft but durable leather and a classic design, it is both convenient and stylish. The roll-up design allows you to store your watch safely in your pocket, briefcase, or wardrobe until you are ready to wear it again.
Thus, there are specific genuine leather watch rolls that you can use with your Rolex. Moreover, the design and the material are sure to last a lifetime.
The most impressive Rolex leather watch rolls
There are many choices for you when it comes to IFLW's leather watch rolls. Remember, they are all handcrafted in Tuscany, Italy using the region's local leather. But, each is designed to suit all tastes and to allow the owners to express their personalities.
Some recommendations for a beautiful Rolex leather watch roll are:
1. Show off your vibrant personality: There are a number of brightly colored watch rolls including the royally purple Amethy, energetic orange Macaw, lush green Cayman, and blazing red Amaryll. Each made one's made with soft EPI-leather, then finished off with an attractive Alcantara® lining to match.
2. Remain elegantly cool: The Saffiano Watch Roll range includes classically elegant, black, blue, and grey watch rolls. Each has delicate details such as the contrasting orange stitching on the black cases.
Conclusion
The watch roll is a beautiful and elegant way to protect your timepiece. It has a suede lining, which makes it resistant to dust and scratches. The leather material is durable enough to withstand many years of use, while still looking great on your wrist or at home in your drawer.
Rolex Day-Date Puzzle Dial - Which Celebrities Own It
These timepieces, available in white, rose, or yellow gold, feature jigsaw-inspired enamel...