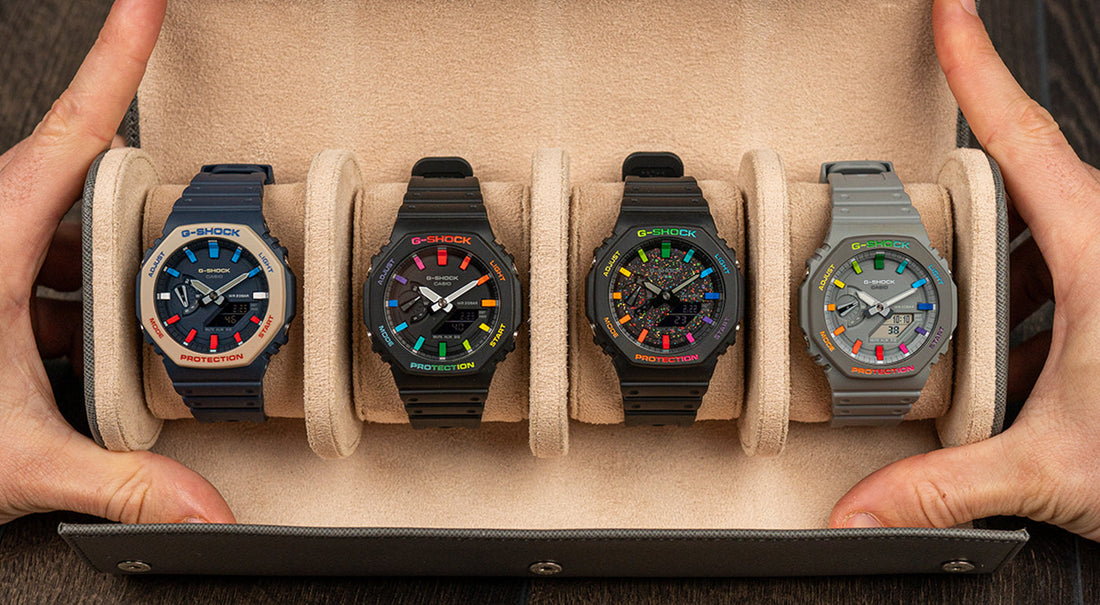 Introducing our new IFLW CasiOak Watches
Our first ever limited edition watch was a huge success. Now, we are introducing the second chapter with our new Casio 'CasiOak' IFLW Editions.
The Collaboration
Our first-ever limited edition was a huge success. All 50 pieces were sold out in less than 48 hours and we were blown away by your tremendous support and love for the IFLW Rainbow Edition "CasiOak".
We are continuing and evolving our relationship with the very talented 'The Dial Artist' and we are pleased to introduce four brand new "CasiOaks" customizations to you.
The Casio G-Shock GA-2100-1A1ER also known as the "CasiOak" amongst watch collectors has been a huge hit since its launch in 2019. The nickname is a nod to the famous Audemars Piguet Royal Oak with its legendary design and octagonal bezel, a feature that is also present in this Casio G-Shock.
When we first saw 'The Dial Artist' work, we more or less immediately reached out to him to discuss a potential collaboration. It felt natural to do the CasiOak since it is such a popular watch that many enjoy, from the hardcore watch nerds to the people that just want a cool looking watch.
Personally we enjoy the "rainbow" style watches because of its playful theme with colors. We also wanted to introduce something else than just Rainbow versions and when we saw the blue CasiOak we felt it would look amazing in a "Pepsi" version.
The Watches
CasiOak Galaxy Limited Edition
All watches are meticulously hand-painted by 'The Dial Artist,' both the index and text on the bezel of the watches. 
First out of the new additions is our "IFLW Galaxy Limited Edition." This piece is limited to 200 pieces. It features a rainbow theme on the bezel and indices and a "splatter effect" dial. Since every piece is painted by hand, every watch is unique in its own way.
CasiOak Grey Rainbow
Secondly, we introduce the "Grey Rainbow." Here we have given the brand new "Grey CasiOak" the IFLW and Dial Artist rainbow touch. We think this one is absolutely gorgeous and will be well received by you guys.
CasiOak Pepsi
Next in line is the "Pepsi" – a nod to the iconic Rolex GMT-Master II that has been nicknamed the "Pepsi" by collectors for its blue and red bezel.
This watch base model is also from the latest release by Casio, the GA-2110ET-2AER.
CasiOak Black Rainbow
Lastly, we wanted to offer you the classic "Rainbow" in the black version. Unlike our first limited edition, this version of the Rainbow is based on the GA-2100-1AER (which originally has white text in the bezel and matching white hands).
It also has a "Red Rainbow" with the first index 12 o'clock starting with a red color (instead of green as seen on our first limited edition).
The watches themselves are made out of a high-strength resin material, which is reinforced with carbon fibers, making it possible to create a case that is a mere 11.8 mm thin, which is the thinnest among G-SHOCK models.
It measures 45mm in diameter but wears comfortably on smaller sized wrists. The watch features a mineral crystal and is shock resistant and water resistant to 200m.
A perfect watch for daily use with a playful touch.
Specifications of IFLW CasiOak Watches
Brand: Casio
Model: G-Shock
Reference number: GA-2100-1A1ER, GA-2100-1AER, GA-2110ET-8AER, GA-2110ET-2AER
Functions: Multi-function analog-digital with analog display of the minutes and hours, and day of the week indication
Material: Carbon fiber reinforced resin
Dimensions: 45×11.8mm
Crystal: Mineral crystal
Dial: Black/grey/blue/black "Galaxy" dial with hand-painted indices
Bezel: Hand-painted bezel
Lume: Super Illuminator with Auto Light
Water resistance: 200m
Box: Yes, original box
Certificate: Yes, original papers
Price: 599€ for the 200 piece limited edition
549€ for the non-limited editions
Celebrity Chef Gordon Ramsay Watch Collection
Explore celebrity chef Gordon Ramsay watch collection, from luxury brands like Rolex...