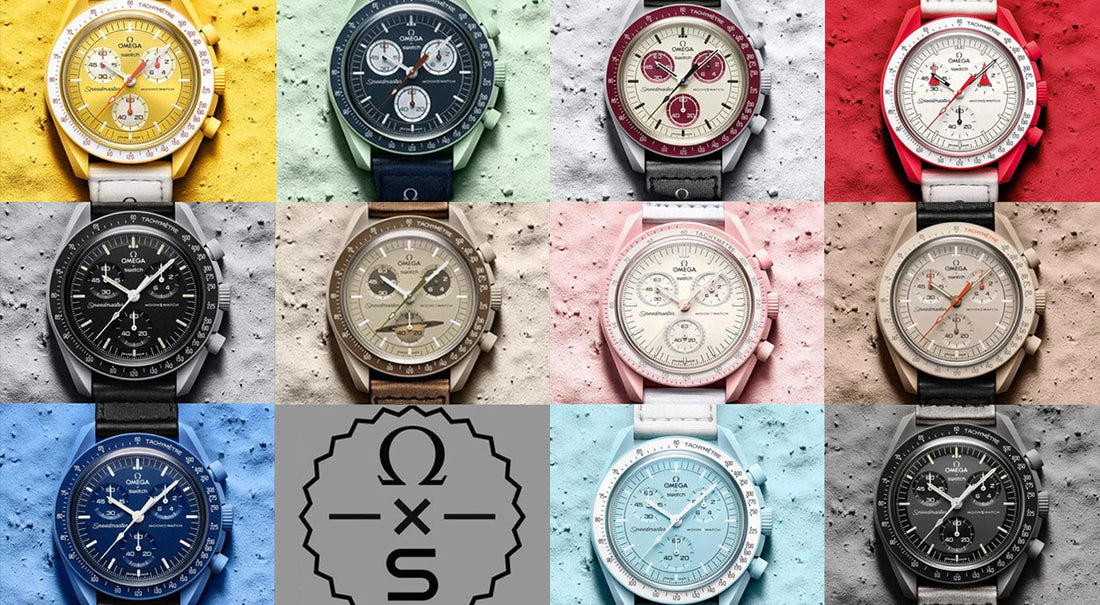 MoonSwatch - Boosts Moonwatch Sales
MoonSwatch - Sales of the Omega Speedmaster Moonwatch skyrocketed by 50% thanks to the MoonSwatch hype, created by the collaboration between Omega and Swatch earlier this year, in March 2022. This is so amazing, considering that it has only been four months since the cheap version of 'Omega' is available on the market for only $260.
The MoonSwatch broke the internet when it was released on 26 March 2022. There were lots of chaotic scenes reported from all over the world. When two Swatch stores finally opened on launch day, there were tumultuous scenes at The Dubai Mall and Mall of the Emirates.
Swatch's Carnaby Street location in London was forced to close due to enormous crowds that had reportedly collected outside and been shoved forward. A viral video in Taipei, Taiwan went viral showing the situation when a mall just opened and it looked a lot like a Zombie apocalypse. Other cities all across the world reported seeing similar scenarios at stores.
When the MoonSwatch went on sale in March, it instantly went viral online. Swatch retailers around the world experienced long lines and swift stock sales. People waited in lines for hours only to get a chance to purchase the new MoonSwatch, and despite stores only being able to sell two watches per client, they sold out almost instantly.
Swatch claimed it was unable to satisfy demand. Insane!
MoonSwatches being sold on the grey market are fetching prices two or three times the suggested retail price. More insane!
I totally agree with the statement made by Brian Duffy, Chief Executive of Retailer Watches of Switzerland, to Bloomberg that what they did with the Swatch version of the Moonwatch was genius.
I'm really impressed with their idea to design a watch that resembled an Omega but cost as much as a Swatch. It was very brilliant since it raised awareness to new heights and served as the Omega Speedmaster's most effective advertising campaign since the 1960s NASA Space Program.
Apparently, the strategy succeeded as Bloomberg reported that on 6 July 2022, Swatch Group CEO Nick Hayek confirmed that following the MoonSwatch announcement, sales of Omega Speedmaster Moonwatch have increased by more than 50%.
Such a good advertisement for the watch that became the first watch worn on the moon when Buzz Aldrin, an American astronaut, walked on the lunar surface in 1969, and that is why the watch is called 'Moonwatch.'
Nick Hayek, Chief Executive Officer of Swatch Group AG, during a Bloomberg Interview in Biel, Switzerland, 6 July 2022
Photo: Bloomberg​​
MoonSwatch - What is that?
All 11 watches in the MoonSwatch collection made of bioceramic, a material that was initially created for space travel and is composed of two-thirds zirconium dioxide ceramic and one-third bio-derived plastic, typically manufactured from castor oil.
The key Moonwatch design features are all there - the asymmetrical case, the famous tachymeter scale and the distinctive Speedmaster subdials, which all work perfectly. Each watch is named after a different planet in our solar system (including sun and moon), bears the inscription "Mission to" carved on the back, and pays homage to its namesake with colouring.
MoonSwatch collection (le-ri): Mission to the Moon, Mission to the Sun, Mission to Mercury, Mission to Venus, Mission on Earth, Mission to Mars, Mission to Jupiter, Mission to Saturn, Mission to Uranus, Mission to Neptune, Mission to Pluto​​
When will MoonSwatch be available online?
In the beginning, Swatch had officially announced (and assured everyone) that the MoonSwatch would go on sale online at www.Swatch.com at a later date.
However, that quickly changed. Until now, Swatch has not officially selling the MoonSwatch on their official website. 
However, there are several ways to buy the watch online. But all of them, it appears, are re-sales by those who have bought the watches.
Speaking of affordable watches, we also have affordable watches in our collection. 
Rolex Day-Date Puzzle Dial - Which Celebrities Own It
These timepieces, available in white, rose, or yellow gold, feature jigsaw-inspired enamel...