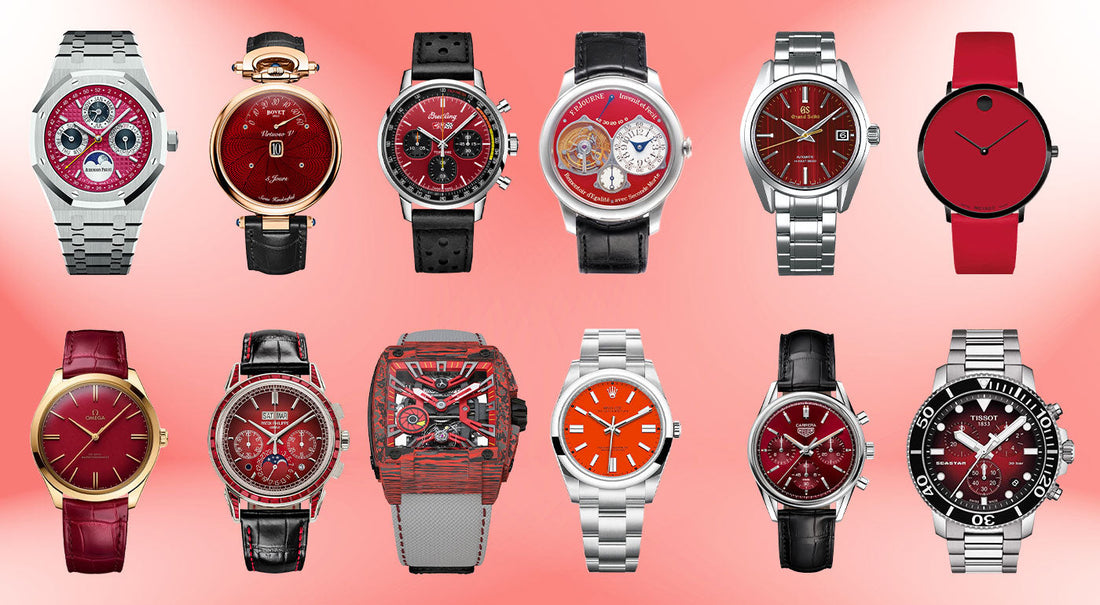 Hot and Sexy Red Dial Watches - Setting Time on Fire
There's an undeniable allure to red dial watches, a vibrancy that catches the eye and captivates the heart. This color is hot, infusing each timepiece with an appeal that's both bold and sexy. The red dial creates an aesthetic that is as captivating as a flaming sunset, lending a fiery elegance to the wrist of any wearer.
Comparatively, red dials stand out with their bright intensity much like their orange and turquoise counterparts. These dial colors have become increasingly popular in the watch world, but red maintains its unique charm. The boldness of red is undeniably appealing, allowing it to hold its own amidst the myriad of colorful watches.
Whether you're drawn to the intensity of a red sunset, the warmth of a blazing fire, or the romance of a red rose, red dial watches encapsulate these elements in an enticing package. Sexy, hot, and decidedly chic, these watches are much more than just timepieces - they're a statement, a lifestyle, and a nod to the extraordinary.
1. Red Dial Watches - Audemars Piguet Royal Oak Perpetual Calendar Thailand 22607BC
This watch is one of my favorite Royal Oak watches. The Royal Oak Perpetual Calendar Thailand 22607BC is very elegant. Its red dial, a vibrant departure from tradition, adds an audacious charm to the iconic octagonal design. 
This striking color, paired with the brand's renowned craftsmanship, makes this watch an unforgettable statement of style and audacity.
Advertisement
2. Red Dial Watches - Bovet Virtuoso V
The Bovet Virtuoso V with its mesmerizing red guilloche dial is a brilliant display of the brand's expertise in blending design and complex horology. This striking timepiece integrates two of the most challenging complications to execute - jumping hours and retrograde minutes, embodying the true spirit of Bovet's craft. 
The vibrant red dial, coupled with these complex features, takes this watch beyond mere timekeeping, making it an expression of daring style and horological innovation.
3. Red Dial Watches - Breitling Top Time B01 Chevrolet Corvette
The Top Time B01 Chevrolet Corvette watch is a beautiful reflection of its iconic car namesake, featuring its signature colors, emblem, and a sporty, hole-punched leather strap. 
The 'squircle' subdials, not exactly square or round, echo the vintage look of dashboard gauges. Adding to its charm is a speed-tracking tachymeter scale. What powers this watch is something to boast about - it's driven by the outstanding Breitling Manufacture Caliber 01.
4. Red Dial Watches - FP Journe Tourbillon Souverain
The FP Journe Tourbillon Souverain is an exceptional timepiece, symbolizing horological finesse. Made in platinum, it showcases a tourbillon regulator, deadbeat seconds, remontoir d'égalité, and power reserve indication. This exclusive wristwatch, one of only five, was created to commemorate the inauguration of the F.P. Journe Boutique in Beijing. 
Adding to its prestige, this captivating piece is owned by the Crown Prince of Ajman, reflecting its royal appeal and exclusivity.
5. Red Dial Watches - Grand Seiko Hi-Beat SBGH269
The Grand Seiko Heritage Collection presents a limited edition model, inspired by Japan's autumnal transformation. The dial mirrors the mesmerizing shift of leaves from summer green to deep autumn red, encapsulating the essence of the season. 
It echoes the interplay of these vibrant colors against traditional Japanese architecture's lacquered wooden floors. A celebration of Japan's seasonal tradition, this timepiece brings the beauty of autumn to life.
6. Red Dial Watches - Movado Modern 47
The Movado Modern 47 in red is a true embodiment of bold minimalism. Its vibrant red dial, a daring departure from the traditional, captures the essence of contemporary design, while the iconic single dot at 12 o'clock preserves Movado's heritage. ¨
This eye-catching timepiece is not just a keeper of time, but a statement of modern aesthetics and individuality.
7. Red Dial Watches - Omega De Ville Tresor '125th Anniversary'
The OMEGA Trésor line, known for its slim, classic case, was first launched in 1949, and its recent models remain faithful to this iconic design. Marking OMEGA's 125th anniversary, this unique 40mm timepiece features an 18K yellow gold case, a rare red enamel dial reflecting OMEGA's brand color, and gold domed indexes and hands. 
The caseback houses a red enamel-filled 18K gold anniversary medallion, encircled by traditional damaskeeing engraving, echoing designs from historical 19-ligne calibres.
8. Red Dial Watches - Patek Philippe Grand Complications
The Patek Philippe Grand Complications 5271/12P-010 is a sparkling reinterpretation of a classic, adorned with 80 baguette-cut rubies across the bezel, lugs, and clasp. Its striking red lacquered dial and shiny black alligator strap echo the rubies' intense color. 
Housing the manually wound CH 29-535 PS Q caliber, it combines traditional architecture with innovative chronograph features and a slim calendar mechanism. This jewelry version is not just a timepiece, but also a celebrity favorite, owned by notable personalities like Mark Wahlberg and the Crown Prince of Qatar.
9. Red Dial Watches - Rebellion Re-Volt Zhou Guanyu C42
Official timekeeper of Alfa Romeo F1 team, Rebellion, unveiled two special series dedicated to Guanyu Zhou and Valtteri Bottas during the Monaco F1 Grand Prix earlier this year. 
Each model, limited to 50 pieces, embodies a part of the drivers' car. Both retails for CHF59,000 pretax
10. Red Dial Watches - Rolex Oyster Perpetual
The striking red dial of the Rolex Oyster Perpetual is not just a timepiece but also a celebrity favorite. Basketball superstar LeBron James, among other well-known figures, has been spotted sporting this distinctive watch. Although this bold dial color has been discontinued since Watches and Wonders 2022, its popularity and allure remain, making it a sought-after piece for style-savvy celebrities and watch enthusiasts alike.
11. Red Dial Watches - TAG Heuer Carrera Limited Edition
The TAG Heuer Carrera with a vibrant red dial is a limited-edition standout, with only 600 pieces available worldwide. This timepiece displays a robust character with its 39mm steel case, domed sapphire crystal, and black alligator strap. 
Its bright red dial creates a dramatic aesthetic, bearing the printed Carrera name and Heuer crest as a tribute to the brand's iconic design language. This Carrera model is more than a watch - it's a statement of style and boldness.
12. Red Dial Watches - Tissot Seastar 1000 Chronograph
The Tissot Seastar 1000 Chronograph is an ideal companion for the adventurous, boasting a distinctive red dial, comfortable and durable black rubber strap, Swiss quartz movement for precise timekeeping, and a 100-meter water resistance for versatility.
Here at IFL watches, we also offer customized Tissot watches, transforming them into playful timepieces with unique and fun dials. Whether exploring the world or your backyard, our customized Tissot watches make your adventure even more memorable.
Advertisement
Rolex Day-Date Puzzle Dial - Which Celebrities Own It
These timepieces, available in white, rose, or yellow gold, feature jigsaw-inspired enamel...