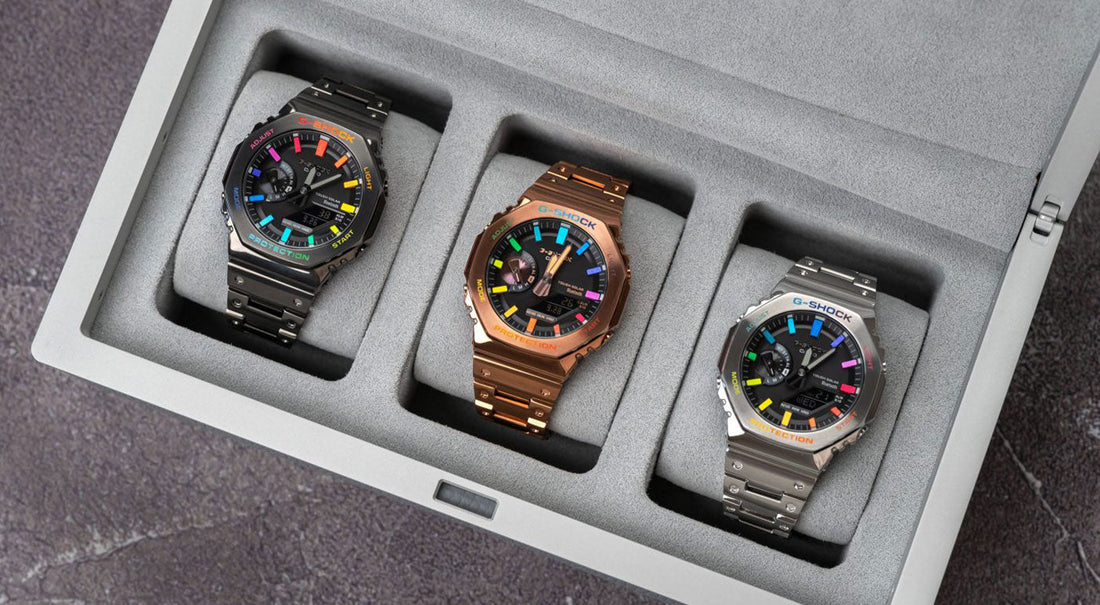 Introducing Our New G-Shock GM-B2100 Full Metal CasiOak Watches
Earlier in July 2022, the full metal CasiOak from the 2100 series was finally released by Casio, including an octagonal bezel, which has become a massive hit in recent years. This GM-B2100 is made of stainless steel for the case, bezel, and bracelet. Many G-Shock CasiOak enthusiasts embraced metal for its more solid and mature feel than plastic.
The metal construction, however, is not the only improvement. The Tough Solar (solar-charging) and Bluetooth connectivity technology are featured in the GM-B2100. More functionality is likewise in keeping with what you would expect from the brand, with more capabilities than can be listed, ranging from world time to countdown timers and more.
It is obvious that the G-Shock is not a luxury sports watch yet, but I believe it is the only one in terms of robustness, and the fact that it is a watch that anybody can pick up is its most distinctive personality. The original model was born in 1983 and 40 years later, it is about to transform into a watch that will not break even if dropped and can satisfy the urge to own it.
So, inspired by the release, we decided to create fun and playful metal CasiOaks with our signature Rainbow treatment. After our lengthy in-house R&D process, we proudly introduce our new G-Shock CasiOak Metal Rainbow collection, which exemplifies G-Shock toughness.
You can choose between the CasiOak Rose Gold Rainbow (GM-B2100GD-5AER), the CasiOak Black Metal rainbow (GM-B2100BD-1AER), or the CasiOak Full Metal Rainbow (GM-B2100D-1AER).
The new CasiOak collection is now available in a full metal casing and bracelet, with improved Tough Solar and Bluetooth connectivity. With a Rainbow wrapping around the bezel wording and index, it has been customized to create a statement piece on the wrist.
The new metal CasiOak collection surely gives the robust model a premium feel.
Full Metal CasiOak Watches Specs
Size: 45 mm.
Crystal: Mineral crystal.
Case size: 49.8 x 44.4 x 12.8 mm.
Case material: Carbon core, stainless steel.
Dial color: Black, rainbow.
Bracelet color: Rose gold / black / silver.
Bracelet material: Stainless Steel.
Battery: Tough Solar.
Light: Super illuminator for the face and the digital display.
Weight: 165 g.
Water resistance: 200 m.
Shock resistance: Yes.
Box: IFLW custom box.
Warranty: 2-year IFL Watches warranty.
Rolex Day-Date Puzzle Dial - Which Celebrities Own It
These timepieces, available in white, rose, or yellow gold, feature jigsaw-inspired enamel...