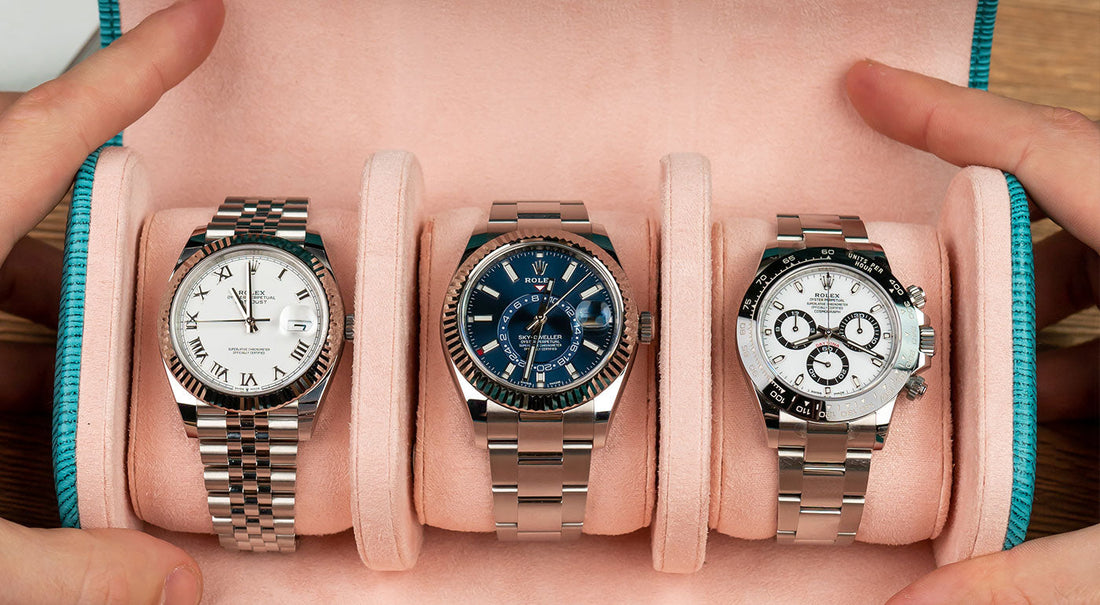 This particular kind of watch case provides attractive and reliable protection for a maximum of three timepieces. It is quite convenient for travelling since it can be packed up in a backpack or luggage without any effort. The leather straps and bevelled clasp of the case provide a safe and reliable closure. Please read on below to learn more about the popular 3 watch case and browse our collection here at IFL watches to check out the varieties available. 
3 watch cases designed for use while travelling.
A good watch travel case will protect and organize your collection of watches while still being small enough to fit in with the rest of your luggage on vacation. The ideal number of watches to bring on a work trip or a weekend vacation is three. A watch travel case that can hold all three of your wristwatches can easily fit inside of a carry-on bag, a duffel bag, or a briefcase.
Material And Design of a 3 watch case
When it comes to the material, We advise using a semi-rigid casing. This type of container is able to shield the watches within it from any potential damage while also providing a sufficient amount of cushioning and pliability to accommodate any pressures from the outside and keep the watches inside from being compressed. 
With a leather outer and an Alcantara interior lining, this makes for an excellent combo. The two materials are very hard-wearing yet surprisingly gentle to touch. As a result, this combination of materials is ideal for keeping watches safe in the midst of air turbulence and allows you to travel in comfort and style.
Both watches and the accompanying accessories place a strong emphasis on the wearer's unique sense of style. After all, the choice of watches held in a collector's collection is an intensely private matter. People who are passionate about watches often put in a lot of time and effort to assemble a collection of watches that represent their own preferences and ideals. Consequently, why should accessories for watches be any different?
Accessories for customized wristwatches
Whether it is a watch stand to help keep your most prized watches safe and accessible at all times even for travel, watch accessories are a prime opportunity to express your personal style. A 3 watch case can hold your entire collection, a watch stand can display your favourite timepieces at home, and a watch case can be used for travel. 
The use of our services at IFL watches gives you the ability to personalize every aspect of your watch accessory, allowing you to create a one-of-a-kind item that is centred on your particular collection, preferences, and goals. Personalizing your watch accessories may be done in a number of different ways, including selecting the color of the anodized aluminum and the outside leather shade, as well as hot stamping your initials into the accessory.
Feel free to check the available 3 watch cases and other accessories available at IFL watches.
A Closer Look at Kim Jong Un Watch Collection
Discover the enigmatic watch collection of North Korea's leader, Kim Jong Un....