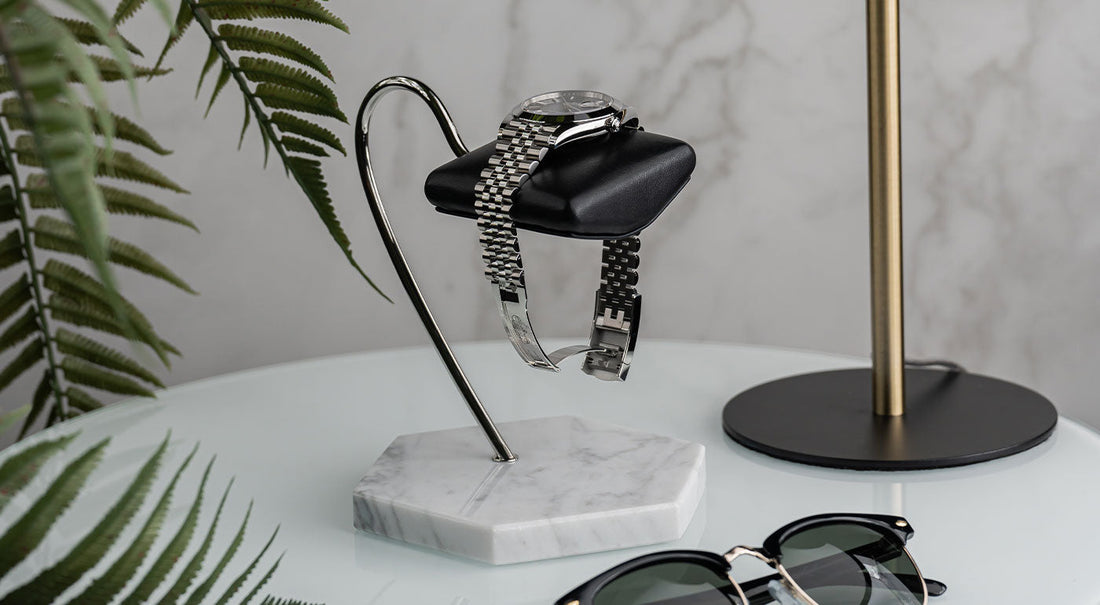 How frequently do you simply set your watch on the foyer table after a long day? Everybody has those days when even the simplest tasks, like taking off your watch, locating its appropriate box, encircling the watch pillow, and setting it back where it belongs, feel like work.
A watch display stand allows you to display your favourite timepieces instead of covering them. Additionally, it eliminates the need for you to search through numerous packaging boxes in search of the desired watch. They're all together, arranged nicely, and secure there.
Seeing several attractive timepieces neatly arranged and displayed has a certain influence. A watch display stand may effectively display the beauty, brilliance, and craftsmanship, allowing your watches to shine through.
Why a watch display stand?
It's an easy yet stylish way to keep your timepiece safe. This display watch stand will keep your watch elegantly while allowing you easy access to wear it or remove it at the end of the day. Simply put, a watch display stand holder offers a secure location for your watch when it is not being worn. Moreover, options vary from a single-piece watch stand, a two-piece watch stand, or a multi-watch stand.
Watch display stand features
Beautiful designs
Watch display stand designs are committed to aesthetics. If you're a collector, the design will make your timepieces stand out even more. Additionally, this watch display stand emphasizes usefulness rather than only appealing.
Moreover, to fit your collection and preferences, the watch display stand can be custom-made. Your watch display stand can become a uniquely personal object by being inscribed with your own writing, making it a simple yet charming decoration for your space.
Versatility
The simplistic design of the watch display stand is not just the mantel at home. Vendors also use them, and they get their money's worth just from how durable they are. In addition, this stand fits every single type of watch brand, from Apple to Rolex and more.
Factors to consider when buying a watch display stand
There are a few things you should consider when buying a watch display. These aspects are crucial to consider when making a purchase decision, whether you're a first-time buyer or a seasoned consumer. We don't want you to make a decision that could reduce the value of your watch. Listed below are some of the most important factors to check.
Material: In addition to physical beauty, remember to consider the material's quality. The watch display should protect your watches without having any negative effects on them. In some cases, a watch organizer may have insufficient room between the watch slots, making it difficult to grasp and arrange.


Number of slots: The number of watches you intend to store is one of the most crucial factors to take into account when picking a watch display stand. As was already said, some watch stands are designed for just one slot while others have multiple slots. The slots that are available change based on your preferences and needs.
Rolex Day-Date Puzzle Dial - Which Celebrities Own It
These timepieces, available in white, rose, or yellow gold, feature jigsaw-inspired enamel...