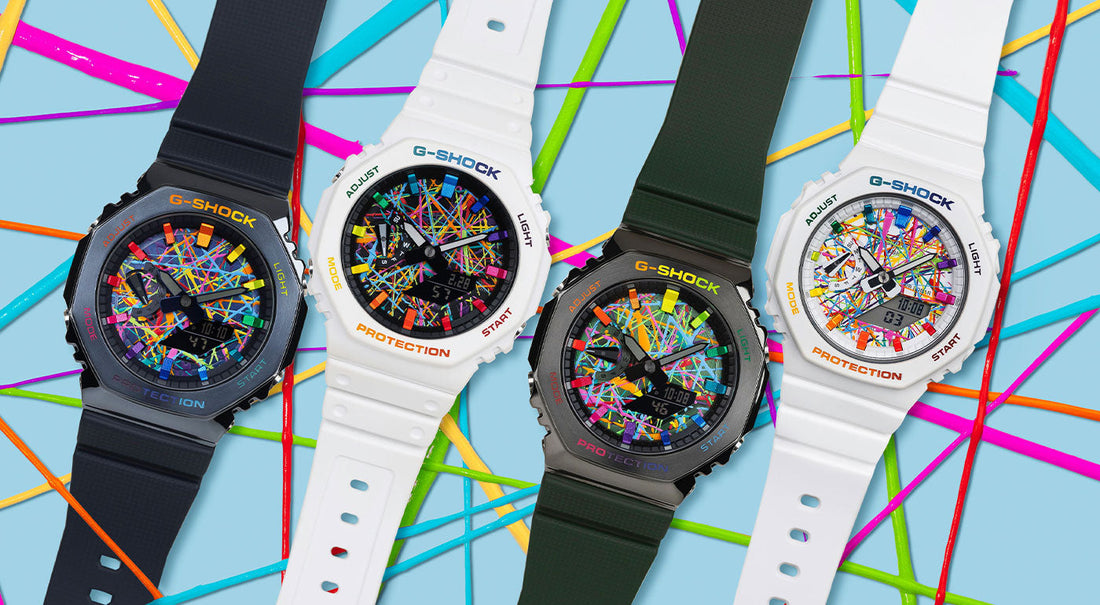 Find Your Perfect CasiOak Colorful Watch
Let your true self shine with the limited-editions CasiOak Colorful collection of watches. Bright and light do not always equate to cheap and trashy. 
This Casio G-shock collection's nicknamed after the legendary Audemars Piguet Royal Oak's design and octagonal bezel.
This CasiOak Colourful collection is the second iteration of a collaboration with 'The Dial Artist'.
The CasiOak watch has long-standing fans that want to look cool and trendy, as well as those who see this timepiece as a statement piece. And now, with the bright rainbow colors, there's the opportunity to have fun with your accessories.


At IFL Watches, this collection has several different styles to consider. Below, we'll take a look at some of the most exciting ones.
CasiOak Colorful collections
These G-shock waterproof watches continue to impress with exciting variations in style, design, and colors. Though they are all immaculately made and have interesting designs, there are some differences worth noting.
Tissot Sky Collection
Under the Tissot Sky collection are three watches: Two types of Tissot PRX 40mm Quartz watches and an Automatic Oris Divers 65. These timepieces are robust and elegant at the same time. The watch faces feature a "sprinkling" of colorful dots across a black or white background.
It looks high-end with a silver bracelet, but still lots of fun with the colourful face.
Celestials Limited Edition
This is one of the most exciting versions of the CasiOak Colorful collection. A lot of detail has gone into hand-painting the watches in the 'Dial Artist Studio.' For example, each Limited Edition CasiOak Uranus watch under the Celestials collection has a unique pattern hand-painted with vibrant color. The high-quality colors are UV resistant and can last for decades to come.
Shades of light blues help to create a celestial fantasy on your wrist. The high-quality colors are UV resistant and can last for decades to come.
G-Shock CasiOak Phantasm Collection
Let your fantasies come to life with the Custom CasiOak Phantasm Collection. The kaleidoscope's many mesmerising colors and patterns inspire these watches' designs. Optical art is taken to the next level as it becomes a part of your watch's face.
The pearlized finish on the hour markers adds an expensive final touch to these beautiful but playful watches. Add to all things beautiful in this world when you get your own G-shock CasiOak Phantasm timepiece.
Why you should invest in your own CasiOak Colorful watch
Some might look at these watches and see timepieces not suitable for anyone serious about life. But, at the end of the day, the CasiOak Colorful collection is an opportunity to enjoy the finer things in life but have fun at the same time.
The trendy colors and designs will forever be the mark of something worth talking about. There are so many fine details that every time you look at your watch, you'll discover something new and be reminded of how amazing our world is.
And the best part? As a collector's item, you're assured of being one of a few hundred people worldwide with a colorful CasiOak watch. This, thus, also makes it a great gift for a loved one. It's not only beautiful but also special in its own right.
Rolex Day-Date Puzzle Dial - Which Celebrities Own It
These timepieces, available in white, rose, or yellow gold, feature jigsaw-inspired enamel...