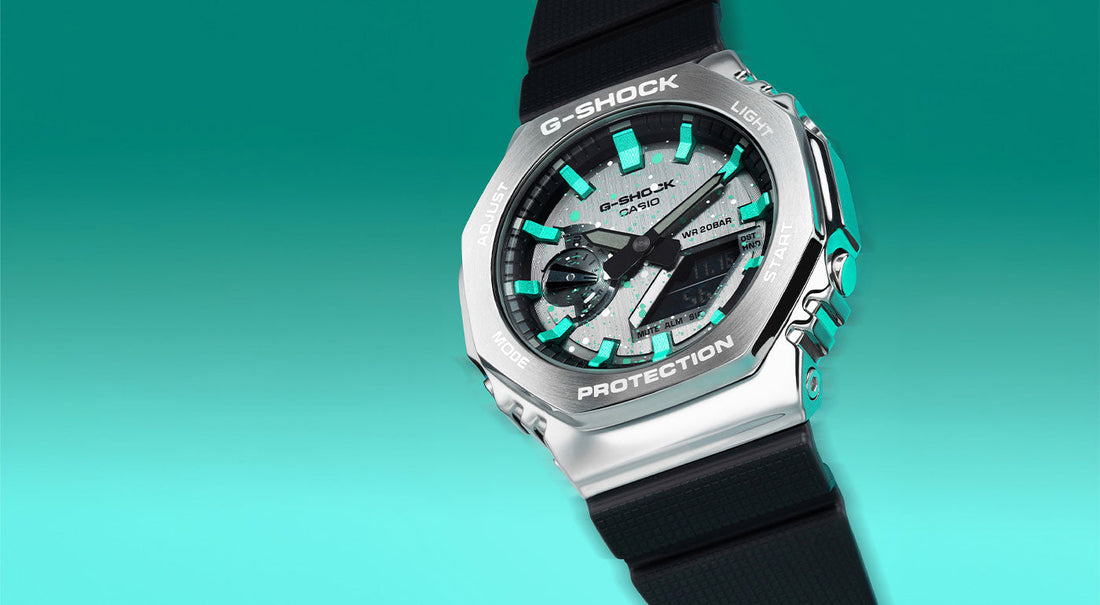 G-Shock CasiOak Steel Tiffany Sky - Our New Limited Edition Collection
The day you've been eagerly anticipating is almost here. Yes, I'm referring to Black Friday, a time when many stores offer incredible discounts, allowing you to shop to your heart's content. However, at IFL Watches, we don't want you to wait until Friday. We've already kicked off our Black Week, featuring a selection of our fun and playful products at discounts of up to 40%. Hurry and explore our Black Week specials before they're all gone!
On this special occasion, we are also thrilled to introduce our exquisite new limited edition G-Shock CasiOak Steel 'Tiffany Sky'. This timepiece is a tribute to the captivating beauty of turquoise, blending timeless craftsmanship with G-Shock's renowned durability. The 'Tiffany Sky' series marries the iconic hue with the watch's contemporary, robust features, representing a harmonious blend of tradition and innovation.
Explore the unique allure of the G-Shock CasiOak Steel 'Tiffany Sky', a distinguished member of our 'Tiffany Sky' collection. This limited edition marvel celebrates the art of watchmaking with a hand-painted, turquoise enamel dial, showcasing the mesmerizing technique of abstract pointillism. Each piece stands out as a distinct work of art, embodying both the iconic durability of G-Shock and the serene elegance of its design. The 'Tiffany Sky' series elevates the concept of timekeeping, ideal for those who seek both distinction and quality in their horological choices.
Turquoise Infusion on Your Wrist
Each G-Shock CasiOak Steel Tiffany Sky is a canvas where vibrant turquoise hues meet the meticulousness of pointillism. The hand-painted dial is not just a feature; it's a statement of uniqueness, with every brushstroke adding to the narrative of individuality. This series encapsulates our commitment to wearable art that stands out in the crowd, designed for those who appreciate the subtleties of a handcrafted masterpiece.
The Strength Behind the Style
The G-Shock CasiOak Steel Tiffany Sky isn't just about aesthetic appeal; it's built on a legacy of reliability. Known for their rugged construction, G-Shock watches withstand the tests of time and adventure. This series continues that tradition, offering a timepiece that's as tough as it is beautiful. It's a perfect alliance of G-Shock's enduring toughness with the elegance of bespoke art, ensuring that each moment is captured with both style and strength.
Watch Specs of Our New Limited Edition G-Shock CasiOak Steel Tiffany Sky
Model: CasiOak
Size: 45 mm
Movement: Module 5611
Original reference: GM-2100-1AER
Crystal: Mineral crystal
Dial color: Steel, turquoise
Inner case material: Carbon core
Outer case material: Stainless steel
Strap material: Rubber 
Strap color: Black 
Weight: 72 g
Battery life: Approx. 3 yrs on SR726W x 2
Water resistance: 20 atm
Shock resistance: Yes
Box: IFLW custom box
Warranty: 2-year IFL Watches warranty
Celebrity Chef Gordon Ramsay Watch Collection
Explore celebrity chef Gordon Ramsay watch collection, from luxury brands like Rolex...