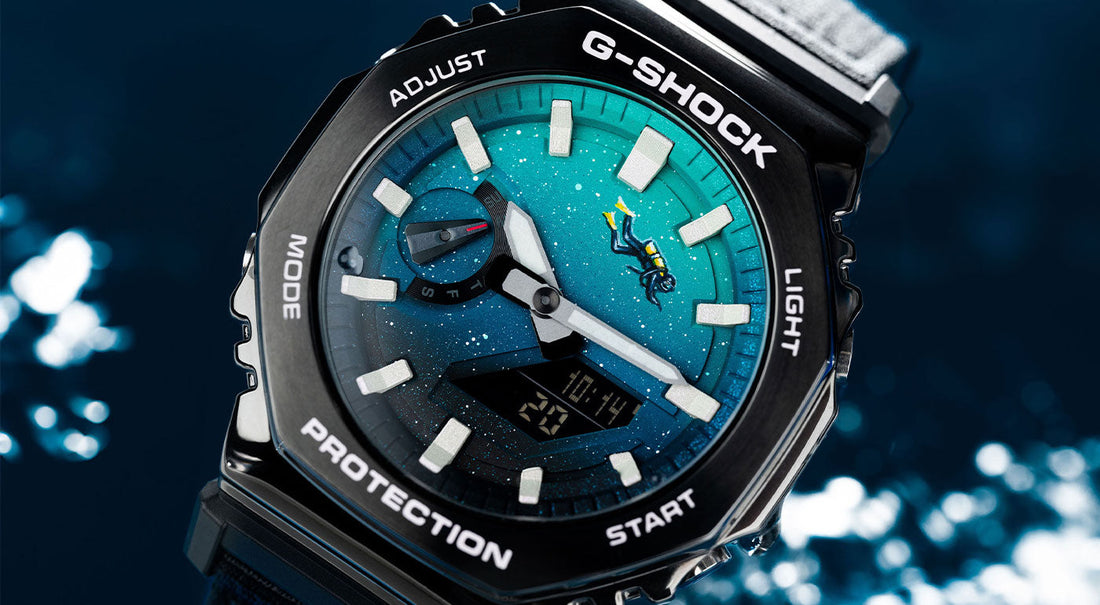 Introducing Our New Limited Edition G-Shock CasiOak Deep Sea Diver
Get ready, because we're about to show you something really special. It's our newest watch, the G-Shock CasiOak Deep Sea Diver, and it's part of our Limited Edition Series. This isn't just a stylish watch; it's like having a piece of the ocean on your wrist! Inspired by modern diver watches, we've made something that looks great and works well, just like the gear that real divers use.
Our new watch is all about the mystery and excitement of the deep ocean. Every little part is carefully made and painted by hand, turning an ordinary watch into something really special. We wanted to make a watch that reminds people of the adventure and beauty of the sea. It's tough on the outside, just like the deep ocean, but inside, it's built to be dependable and strong.
The watch has white on its markers and edge, reminding us of the white tips of sea waves. This gives it a fresh, modern look. The face of the watch changes from a deep blue to a light blue-green, like the colors of the ocean. Dots of white and blue-green on it look like sea foam and ocean creatures, making the calm ocean picture feel lively.
We're so excited to share the G-Shock CasiOak Deep Sea Diver with you, and we think you'll love wearing it. It's more than just a way to tell time; it's a way to show your love for adventure and the amazing world under the sea.
Don't miss out; make sure to get your limited edition watch today. It's not just a watch; it's a way to tell a story, make a statement, and celebrate the wonders of the ocean.
Limited edition of 100 pieces.
Watch Specs of Our New Limited Edition G-Shock CasiOak Deep Sea Diver
Brand: G-Shock
Model: CasiOak
Size: 45 mm.
Movement: Module 5611.
Crystal: Mineral crystal.
Dial color: Turquoise, blue.
Inner case material: Carbon core. 
Outer case material: Stainless steel.
Bracelet material: Black.
Battery life: 3 years on SR726W x 2
Weight: 72 g.
Water resistance: 20 atm.
Shock resistance: Yes.
Box: Custom IFLW box.
Warranty: 2-year IFL Watches warranty.
Rolex Day-Date Puzzle Dial - Which Celebrities Own It
These timepieces, available in white, rose, or yellow gold, feature jigsaw-inspired enamel...