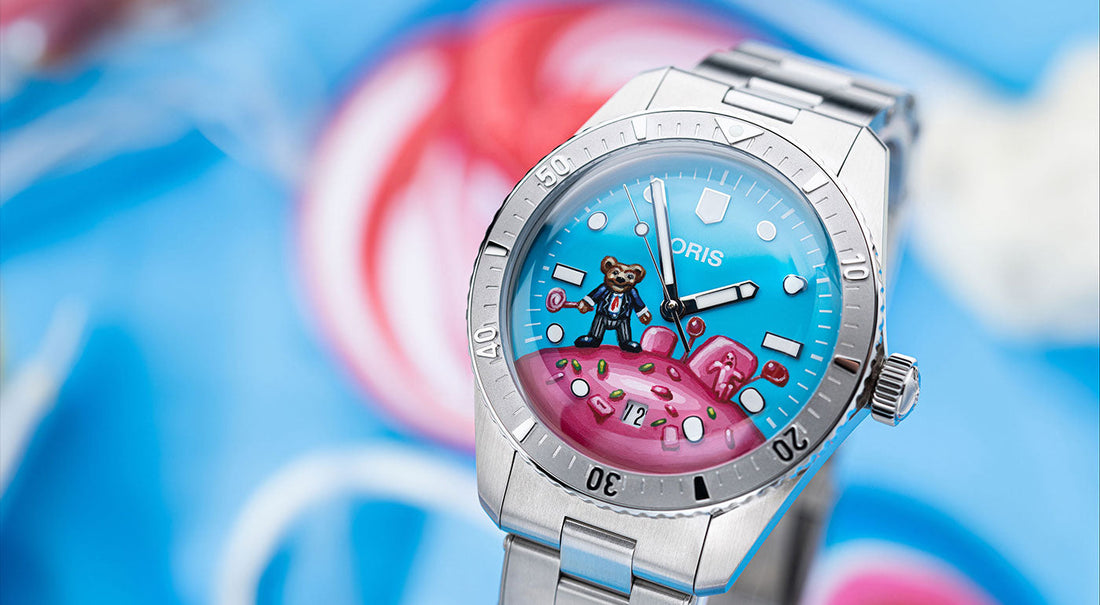 Introducing Our New Limited Edition Oris Divers 65 Candyman
Dive into a playful realm where art meets timekeeping with the Oris Divers 65 Candyman. Set against the backdrop of the Oris Divers Sixty-Five 'Cotton Candy' and its stunning Blue Dial, this creation is a fusion of whimsical delight and artisanal precision. 
Limited to just 25 pieces worldwide, this timepiece transforms the conventional into a realm of fantasy. It harmonizes hand-painting with masterful watchmaking, encapsulating the audacious spirit of those who dare to defy the norm.
From Cotton Candy Dreams to Watchful Realities
Drawing inspiration from Oris's Cotton Candy release, the Oris Divers 65 Candyman pays tribute to Thor, the iconic Oris Bear, reimagined in a Candyland of his own. Thor's mischievous grin brightly shines, overshadowing a startled candy character in trepidation. Each Candyman portrays a story, with jellybeans and sweets scattered about. One candy conceals a secret—the limited edition number, cleverly hidden in plain sight.
Using vibrant UV-resistant enamel paints, our artists infuse life into the blue dial, crafting a narrative that merges sweet fantasy with playful eeriness. Moving away from our signature abstract aesthetics, the Oris Candyman encapsulates the IFL ethos of boundless imagination and bold exploration. Every brushstroke on the Oris Candyman is a nod to our dedication to innovation and the celebration of individuality.
This hand-painted wonder not only challenges watch design norms but also welcomes wearers to a realm of playful mystery, where every ticking second unveils a tale of mischief and timeless allure.
Watch Specs of Our New Limited Edition Oris Divers 65 Candyman
Brand: Oris
Model: Divers Sixty-Five
Size: 38 mm
Movement: Swiss automatic Oris Calibre 733
Power reserve: 38 hours
Crystal: domed sapphire with anti-reflective coating
Dial color: blue, pink
Inner case material: stainless steel  
Outer case material: stainless steel
Bracelet material: stainless steel
Bracelet color: silver
Weight: 120 grams  
Water resistance: 100 meters
Box: original box
Warranty: 2-year IFL Watches warranty
Rolex Day-Date Puzzle Dial - Which Celebrities Own It
These timepieces, available in white, rose, or yellow gold, feature jigsaw-inspired enamel...