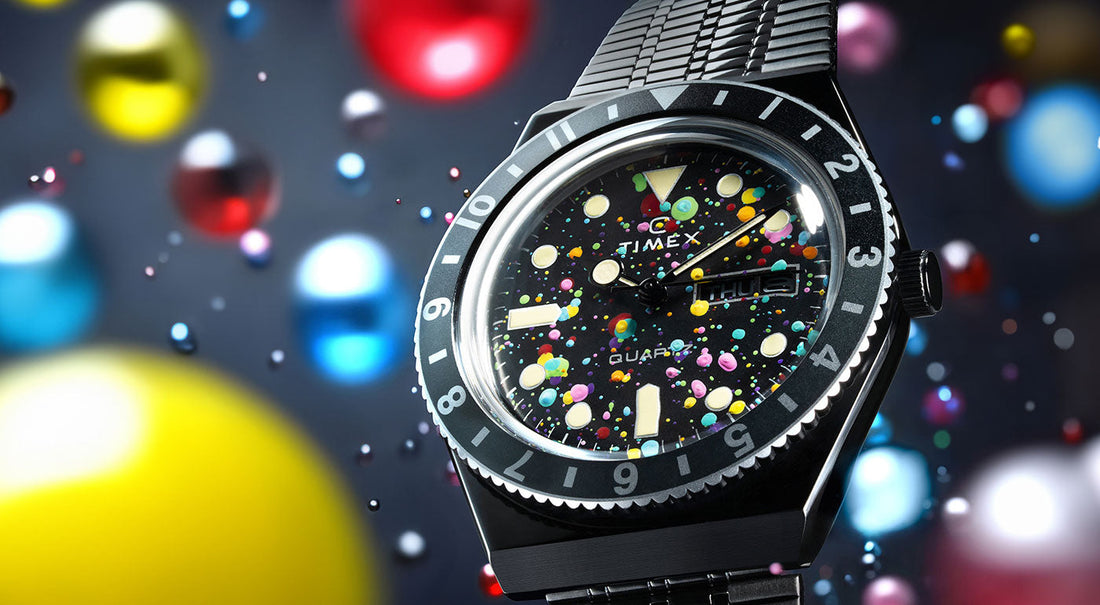 Introducing Our New Limited Edition Timex Q Phantasm
We are thrilled to introduce our exclusive, new limited-edition watch.
Embarking on a nostalgic journey back to the 1970s, the Timex Q Phantasm is a tribute to an era of innovation and design. The Q Timex, first celebrated for bringing quartz technology to a new generation, is reborn with a modern twist. We've preserved its iconic features - from the black rotating bezel and the domed acrylic crystal to the unique battery hatch. 
What's more about this watch, the classic black woven stainless-steel bracelet remains, now adorned with a dial that bursts into life.

Our vision with the Timex Q Phantasm was both ethereal and daring. Much like a phantasm, the specter of time is intangible and ever-changing. To embody this, our in-house artists elegantly draped the watch face with abstract pointillism, reminiscent of fleeting illusions and the kaleidoscope of memories time holds.
These vibrant splashes not only pay homage to the Timex legacy but also symbolize the transient and illusory nature of time itself. Every glance at this masterpiece promises a colorful, ephemeral moment, much like a fleeting apparition caught in a momentary dance with reality.
Comfortable on the wrist, the stainless-steel mesh bracelet is both flexible and robust. The day-date window adds functionality to sophistication, and the watch's water resistance ensures its adaptability to various adventures, even if it's just a light swim.

The Phantasm concept isn't just another timepiece; it's a limited-edition conversation starter. 
With only 200 pieces available worldwide, each watch is a proof of Timex's storied past, our brand's innovative present, and the limitless future of watchmaking.
Watch Specs of Our New Limited Edition Timex Q Phantasm
Brand: Timex
Model: Q Timex Reissue
Size: 38 mm
Movement: Quartz analog
Original reference: TW2U61600
Crystal: acrylic
Dial color: black
Inner case material: stainless steel  
Outer case material: stainless steel
Bracelet material: stainless steel
Bracelet color: black
Water resistance: up to 50 meters
Box: original box
Warranty: 2-year IFL Watches warranty
Celebrity Chef Gordon Ramsay Watch Collection
Explore celebrity chef Gordon Ramsay watch collection, from luxury brands like Rolex...