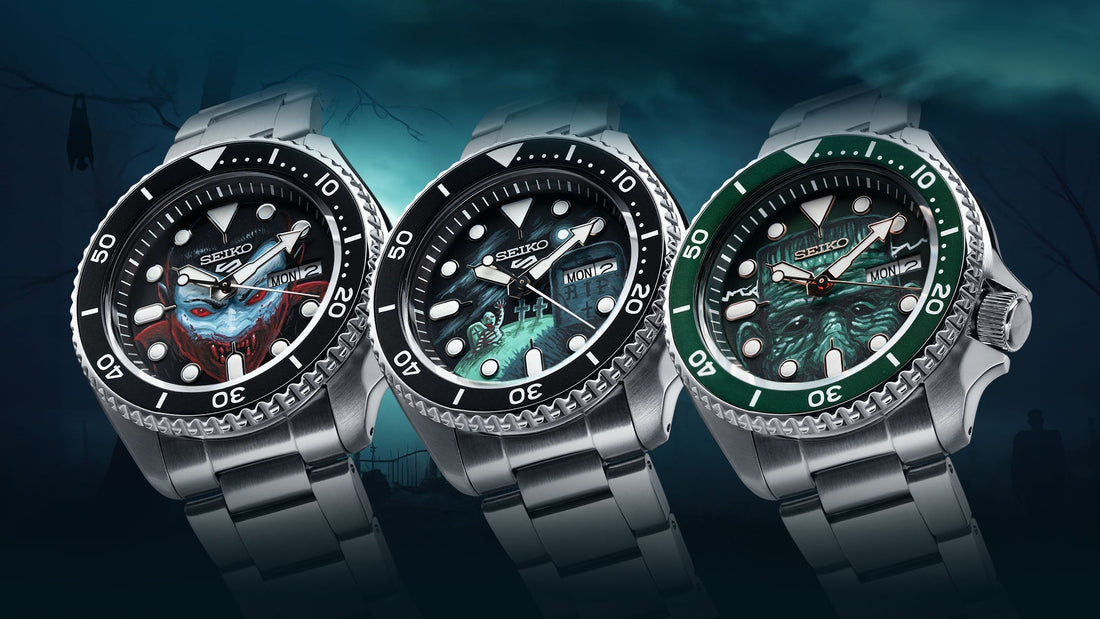 Meet Our New Spooktacular Limited Edition Halloween Collection
At IFL Watches, we are thrilled to unveil our newest custom limited edition offering: the Halloween Collection, realized on Seiko 5 Sports. This series embodies the perfect fusion of Seiko's renowned precision and the haunting myths of twilight hours. With only 100 handcrafted pieces available worldwide for each design, every timepiece is a unique homage to the captivating stories that emerge under the shroud of night.
Step into a realm where Seiko's unwavering precision melds seamlessly with IFL's artful customization. Each watch showcases a meticulously hand-painted dial, enhanced with UV-protected enamel, ensuring enduring elegance and vivid hues. From the enigmatic allure of Frankenstein, the seductive essence of Dracula, to the eerie resonance of zombies, this collection not only indicates time but also narrates legends.
Each watch from the Halloween Collection, realized on the Seiko 5 Sports, is delivered within a bespoke IFL Watches Box, complemented by a certificate of authenticity and a steadfast 2-year warranty.
Timeless Tales Told on the Wrist
Each watch from the Halloween Collection, realized on the Seiko 5 Sports, holds its own unique story, beautifully rendered on the dial. While distinct in their depictions, they are bound by impeccable craftsmanship, delivering not just accuracy but an artful experience. The intricacies, achieved through detailed brushwork with enamel paints, come alive with every glance, making it a masterpiece both in form and function.
Spark Unforgettable Conversations
Beyond the artistry, the collection underscores Seiko's commitment to quality and innovation. Each customized watch, designed to be both a daily companion and a conversation starter, captures the spirit of legends while honoring Seiko's rich heritage. Whether it's the playful nod in the day-date window of the GhoulZ, the elite audacity of the CountD, or the horrific elegance of the FrankN, owning a piece from this collection is a journey through time and myth.
GhoulZ Concept
GhoulZ Concept is a watch that reminds us of zombies and scary stories. The watch face is carefully painted to show a zombie coming out of the ground near some graves. The day and date part of the watch looks like a gravestone, which is a fun touch. This special watch is rare, with only 100 of them made for the whole world.
CountD Concept
When it gets dark and the moon shines, CountD watch comes out looking cool and charming. The watch face is carefully painted with details that remind you of Dracula. Every time you look at your wrist, you see not just the time but a cool story about the night and style. It's a mix of old legends and modern coolness.
FrankN Concept
Infusing essence into the tale of the world's most iconic reanimated being, the FrankN stands as a subtle testament to both the depth and allure of this legendary figure. The customized dial, meticulously hand-painted, reveals green undertones that harmonize seamlessly with the monster's visage, channeling his tragic elegance. A seamless blend of legacy and iconic lore, each glance at the watch becomes a delightful escapade into a story woven through time. And for those who recognize the playful nod —"those in the know"— they'll cherish the unique twist we've incorporated in the name. This masterpiece is limited to just 100 pieces worldwide, ensuring exclusivity for the discerning collector.
Watch Specs of Our New Limited Edition Halloween Collection
Brand: Seiko
Model: 5 Sports GMT
Size: 43 mm
Movement: Seiko 4R34 Automatic
Winding: Automatic
Original reference: SRPD55
Crystal: Hardlex
Dial color: black
Inner case material: stainless steel  
Outer case material: stainless steel
Bracelet material: stainless steel
Bracelet color: Silver
Weight: 140 g
Water resistance: up to 100 meters
Box: Custom IFLW box
Warranty: 2-year IFL Watches warranty
Celebrity Chef Gordon Ramsay Watch Collection
Explore celebrity chef Gordon Ramsay watch collection, from luxury brands like Rolex...