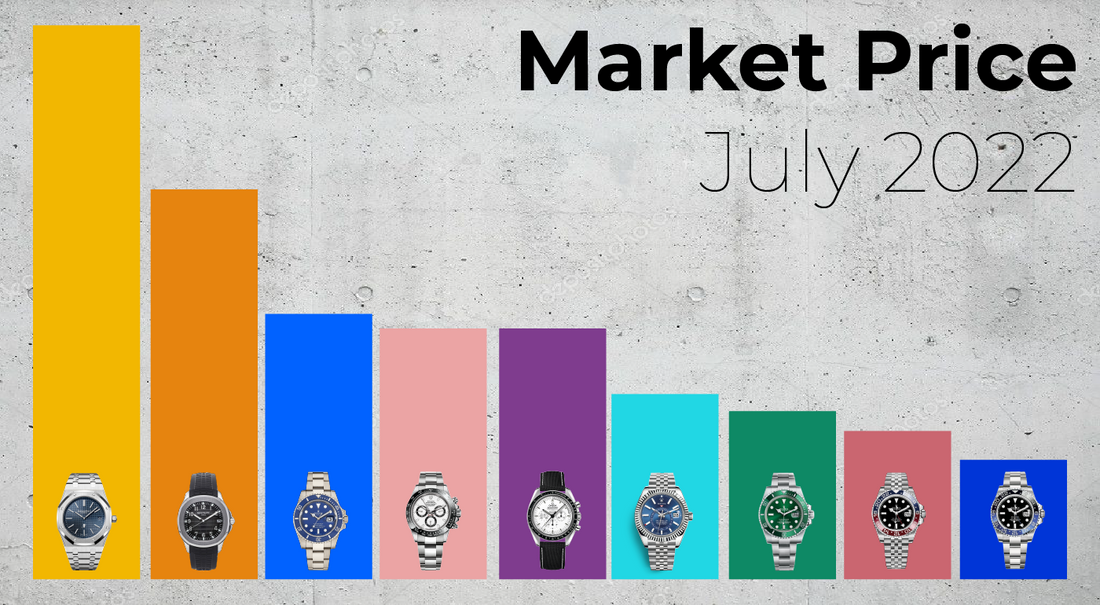 There are two types of watch collectors. The first is those who buy a watch to wear, and the other is those who buy to sell. For the latter, purchasing a luxury watch serves more than just an aesthetic and fashion-making statement. Instead, they invest their hard-earned money in luxury timepieces to secure a longer-term, more reliable return from their investment watch.
However, investing in watches, in general, is tricky because you need to know the current market price very well and know about different brands and models.
But there has never been a better opportunity to find an investment-grade holy grail if you know where to search, which model to look for (which is the good investment watch), and where to source it at the best price.
Discontinued Watches
Traditionally, after watch models are removed from the catalog, luxury watches that have been discontinued, notably Rolex, typically increase in value significantly overnight, from 20-50%. That is why speculators frequently place large bets on models that are rumored to be discontinued in the hopes of reaping huge returns quickly.
The reason for that is simply the availability. When watches get discontinued, the availability will become scarce. On the other hand, many people still get their hopes high getting them. In simple words: high demand, low supply.
We know what will happen when the situation arises. Yes, the watches will trade on the secondary market for higher prices.
So, are watches a good investment? Due to their scarcity, limited-edition, discontinued watches are suitable investments!
Are Rolex watches a good investment? Like I have mentioned before, that discontinued watches, especially Rolex, increase in value significantly. So, the answer is yes!
Now let's have a look at some of the discontinued watches that might be good as investment watches such as Rolex Kermit, Rolex Hulk, Rolex Oyster Perpetual Tiffany, and Snoopy 45th Anniversary.
Discontinued Watch – Rolex Submariner Kermit
To commemorate the 50th anniversary of Rolex Submariner, Rolex introduced the "Kermit" 16610LV in 2003.
The watch is most recognized for its bright green bezel, but another change in the Submariner's design came in – the Maxi Dial. It features larger hour markers and fatter hands than the standard Submariner Date, resulting in increased legibility.
Rolex Submariner Kermit 16610LV​​
The Kermit, however, was dropped after seven years to make room for the ceramic "Hulk." Due to its stunning boldness and limited availability, this particular piece is highly sought after by avid watch collectors.
The recent 2022 price correction we've seen has brought down the Kermit a mere 4% – Proving a discontinued watch is more resistant to market corrections.
Discontinued Watch – Rolex Submariner Hulk
The Rolex Submariner Hulk 11610LV was introduced in 2010 after Kermit's discontinuation. Compared to the Submariner 16610LV Kermit, the 116610LV Hulk offered a lot of improvements, including a green ceramic bezel with platinum inlays.
Ten years later, Rolex discontinued this reference. And then what happened? With this enormous popularity and the lack of availability, the Hulk's market price on the grey market went high, much higher than its original retail price of $9,050.
Rolex Submariner Hulk 11610LV​​
Even during the "correction time" since April 2022, when the market price of watches experienced a decrease, the Hulk's market price is still three times its original retail price. It is now trading for $28,000.
This model survived the correction well. Its market price has sunk slightly – only 11% from April to August 2022. The reason is that it is a discontinued reference and the 'free float' of the reference is much lower than other, more recent discontinued watches.  In other words, you can say that its market price has stabilised.
By the way, the current President of Kenya, Mr. Uhuru Kenyatta, owns this model. 
Discontinued Watch – Rolex Oyster Perpetual Tiffany 41mm
It was pretty surprising when the 41mm Oyster Perpetual Tiffany was discontinued in March 2022 because people didn't expect it to happen that soon. The average Rolex's production span is circa five years (shorter than that of Patek Philippe), but the Tiffany OP was discontinued only 18 months after its release.
This reference has been on a rollercoaster ride since its release. When it was released in 2020, it retailed for $6,150. At the beginning of 2022, the Tiffany OP sold for about $30,000.
Rolex Oyster Perpetual Tiffany 124300​​
Its market price soared by another 50% to almost $50,000 at the Watches and Wonders at the End of March 2022. Since then, it has dipped; in August 2022, it reaches about $30,000. It has decreased by almost 50%.
Compared to Hulk, OP Tiffany has decreased much more during the correction. Both watches are discontinued. However, Hulk was dropped two years ago, whereas it was four months ago for the OP Tiffany.
Discontinued Watch – Omega Speedmaster 45th Anniversary
In 1970, OMEGA received the prestigious "Silver Snoopy Award" from the astronauts at NASA. The prize recognised OMEGA's unique contributions to space exploration and the Speedmaster's role in saving Apollo 13. Since 2003, Omega has released special timepieces created in the occasion's honour.
Released in 2015, the Omega Snoopy 45th Anniversary is the second Snoopy Speedmaster and is regarded as a highly sought-after watch. It is limited to 1,970 pieces (giving the nod to the release year 1970).
Omega Snoopy 311.32.42.30.04.003​​
Its current market price (Aug 2022) of $44,000 is trading comfortably above the retail price at $13,000. During the correction period, its market price has sunk only 2% – Another proof that a discontinued watch is more resistant to market corrections.
After exploring our perspective, you might also be interested in delving into insights from our friend at Veracity Stocks on watch investments. There's no denying that watches have increasingly become highly sought-after commodities. This is particularly true in the current climate, where parts for manufacturing watches have become notably scarce, leading to the production of fewer pieces.
The above references an opinion and is for information purposes only. It is not intended to be investment advice.
Rolex Day-Date Puzzle Dial - Which Celebrities Own It
These timepieces, available in white, rose, or yellow gold, feature jigsaw-inspired enamel...