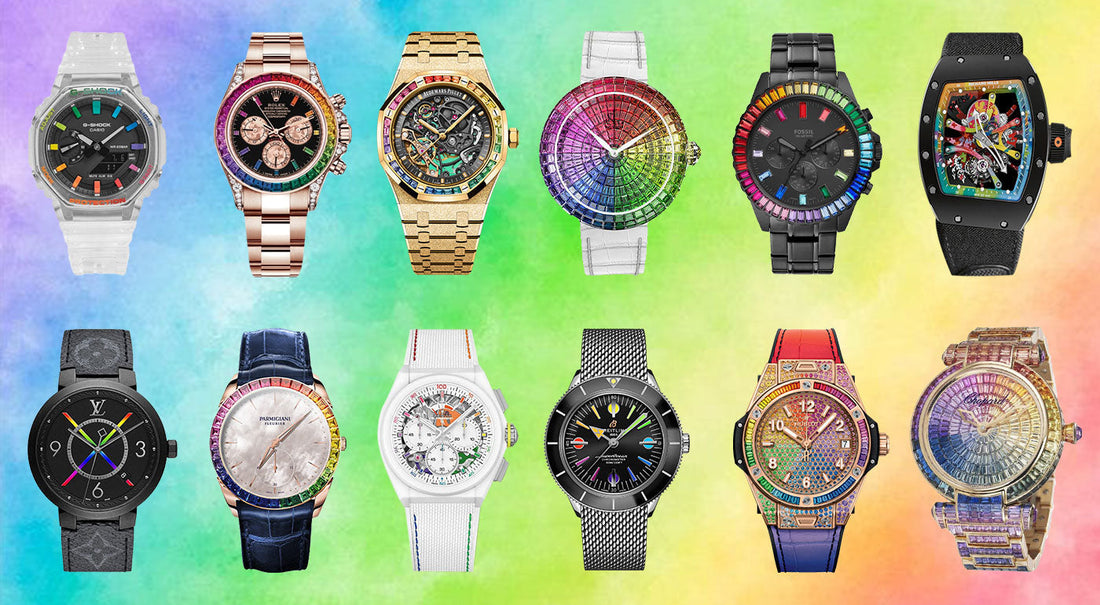 The Fun and Playful Rainbow Watches
When you hear about rainbow watches, you are usually confronted with highly expensive luxury pieces that include brilliant-colored gemstones that impose a significant premium on top of already expensive valuable watches. On closer investigation, there are actually more rainbow possibilities than you may expect, for instance, the IFLW CasiOak watch collection that comes at reasonably priced.
For years, the rainbow watch has been tremendously popular, with models like the Rolex gem-set Daytona winning over collectors with its distinctively colorful bezels studded with jewels channeling rainbow colors.
For those who prefer bright colors, here are some timepieces that take inspiration from rainbows in unexpected way
1. IFLW CasiOak Rainbow Watch Collection
Casio released the CasiOak, formally known as the GA-2100, in 2019. The device pays homage to the original model, the DW-5000C, with its distinctive octagonal bezel framing an analog-digital display. 
The CasiOak launch inspired us to build interesting and playful CasiOak watches.
We enjoy the rainbow-style watches because of the fun personality with its playful theme with colors. Our rainbow watches are meticulously hand-painted by our Creative Director, formerly The Dial Artist, in our Production Studio in Stockholm.
2. Playful Rainbow Watches: Rolex Daytona Rainbow Watches
The Rolex Daytona Rainbow watch is considered one of the most colorful, lively, and entertaining modern watches and is available in three different models: rose gold (116595RBOW), yellow gold (116598RBOW), and white gold (116599RBOW). The yellow and white gold Daytonas were introduced in 2012, followed by the rose gold reference in 2018.
47 sapphires are set in rose gold: Rainbow-colored baguette-cut sapphires adorn the bezel, with 11 more colorful sapphires serving as hour markers. Only 36 baguette-cut sapphires and eight brilliant-cut diamonds serve as hour markers on the bezel of the yellow and white gold versions. The fun doesn't stop there since there are still 56 brilliant-cut diamonds on the lugs and crown guards in all variants.
3. Audemars Piguet Royal Oak Openworked Rainbow Watches
Audemars Piguet's flagship watch, the Royal Oak, gets a fresh look with 32 baguette-cut sapphires on the bezel. The combination of multicolored jewels and an 18k white, yellow, or rose gold casing lends a striking and sporty look to the Royal Oak Frosted Gold Double Skeleton Balance.
I think the rainbow Royal Oak watch stands out for three main reasons. First, it has an exotic case finish that complements the typically detailed octagonal case. Then it is one of the most distinctive and exciting developments. Last but not least, it is, above all, a Royal Oak.
4. Jacob and co Brilliant Full Baguette Rainbow BA534.40.HR.HR.B
The Full Baguette Rainbow watch comes with a 44 mm rose gold case with 226 baguettes multi-colored sapphire. The dial is set with 187 baguette multi-colored sapphires.
The rainbow watch is complemented by an elegant white alligator leather strap.
Jacob and Co, which began as a jewelry company in 1986, is now also globally recognized for high-end watches. The brand is an expert in setting luxury stones, working with the best gem setters in the industry, using the finest gem-setting techniques.
Price: $529,941.
5. Fossil Limited Edition Garret Chronograph LE1085
Joining the world of rainbow watches, Fossil released a limited edition Garret Chronograph LE1085.
The stainless steel 44mm watch is dominated by black. The bezel and the hour markers are set with baguette-cut gemstones with different colors to nod rainbow colors.
The dial features a black sunray dial with 24hr timing and chronograph sub-dials.
Retail price: $165
6. Richard Mille 68-01 Tourbillon Cyril Kongo
Released in 2016, Richard Mille released a rainbow Richard Mille watch in collaboration with the graffiti/street artist Cyril Kongo. As a result, the colors are everywhere. However, the craftsmanship is stunning! As expected from a talented artist that is famous for his partnership with French fashion behemoth Hermes.
For the RM 68-01 Tourbillon Cyril Kongo, the artist created a new technology that allowed him to paint his graffiti on the watch. The practice, known as micro-painting, allowed the Kongo to apply intricate flourishes to the microscopic canvas.
Retail price: $685,000 and limited to 30 unique hand-painted pieces worldwide.
7. Louis Vuitton Tambour Slim Rainbow QA113Z
This Louis Vuitton Tambour Slim Rainbow is ideal for you who are not gemstone fans but still want a vivid slash of color.
This rainbow watch has a hypnotic dial, which is the result of a remarkable technical marvel that required 42 painstakingly applied coats of paint. This sporty-chic watch incorporates Louis Vuitton ideals such as the appreciation of travel and independence.
The black PVD coating on the 39 mm case highlights the vibrant rainbow of the 'X' pattern in the middle of the dial.
Price: €2,950.
8. Parmigiani Fleurier Tonda 1950 Rainbow
The most outstanding feature of this Parmigiani Fleurier Tonda watch is the rose gold bezel has been decorated with an array of baguette-cut gemstones chosen specifically to complement the hues of the rainbow. 
It has 21 sapphires in pink, blue, yellow, and orange, three rubies, six tsavorites, and six amethysts.An exquisite mother-of-pearl dial keeps the looks of this colorful timepiece without becoming ostentatious.
The dial's aesthetics, which feature rose gold plated indexes, are also perfectly balanced. At 12 o'clock, the Parmigiani Fleurier mark is embossed slightly larger than the previous model. At six o'clock, a little-second sub-dial is supposed to blend with the minimalist dial.
Price: $178,000.
9. Zenith Defy 21 Chroma 49.9010.9004/01.R947
Most of the other brands have chosen to tone down their rainbow palettes with a black dial and/or casing.

On the other hand, Zenith has chosen to highlight the burst of summery hues with a 44mm white ceramic case and a white rubber strap.
The markers on the Defy 21 Chroma's open dial and movement are a rainbow of brilliant colors, beginning with red at 12 o'clock.
The chromatic tale is completed by PVD-coated bridges on this timepiece, which is powered by an El Primero 1/100th of a second chronograph movement.
Price: $14,500.
10. Breitling Superocean Heritage 57 Limited Edition II
The Superocean Heritage 57 with a black dial and rainbow hour markers is limited to 1,000 pieces worldwide.
It looks fantastic, created to assist a wonderful cause. Breitling expresses heartfelt gratitude for healthcare professionals' extraordinary dedication and determination worldwide. To show support, the brand designed the rainbow-style Superocean.
This watch is a great conversation starter to show to all of your friends, something they won't be able to imitate.
Price: $5,200.
11. Hublot Big Bang Unico Rainbow King Gold 465.OX.9900.LR
With the Big Bang Unico Rainbow King Gold, Hublot is creating Isaac Newton's definition of a rainbow with seven different colors: bright red, fuchsia pink, ultraviolet, dark blue, turquoise, chlorophyll green, lemon yellow, and bright orange.
These seven bright colors are combined on the bezel and the 45 mm case to create an extraordinary timepiece.
No fewer than 436 stones were chosen to obtain the result. This masterpiece features eight beautiful gemstones: rubies, pink sapphires, amethysts, blue sapphires, blue topazes, tsavorites, yellow sapphires, and orange sapphires.
Price: $87,400.
12. Chopard Impériale Joaillerie 384240-5003
This beautiful rainbow watch from Chopard is saturated with all the rainbow colors.
The 40 mm rose gold watch features 5,801 multicolored sapphires totaling an amazing 47.98cts, with practically every mm covered in baguette-cut sapphires ranging in color from magnificent purple to green.
The Imperiale Joaillerie watch is driven by Chopard's 01.03-C caliber mechanical self-winding movement, which has a power reserve of 60 hours. This Chopard watch, like the women who wear it, has an identifiable aura and a compelling presence, perfectly expressing the Imperiale collection to which it belongs.
Price: $5,200.
Rolex Day-Date Puzzle Dial - Which Celebrities Own It
These timepieces, available in white, rose, or yellow gold, feature jigsaw-inspired enamel...