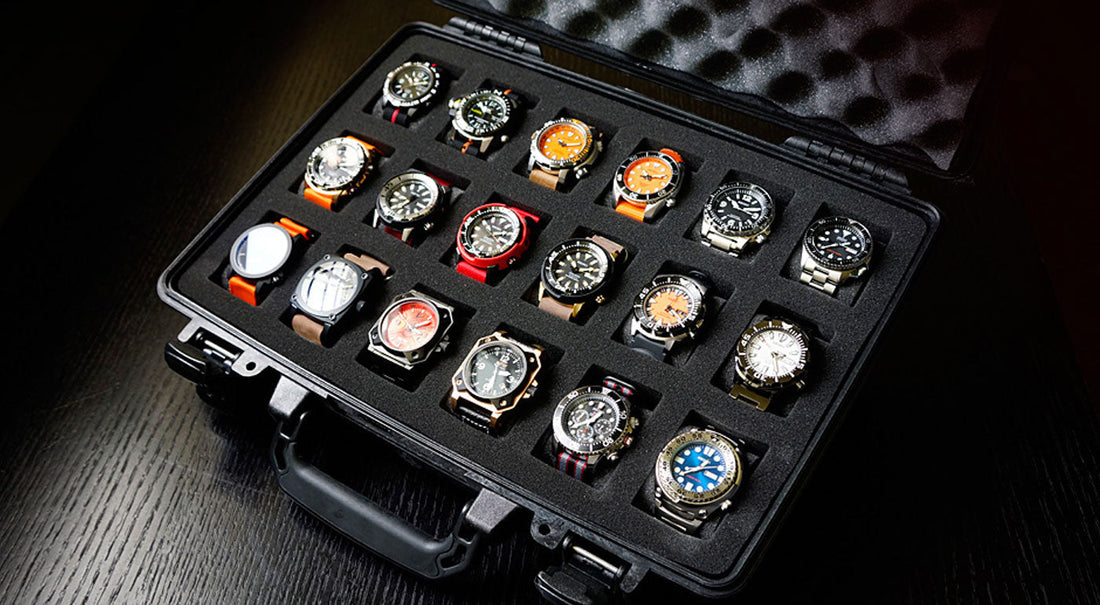 Time to Upgrade to a Pelican Watch Case
A serious watch collection requires a secure way to keep it safe. One of the most elegant ways of doing this is with a Pelican watch case. Renowned for their lifetime guarantee, durability, and waterproofing, they are perfect for protecting your timepieces. These cases come in a variety of sizes for you to choose from, so they should cater well to your watch collection needs. Furthermore, these cases are more than just a place to keep timepieces. 
They also make a striking display case, which puts your watch collection at the centre of attention. The interiors are sleek and classic which complements the look of your watches. 
In addition, they make it easy and safe to transport your watches. The secure lock ensures that your precious watches are protected. Pelican watch cases also protect the timepieces against dust, moisture, and movement.
In this review, we will take a look at the features that make Pelican watch cases so special. We will also glance at some of the Pelican ranges.
Strength and durability
Pelican cases have the reputation for being practically indestructible. They use cutting-edge engineering to produce cases, which are used in a wide variety of industries. The cases are designed to pass Stanag 4280/Def Stan 81-41 certification, which is recognised by NATO and the UK military.
Water resistance
As you would expect from Pelican, these cases meet the highest water resistance standards. The cases are watertight for up to one meter and for a period of 30 minutes. This has earned them their IP67 rating. The automatic pressure equalisation valve releases any built-up air pressure, which keeps water out.
Dustproof
Many of the Pelican water resistance features, also make these cases dustproof. The interior of the case is lined with rubber, which absorbs impact and seals the case. When you add this to the IP67 rating and the automatic pressure equalisation valve, it's clear that Pelican takes watch cases to a whole new level.
Pelican Engima range
This range is perfect for watch connoisseurs who don't want to take too many watches out at one time. The Enigma I houses a single watch in a compact case. Whereas, the Enigma III can take up to three watches.
Pelican has specially designed the foam insert to fit the watches and cushion them against any kind of movement. The cases come with a carabiner, so they can be easily attached to a suitcase, bag, or waistband.
Pelican Elements range
If you have a larger collection, or you just want to transport more watches at one time, then this is the range for you. The Elements range comes in cases for one watch right up to 21 watches.
Pelican manufactures these cases to the highest standards. They have the strength that Pelican is renowned for, along with waterproofing and dust proofing. The pressure release valve makes them perfect for air travel and the rubber cushioning protects your watches from any movement.
These watch cases are ideal for transporting your watches over long distances and through changing terrains. Their compact and discreet design means that they are easy to carry and the Pelican brand gives you the reassurance that they protect your watches to the highest standards.
Rolex Day-Date Puzzle Dial - Which Celebrities Own It
These timepieces, available in white, rose, or yellow gold, feature jigsaw-inspired enamel...