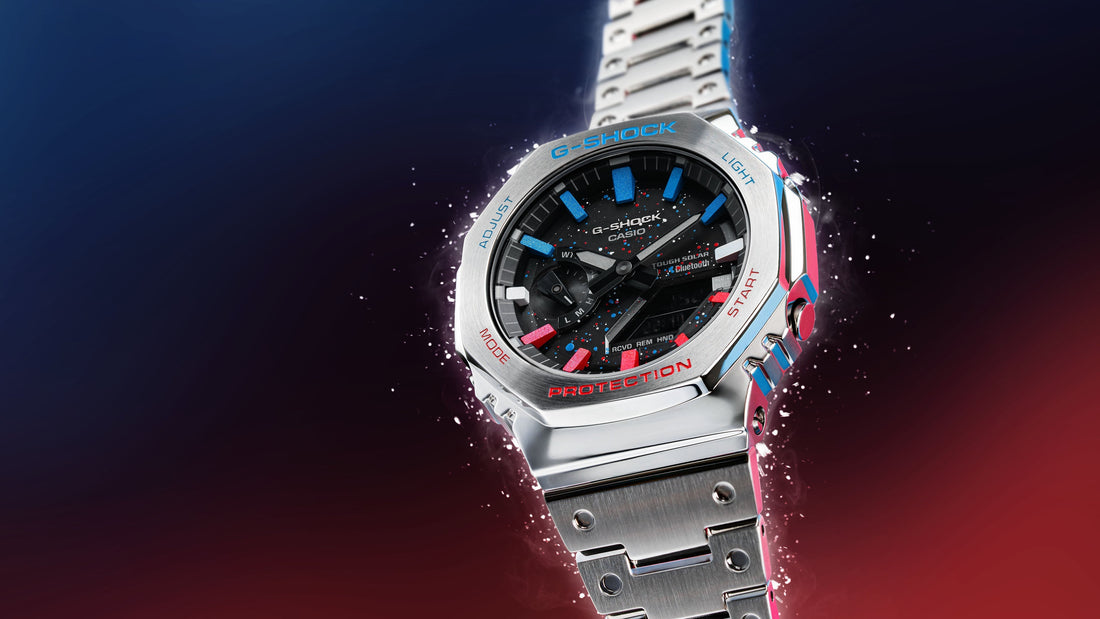 Unveiling Our New Limited Edition G-Shock CasiOak Metal "Pepsi"
Time went by so quick! It just felt like yesterday when I wrote about our new limited edition Halloween collection in the beginning of October. And now, another exciting news from us here at IFL Watches because we added a new collection to our limited edition watches.
We're thrilled to present our new custom limited edition G-Shock CasiOak Metal "Pepsi" - an ode to iconic hues.
Well, this isn't just any watch—it's a harmony of the timeless red and blue hues, inspired by the iconic designs that have always turned heads. Built on the renowned foundation of Casio G-Shock, known for its unbeatable toughness and fashionable look, our newest masterpiece offers a splash of modern style with its unique pointillism touch. 
With only 100 pieces available globally, this watch is where aesthetics meet state-of-the-art functionality. 
A Tribute to Dual-Toned Legacies
The iconic red and blue shades have long held a significant and celebrated position within the watchmaking realm. These two colors, representing the spirit of vintage horology, stand as a testament to timeless elegance. 
With every tick, our G-Shock CasiOak Metal "Pepsi" Limited Edition brings this illustrious history to the wrist, showcasing a brilliant canvas painted with a vibrant splash of these hues on its dial, indexes, and bezel. Each detail serves as a nod to the legends that paved the way in watch design.
Artistic Flair Meets Unyielding Performance
While the enchanting design captivates the eyes, the inherent qualities of the full metal G-Shock CasiOak ensure that this watch remains a reliable companion for the discerning enthusiast. Built upon a legacy of durability, this timepiece is constructed with a stainless steel case and bracelet, reflecting both resilience and elegance. Its solar-powered battery promises consistent functionality, minimizing the need for frequent replacements. 
Beyond its sleek appearance, it boasts a multitude of features like a precise stopwatch, an intuitive world time function, and an alarm to keep you on schedule. 
 
Watch Specs of Our New Limited Edition G-Shock CasiOak Metal "Pepsi"
Model: CasiOak
Size: 45 mm
Movement: Module 5691
Original reference: GM-B2100D-1AER
Crystal: mineral crystal
Dial color: black, red, blue
Inner case material: carbon core  
Outer case material: stainless steel
Bracelet material: stainless steel
Bracelet color: steel
Battery: tough solar
weight: 165g
Water resistance: 20 atm
Box: IFLW custom box
Warranty: 2-year IFL Watches warranty
Celebrity Chef Gordon Ramsay Watch Collection
Explore celebrity chef Gordon Ramsay watch collection, from luxury brands like Rolex...