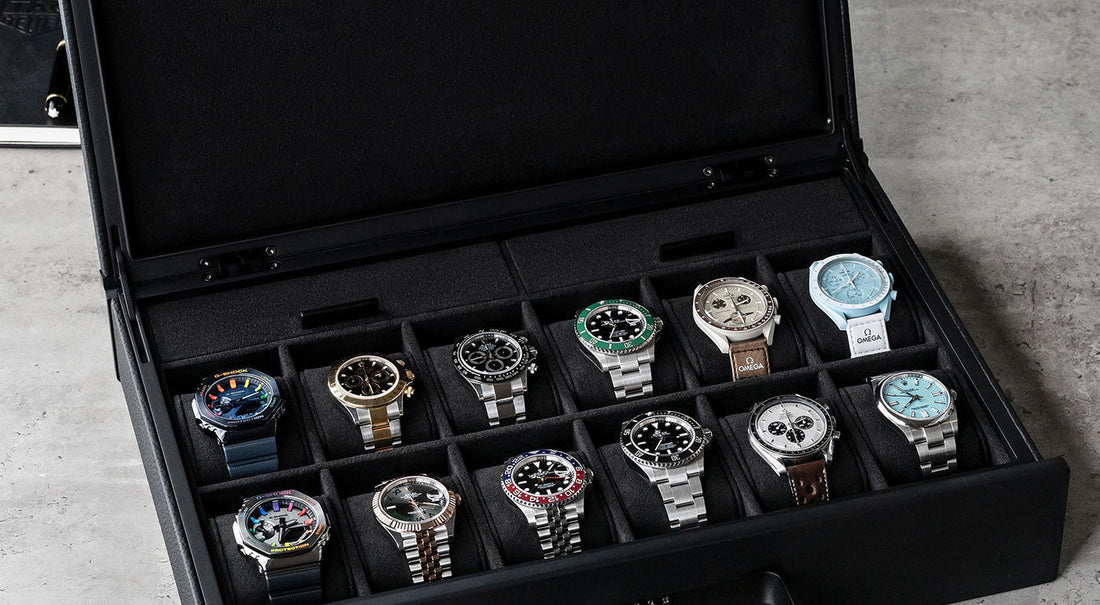 Looking for a 12 watch display case? In today's fast-paced world, time is of the utmost importance. Staying punctual is one of the defining criteria of a gentleman. A watch is the true staple of a man's ensemble. As our fashion sense has evolved over the years, accessorizing hasn't only been confined to women. While more and more men are adapting to complement their ensembles with sartorial embellishments and refined accessories, the choices are limitless. Then why shouldn't you own a few good watches?
In the words of Ian Fleming, "A gentleman's choice of timepiece says as much about him as does his Saville Row suit."
Why is a 12 watch display case important
A watch doesn't just tell time, it's a piece of history. And it carries your legacy as much as your words and actions. It can be a minimalist timepiece or an extraterrestrial piece of time containing a piece of meteor. Whether you need to make a statement with it, or you just need something durable for the rest of time. There's a watch for every occasion. But like all material things, these watches tend to gather scratches and scuff marks over time. Or there's always a chance of it being stolen or misplaced. Time itself can be the enemy if these watches aren't properly taken care of. And that's why investing in a high-quality case might be a good idea.
Watch cases come in various builds and capacities. There are a number of customization options that you can choose from. A versatile and minimalist case like a 12 watch display case is just what you need whether you're a seasoned collector or just getting into the watch collection game.
Many cases house a smaller number of watches, but twelve is the optimal number that every man should at least own to suit every occasion. A 12 watch display case will not only keep your watches safe from scratches and dust but also help in making a statement. Additionally, it's a great way to reduce clutter and keep your watches organized.
Closed vs display cases
There are a number of cases available to safely store your watches. And you could opt for a closed case like the Mackenzie Watch Case 12 with its superb attention to detail in sourcing the materials to meticulous finishing. It's an elegant case made of Alcantara® interior that's not only soft to touch but also protective against any scuff marks to even your most premium timepieces. The case exterior, utilizes aluminium and carbon fibre reminiscent of exotic performance cars and aircraft, fares exceptionally well in all scenarios.
Or you could always go flamboyant and choose a 12 watch display case. After all, like jewellery, your curated watches define your personality. So why shouldn't they be on display like a fine piece of art to help you effortlessly make a statement.
Conclusion
Regardless of which brand you choose, a 12 watch display case will definitely be a staple in your arsenal. Not only will it complement your suave personality but also pay homage to your discreet watch collection.
Celebrity Chef Gordon Ramsay Watch Collection
Explore celebrity chef Gordon Ramsay watch collection, from luxury brands like Rolex...