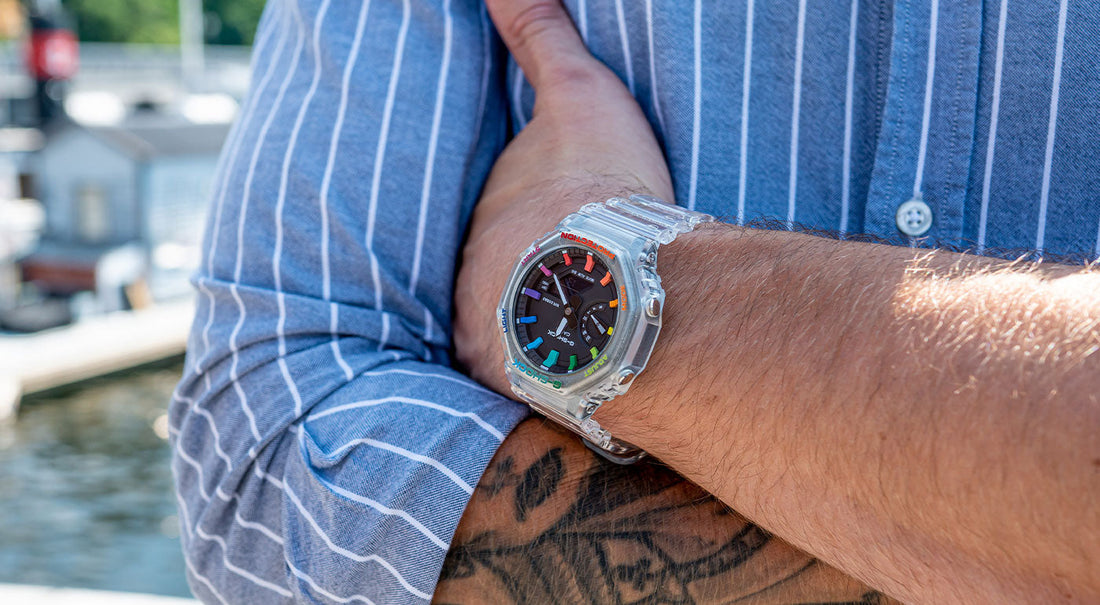 The Casio Watch is a watch that stands out from the crowd due to its distinctive design. By looking at what a brand offers at the basic level, you can learn quite a lot about it. You may choose from a large variety of stylish, hassle-free quartz clocks from Casio that complement everything from swimsuits to your best formal attire. What more could you possibly ask for? 
CasiOak Rainbow Jellyfish
The IFLW and The Dial Artist collaborated to create a one-of-a-kind rainbow Casio CasiOak. The Jellyfish Rainbow version's vibrant hour markers and hand-painted text on the bezel are examples of this.
The octagonal bezel of the Casio G-shock series and the famous design of the Audemars Piguet Royal Oak inspired the name of this model of the Casio watch. There are a number of custom options for this popular design.
The CasiOak Jellyfish strikes the perfect balance between subtlety and whimsy, adding a pop of colour to any outfit. When worn, this watch will certainly generate a conversation and bring some sunshine to the gloomiest of days.
Carbon Core Guard Framework
G-SHOCK has kept pushing the limits of timekeeping durability since the original DW-5000C went on the market in 1983. We've seen a parade of exciting new models by constantly creating new and inventive designs. These latest iterations encapsulate these efforts in an appealingly tiny package.
Furthermore, the updated models keep the DW-5000C's original octagonal design. This Analogue-digital timekeeping watch has a design that is G-SHOCK level robust.
Its high-strength resin and carbon fibres can be used to make a case that is only 11.8 mm thick, making it the thinnest G-SHOCK combo model.
By encapsulating the module in a carbon casing, a new carbon core guard structure safeguards it. The company made its casing from fine resin mixed with carbon fibres for extra strength and resistance to breaking.
CasiOak digital watch models – A1000PRW-1ER
This is a Casio watch made of stainless steel 316L, an extremely durable substance that, in principle, cannot be broken down. It features a surface that is resistant to corrosion and is also colour-stable and allergen-free. In addition to that, it can withstand both fresh and saltwater without issue.
It is water resistant and can endure brief exposure to water because it is certified with water tightness. The degree of water resistance that is standardised by ISO 2281 and is denoted by the notation 30M/3ATM. They measure the temperature, depth, air, and water pressure of the environment for different lengths of time and adjust the working part of the Watch according to ISO standards.
This Casio watch weighs 70g with a case width and length of 38 and 39.6cm, respectively. It also has a square shape with a 7.3mm thickness.
CasiOak digital watch models – GM-5600SN
In comparison with a vintage Rolex 1675, some might say this model resembles Jackson Pollock's living room after he wandered home intoxicated one night. When placed next to the A1000PR-1ER, it certainly seems much more upscale. Also, you will be impressed by how comfortable Casio metal strap watches feel on your wrist.
Rolex Day-Date Puzzle Dial - Which Celebrities Own It
These timepieces, available in white, rose, or yellow gold, feature jigsaw-inspired enamel...