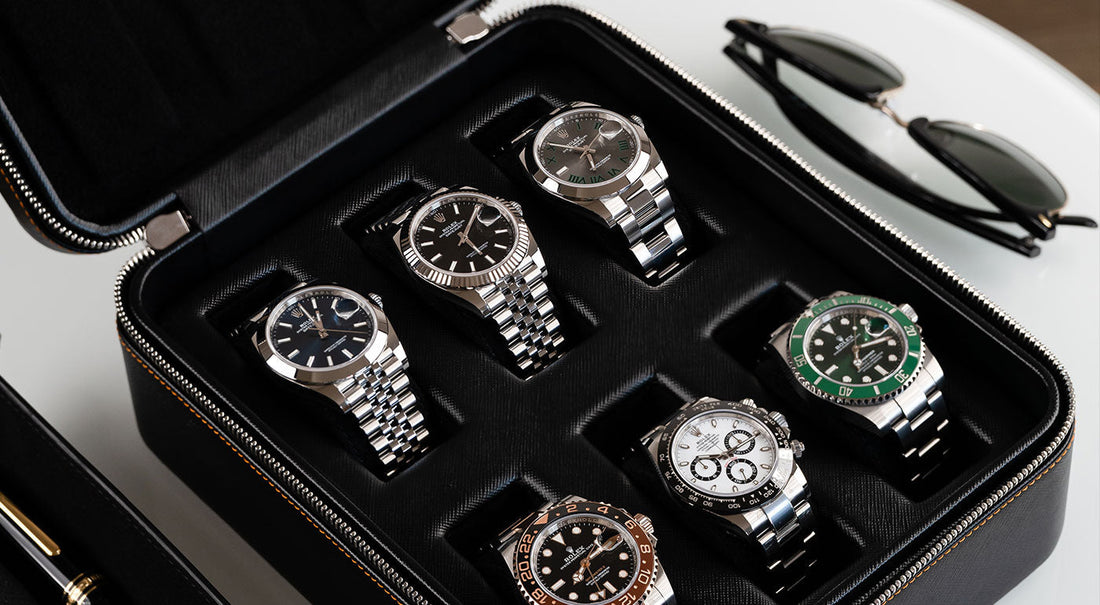 Maintaining a watch is one of the most important considerations for every watch lover. A 6 piece watch case is a worthwhile investment for travel, and there are many timepiece casings available. However, various factors, such as appearance and storage capacity, are worth taking into account when choosing a design. 
First, what exactly is a watch case? It's a statement piece that's used to keep your watch safe when you're not wearing it. This object is useful for people who have a lot of watches and would like to maintain them in the best condition possible. You don't want to scratch your brand-new watch while it's being stored! For us, the 6 piece watch case fulfils all of your requirements.
Its small and compact appearance, as well as its modern and unique features, ensure optimal security for your five watches, whether you're keeping them or travelling with them. Your watches are divided into distinct compartments, ensuring they never knock into one other, thanks to this innovative shaped design!
For organization
A 6 piece watch case can help people stay organized, especially if they have a lot of watches. Many watch-lovers enjoy having a variety of choices, and investing in a watch case helps keep those purchases safe. Furthermore, your travel watch box can be used for more than just storing your watches. It can be used to hold your accessories or jewelry, so if you're looking for a great timepiece organizer, this one is a perfect choice. 
Watch protection
Carry-on baggage disasters, spills and suitcase damage are all too common when travelling. When you're packing your watch with other items, the last thing you want is for a lotion to leak or a buckle to scratch. Scratching, spillage, bumps, stains, and other travel damage should be a thing of the past once you invest in a high-quality case.
If you're a serious watch collector, you'll want to invest in a high-end box to keep your valuables safe. Fortunately, there are numerous possibilities. We offer a large selection of watch cases to choose from, so you're sure to find one that matches your unique style and requirements!
Display
There's something enticing about seeing a collection of fine watches all neatly placed. When presented appropriately, the grandeur, glitz, and craftsmanship shine through, and a watch box can help you achieve just that. Watch boxes allow you to display your favourite watches rather than burying them in storage. It also means you won't have to sift through a slew of boxes to find the watch you want. They're all in one place, beautifully arranged and secure. 
As a present
If you have someone close who is a watch enthusiast, a watch case would be an ideal gift for them. It's also a practical gift, and it also gives you the opportunity to offer them something they'll use on a daily basis. Not only will it keep your watches safer than simply putting them in a drawer, but it can also be customized and made into a great present. Whether you want something simple and elegant or perhaps, something with as much personality as your watch… there is a watch box for you. 
Celebrity Chef Gordon Ramsay Watch Collection
Explore celebrity chef Gordon Ramsay watch collection, from luxury brands like Rolex...