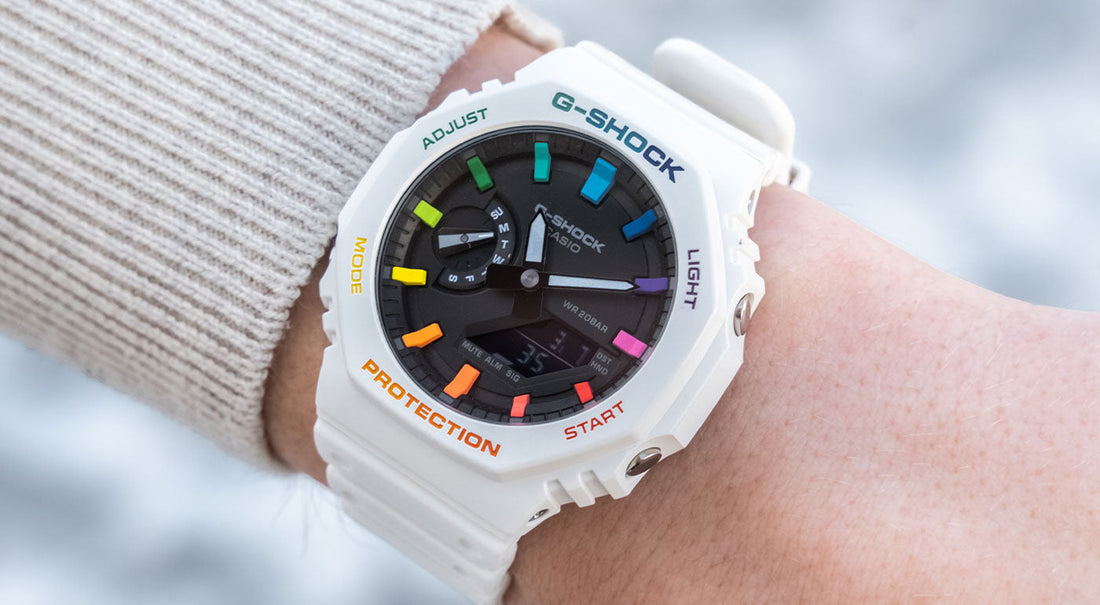 A watch may be more than a something to tell the time. The watch can be a statement of personality, and also style. A watch can be functional, but it can also be an integral part of an outfit. When wearing a tuxedo, you wouldn't wear the same watch as when you're mowing the lawn. For the active lifestyle, a reliable timepiece is essential. There are no watches more suited to withstanding the bumps and jolts of everyday life than the G-Shock CasiOak collection. Not only is this watch functional, it also looks good. 
The Best Everyday Watch
Designed to resist mechanical stress, shock, and vibration, G-Shock watches have long had the reputation of being tough, hard-wearing watches. The line, produced by Japanese company Casio, is primarily used for sport, military, and outdoor-oriented activities. The tough nature of these watches make them the best everyday watch. All G-Shock watches have a 200 m water resistance, as well as a stopwatch and alarm feature.
The Beautiful Everyday
IFL Watches and the Dial Artist have teamed up to customize a range of CasiOak G-Shock watches. Each piece is hand painted in vibrant colours, turning sleek, functional watches into eye-catching and unique pieces. The pop of colour makes these watches fun, and likely to garner compliments to the wearer. With hour markers and the bezel text being hand painted, the already iconic design is now more interesting and impressive. IFLW provides a range of different colour schemes, ranging from a single colour, to the full rainbow.
Unique Watch Faces
Not only are the painted hour markers and bezel writing on offer, but IFLW is offering some truly unique pieces. On some of these CasiOak watches, The Dial Artist has painted some stunning patterns and designs on the faces of these iconic watches. Watches with black faces, in particular, have a design called "Milky Way". This design consists of multicoloured dots of paint, mimicking the look of the night sky. Another popular design, called "Inferno", utilizes a range of orange and yellow tones to imitate flames. The watch face has an abstract splatter pattern to resemble the chaos of the fiery inferno.
Best Way to Store and Display
When you buy a good watch, you want to keep it safe. Once you buy a hand painted CasiOak watch, you'll want to display it too. While buying a gorgeous everyday watch, why not take a look at IFLW's storage and display solution? Our watch cases have a sleek and classy design, with soft Alcantara, ensuring that your watches will suffer no damage. All watch cases are handmade, ensuring the highest quality. These cases ensure safety as well as attractive design, with a secure locking mechanism. When left open these cases become the perfect method for displaying your watch collection. For the true watch enthusiast, IFLW provides cases that can hold up to ten watches. We also provide watch rolls, from a single watch, to four. All items are handmade.
Conclusion
For a uniquely beautiful watch, with reliable and hard-wearing functionality, look no further than IFL Watches. Our range of hand painted CasiOak G-Shock watches are unique collector's items, which would be an excellent addition to any watch-enthusiast's collection.
Rolex Day-Date Puzzle Dial - Which Celebrities Own It
These timepieces, available in white, rose, or yellow gold, feature jigsaw-inspired enamel...