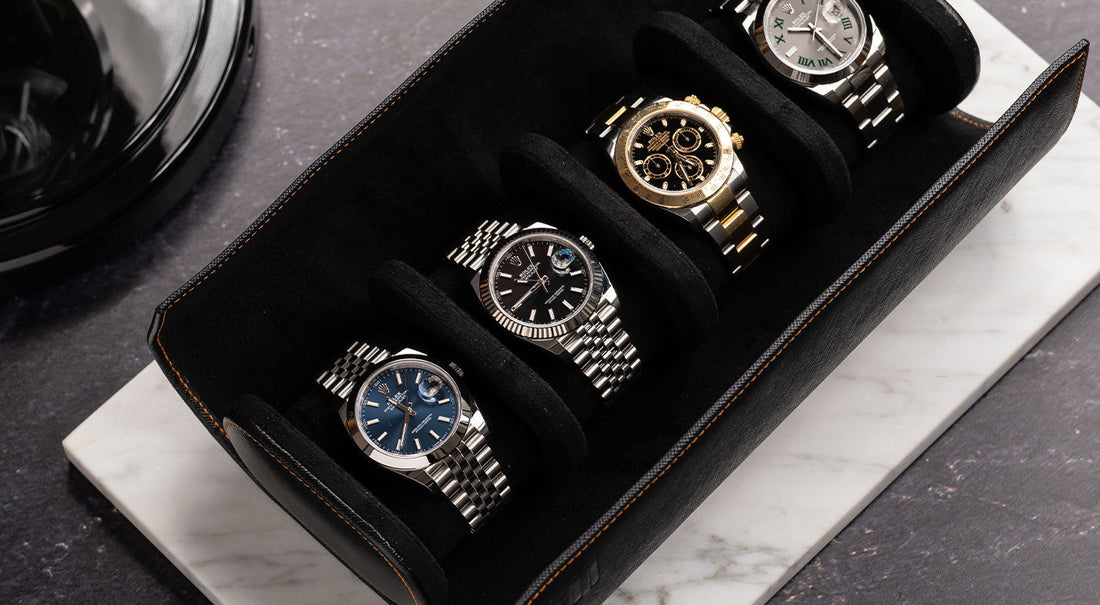 Time is an important commodity in today's world. We have to factor in time for everything we do if we want to stay on top of things. There are hundreds of things to do on a daily basis, and not staying on track means you may miss out on some great opportunities. Wearing a watch takes care of all that. Watches have moved from a purely functional item to an essential fashion accessory. Since one watch can't possibly complement every ensemble or every occasion in your wardrobe, most people have multiple watches to cover their needs. 
Let's say you're a watch connoisseur – you must have dozens of watches in your arsenal. Or maybe you're new to the world of watches and want to diversify your collection. There is a watch for every occasion, so you'll be spoilt for choice – but where do you keep them? Storing all the individual boxes can clutter your wardrobe, so we've provided a more practical and stylish solution.
Why use a black watch roll?
There could be any number of reasons why you'd need a watch roll. You'll likely want to start with a black watch roll, because black is a universal color and it'll go along perfectly with almost every occasion.
Storage: A black watch roll effectively stores your watches and protects them from gathering scratches and scuff marks. Dust is also an enemy to the watches. It might get into your watches and cause corrosion on the metallic surfaces and parts.


Travel: If you're planning on going away for business or pleasure, you'll need some of your watches to accompany you. And since travelling carries its hazards, your watches will be best protected in a watch roll that won't occupy much space. It doesn't matter which color your outfit or suitcase is, a black watch roll will complement you and your belongings. Trust us on that.


Gifting: Let's say you happen to know somebody who values their timepieces. Gifting them a watch can be risky because they might end up not liking your gift. After all, everybody has their unique preference. However, gifting them a watch roll is hands down the best idea you could ever have.


But remember, it should be a nice watch roll. Don't worry, we've mentioned some of the best black watch rolls money can buy.
Black Saffiano Watch Roll
If you plan on storing just one watch, then this Black Saffiano Watch Roll is a perfect option. This exquisite watch roll sports a black leather exterior and black Alcantara® suede interior that's super soft to touch. It's beautifully contrasted by an orange stitching and engraved IFL logo on the front that adds to the luxurious look. This watch roll is handmade in Tuscany, Italy using locally sourced materials boasting excellent craftsmanship and superior Saffiano leather. By the way, the leather is also water-resistant making it easy to clean and carry.
There are two other variations in this style. You could either opt for Black Saffiano Watch Roll — Two Watches, or Black Saffiano Watch Roll — Four Watches.
Regardless of your style, this black watch roll will be a faithful companion wherever you go.
Rolex Day-Date Puzzle Dial - Which Celebrities Own It
These timepieces, available in white, rose, or yellow gold, feature jigsaw-inspired enamel...