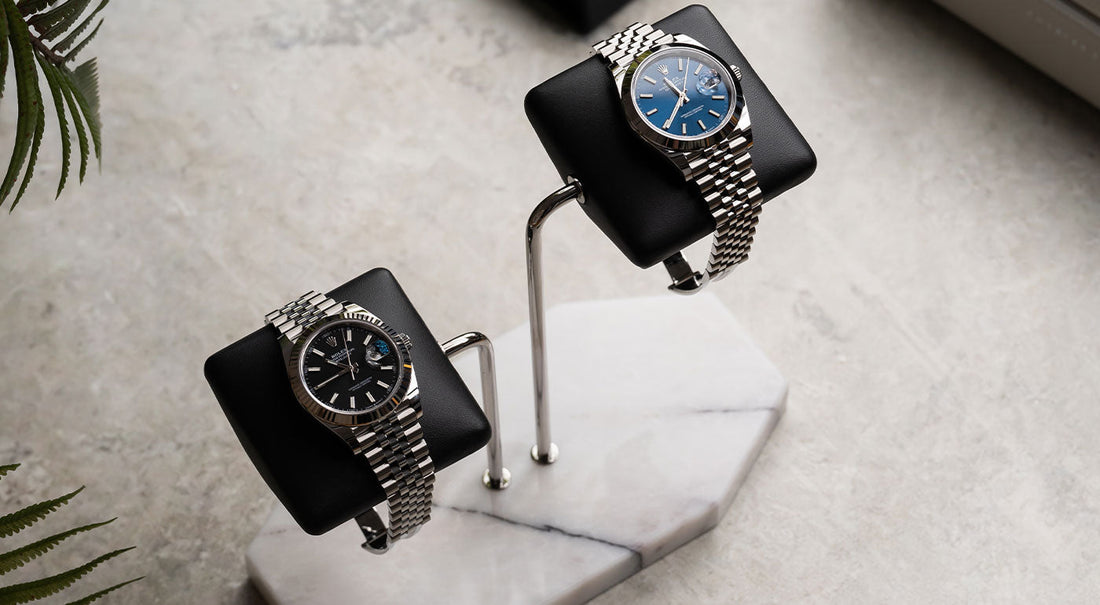 When art meets function, you get an IFL watch stand
At the end of the day, when you get home from your hectic life, taking off your watch and storing it should not be a source of stress. Luxury watches are worthy of admiration, even when not being worn. So why stow them away in a box, or a cluttered trinket dish? When you own a timepiece that you're proud of, why not display it on one of our beautifully crafted watch stands? 
Each piece is lovingly crafted by hand, making it a worthy home for your prized possession. The sleek, luxuriant designs match the high quality aesthetic of your watch of choice. These watch stands are more than just a functional item, they are an art piece. Whether they are for the bedroom, office, or living space, these watch stands will absolutely draw compliments and admiration.
Model Types
Currently, there are three different types of IFL watch stands to choose from. For a more classic look, customers may choose from a one watch, or two watch stand. There is also the incredibly unique option of the Robotoy collection. Every piece is handcrafted, making it unique, and something to be treasured for life. The unique designs are crafted in such a way as to keep the watch pristine. In opposition to the traditional trinket trays or drawers, IFL watch stands keep the watch aloft.
This means that no one part of the watch will be damaged or worn out while not being worn. The focus is not solely on making a beautiful display option (although this is accomplished here), but to protect and preserve the watch. IFL watch stands marry functionality and art so seamlessly that you need not worry about the preservation of your watch. You simply admire how good it looks on our gorgeous displays.
One Watch and Two Watch Stands
Currently, there are a number of this style of watch stand available for purchase from IFL Watches. The design of these stands is incredibly sleek and sophisticated, using luxurious and reliable materials. These stands would be the perfect place to display your customized G-Shock Casioak watch, which are also available on IFL Watches. 
The only difference between the one watch and two watch display is the number of watches it can hold. Adhering to the same design and aesthetic, the main difference is the inclusion of a second padded cushion for an additional watch. This second cushion is extended from the marble base with a second steel rod, making it separate to the first cushion. These classic watch displays have an air of glamour, while maintaining a minimalist aesthetic, which will allow your luxury watch to really shine. The minimalist aesthetic will also fit into your home décor easily.
Salmon Leather Watch Stand
A truly eye-catching piece on offer at the moment, is the Salmon Watch Stand. Coming in vibrant Cerulean blue, sleek Midnight black, cool Himalaya grey, and regal Royal green, these stands are decorative artistic pieces. The colour options allow the customer to choose between something with a vibrant pop of colour, or something more understated.
The options will allow you to choose a stand which will fit into your décor and aesthetic seamlessly. Made from exotic salmon leather, these pieces are handcrafted in collaboration with Daniel Ankarstad of Siberian Stockholm.
Not only is salmon leather unique, but it is incredibly sustainable. Coming from salmon farms in Norwegian fjords, the leather is tanned in Iceland. These highly detailed and textured pieces provide the perfect display for a watch worth seeing.
The padded cushion is precisely angled to hold your watch securely. Connected via a highly polished steel bar, the hexagonal marble base adds a touch of timeless class to the piece. This stand is available for both a single watch, or two watches. The two watch stand has a second padded cushion for an additional watch.
Leather Watch Stand
A more traditional option is available in the form of classic leather padded cushions. These come in the same style and shape as the Salmon leather watch stands, with the same highly polished steel bars, and sleek marble stands. The cushions are angled and padded to provide perfect support and security to your timepiece.
There are a variety of stands to choose from in this range. The metal bar which holds the cushion aloft comes in a silver colour, as well as a golden colour. There is also the unique option of a black metal bar.
This variety in metal colour allows you to pair the right stand for the right watch. The marble base also comes in a variety of options, with black, and white Carrara, Portoro, and Lilac marbles to choose from. Every slab of marble is unique, as it is a naturally occurring stone, with no two pieces truly alike. As with all stands, these are handcrafted in Stockholm Sweden. These stands are also available in one or two watch varieties.
Robotoys Collection
If you are seeking a unique and quirky option for displaying your watches, then look no further than our Robotoy Collection. This limited collection merges toys and art into a functional hybrid of watch display. This collection has five unique members to collect, each with a distinctive personality. These Robotoy art pieces are handmade in acrylic and metal, making them unique and fun pieces, worthy of display in their own right. They are nostalgic of metal art pieces made from scrap metal, popular in the early 2000s. There's one big difference though: these watch displays are executed with attention to minute detail. While being a fun collection, there is still an element of luxury about them. 
These art pieces make for a perfect give, guaranteed to make anyone smile. They double as fantastic collectibles, as a full set will surely only appreciate in value over time. As well as that, these brothers look best when displayed together.
Watchley Davidson
A delightful pun on the famous motorcycle brand, this Robotoy sits astride a motorcycle, protecting your watch, and looking cool doing so. This legendary biker is not only a solid piece for display, his arms are poseable, making him emotive and customisable. You could pose him in a variety of ways, prolonging the novelty of this piece. Using only high-quality materials, this watch stand is not only a fun way to display your watch, but a reliable one. This watch guardian is 13.5 cm (or 5 inches) tall.
Watchinator
This time-travelling robot is the perfect guardian for your precious timepiece. The biggest and baddest of the bunch, the Watchinator has poseable arms and legs. While he towers above his brothers, and casts an intimidating stance, he is incredibly protective of your precious watch. With a watch stand like this, there is a wide variety in how you display your piece from one day to the next. A fun piece of pop-culture, which is also functional. The tallest out of his brothers, the Watchinator stands at 20 cm (or 8 inches) tall.
R2 Bot
This playful take on a certain space-faring droid, is part of a pair (his twin D2 Bot). This Robotoy comes with a vibrant pop of orange, which draws the eye. R2 Bot may be the shortest of his brothers (along with his twin), but he is certainly the most colourful. This splash of colour sets him apart from his brothers, making him even more unique among this unique bunch.
This colourful little guy would look especially well sitting on your office desk, as something to bring a smile to your face. Similar to the others, R2 Bot has poseable arms and legs, and is a cute, but trustworthy watch guardian. He stands at 14 cm (or 5.5 inches) tall.
D2 Bot
The other half of the R2 and D2 Bot twins, this little guy is a compact and sturdy defender of your prized possession. While not as colourful as his twin R2, D2 is just as emotive, and has a big personality. Not only will he hold your watch safely, you can play with his arms and legs to get him to stand or sit anywhere you like. There is no denying that he belongs to this iconic set of brothers, as he is made from the same sturdy materials, and has the same colour scheme as the majority of them. Despite his short stature, he will be a stout defender of watches. Similar to his twin, D2 Bot stands at 14 cm (or 5.5 inches) tall.
Cyclops
The final brother in the merry band of Robotoys, Cyclops is so called for his large single eye. Not only does this Robotoy have poseable arms and legs, but his single eye is a magnifying glass, which can be similarly manipulated. When your watch is in place, this magnifying glass will be over the watch face. This will make the watch face appear larger, and be readable. While a very fun watch display option, this magnifying glass makes it even more functional, allowing you to read the time at a glance. 
This Robo brother would be a great addition to a desk, or even a coffee table, as a means of knowing the time, even when you're not wearing a watch. This helpful guardian is 17 cm (or 6.6 inches) tall.
The Perfect Gift
Wondering what to buy for the watch enthusiast in your life? Look no further than IFL Watches for the perfect gift. These handcrafted watch stands are the perfect accessory to protect and show off beautiful luxury watches, and is a worthy investment to be sure. These are collectible pieces, which are in limited production, meaning they will make for unique and stylish gifts. The aesthetic is so post-modern that the stands are worthy of taking pride of place in the home. They also make a great gift to yourself, as these luxury items are something anyone can admire. Either way, one of these stands would make a lovely treat; something to treasure.
Watch Protection
A luxury watch is not something to be treated roughly. When buying a luxury watch, you will have to consider its upkeep, and how you will protect it. When you invest in a watch worth protecting, it's a good idea to also invest in a means to protect it. An invaluable aspect of these watch stands is that it elevates your watch. When your watch is on one of our stands, be it the classic or Robotoy variety, it is more protected. 
There is a significantly smaller chance of something being accidentally placed or dropped on your precious watch. While being elevated and snugly fit onto a cushion, there is less of a chance of little hands getting hold of your luxury watch. With our handcrafted watch stands, you can rest easy, knowing exactly where your watch is, and knowing that it is protected. By being placed on a cushion, the watch won't be resting exclusively on any single part, wearing that down over time. This will prolong the life of the watch.
Final Thoughts
When you take the time and spend the money to accrue a collection of luxury timepieces, you don't want to hide them away. The IFL Watch stands are an excellent solution. By displaying your watches in this beautiful way, you can feel a pride in your collection. You can also rest assured that your precious timepieces are protected. A luxury watch deserves a luxury display, but it also deserves a safe one. 
IFLW ensures that all pieces, which are handcrafted, are of the highest quality. There is one thing you can be absolutely sure of: IFLW knows watches. This means we know how to take care of your watches, and look good while doing so. With every angle and material used carefully considered maximizing the protection of your watches. Put plainly, these watch displays are more than a pretty face. They're a worthy investment in watch protection. There really are no other watch stands quite like them on the market currently.
Rolex Day-Date Puzzle Dial - Which Celebrities Own It
These timepieces, available in white, rose, or yellow gold, feature jigsaw-inspired enamel...