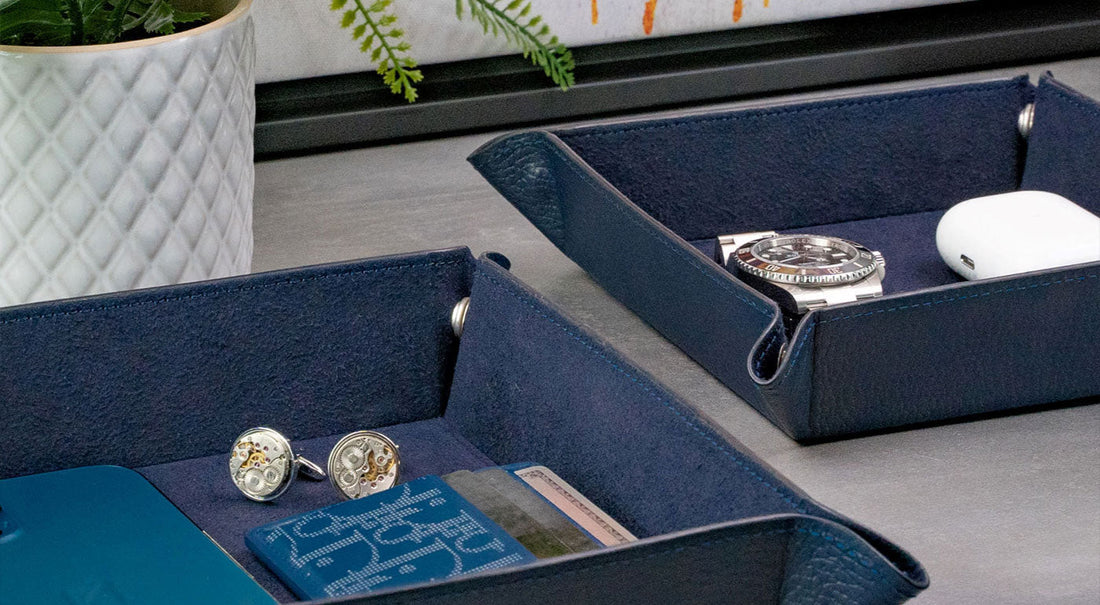 Why do you need a Blue Valet Tray?
A cooler version of a catch-all tray for men. The Blue Valet Tray is a perfect item to store all of your necessary items instead of carrying them in their separate cases. Your luxury items can now have an exclusive home where all your carry-along items can be stored together safely.
Perfect and Sensible Organization
No one likes their precious items lying around creating unwanted clutter. Luxury items like watches, cufflinks, wallets and even everyday items like your mobile, keys, lighter, pocket knives etc. are smaller and hence, tend to slip through the cracks. The Blue Valet Tray is an ideal storage solution that can be kept on counter tops, closet shelves, work spaces or bedrooms. Everything can now be found in one place in a much more organized and clean way.
A Luxury Item
While many people continue struggling to keep their items together, the Blue Valet Tray is a luxury item that looks classy and is yet very effective. All your things look exceptionally nice when seen placed in the blue valet tray. It looks luxurious placed in a room and surely draws attention. Your accessories further look clean and suave when placed in the Blue Valet Tray.
Travel with Blue Valet Tray
The Blue Valet Tray is very easy to carry around for both short and long distance travels. It has snap buttons that make it very easy to assemble at each corner. You may access it and then pack it up as and when required. It is meticulously and thoughtfully made to accommodate the shifting needs of modern day life. You may keep it at home or carry it along with you at work. It is a fantastic companion and travel buddy.
A Quality Product
A Blue Valet Tray is made with leather, and consequently is a great material for all the items stored in it. Whether it's your expensive cell phone, your luxury watch, your precious jewellery, your custom lighter or even your wires, the tray is smooth enough to hold it all. It helps keep these items from scattering off to unwanted places and getting scratched or worse, lost. The quality of the tray is unparalleled.
Design and Aesthetic
The Blue Valet Tray is a piece of pure art. The design is attractive and functional. It is a utility product created with the mindset of keeping its contents safe whereever its placed. The colour blue makes it blend aesthetically with its surroundings at all times. The snap buttons are set at perfect spots where they add to the design of the product. The leather at the corners makes the tray fit when placed at any kind of surface.
The Blue Valet Tray is the perfect product for men who carry a paraphernalia of items and often struggle with keeping them all together and safe. The tray is hassle free and makes your life easy and sorted, making it all look sophisticated at the same time.
Rolex Day-Date Puzzle Dial - Which Celebrities Own It
These timepieces, available in white, rose, or yellow gold, feature jigsaw-inspired enamel...