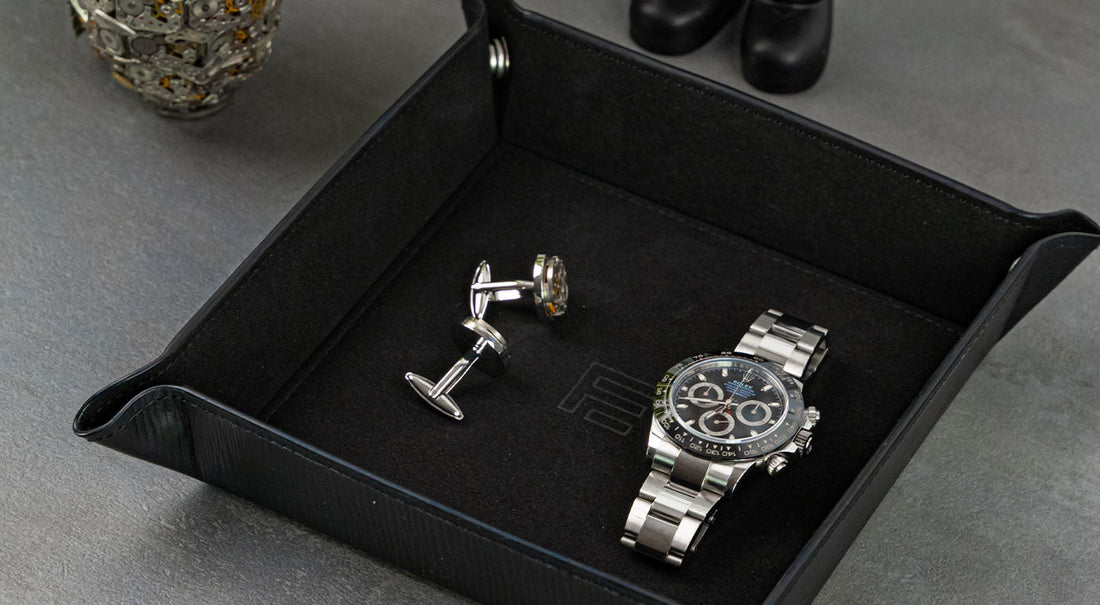 A valet tray provides a secure location for all the belongings that you take with you on a daily basis, putting a stop to the needless chaos that occurs before you leave home. These trays have a beautiful design and can also be used as a piece of interior art. Also, they can add depth and texture to a benchtop or bedside table that is otherwise flat.
Place your watch and keys in our leather valet tray
With the help of our valet tray, you can keep whatever is in your pockets tidy and looking wonderful. It's ideal for those people who finish the day with money in their pockets.
Because we utilise full-grain leather, your tray will gradually acquire a patina as you continue to use it. Our snaps are made of solid brass, and they have a pleasing click that protects the safety of your belongings. If you remove the snaps from the tray, it will lie completely flat and be ideal for storing. We take a lot of pride in the job that we do, and we provide a lifetime warranty on every valet tray that we sell.
The following are some of the reasons why our brown leather valet tray is better than other brands:
- It's crafted from flexible and long-lasting full-grain leather.
- We stand by every valet tray we produce and provide a lifetime warranty on it.
- When being used, the tray can be folded down into a very compact and practical size, making it ideal for transport.
- Snaps made of solid brass ensure that all of your belongings remain in place.
- A usable area of 6 inches by 6 inches can accommodate everything in your pocket.
- It protects surfaces like tabletops and dresser drawers from becoming scratched.


Premium full grain brown leather
People who wish to leave their own imprint on our products via patina and regular usage will find satisfaction in purchasing our full-grain leather. Because of its distinctive qualities, such as scarring, marbling, and tonal variations in colour, full-grain leather is in great demand. These qualities set it apart from other types of leather. Every item that we create is absolutely unique and unlike anything that you could ever find for sale in a department store.
Casting in solid brass
Each of our rivets, snaps, and buckles is cast and forged from a single piece of solid brass. This strong, long-lasting metal will get a beautiful patina after many years of use, just like the leather it is wrapped in.
Custom engraving
Using a laser, initials, names, and dates can all be engraved. Observe a momentous event or present them with something that is one of a kind. Our engraving is irreversible and will never lose its sharpness.
Conclusion
The leather valet tray that we provide can be used for a variety of purposes. It may also provide an elegant touch to any home or business by providing a clean method to keep everyday jewellery, keys, phones, or office paperwork. This is especially useful for jewellery that is worn on a daily basis. You can purchase it in one of three sizes: separately or as a set of three pieces.
Rolex Day-Date Puzzle Dial - Which Celebrities Own It
These timepieces, available in white, rose, or yellow gold, feature jigsaw-inspired enamel...