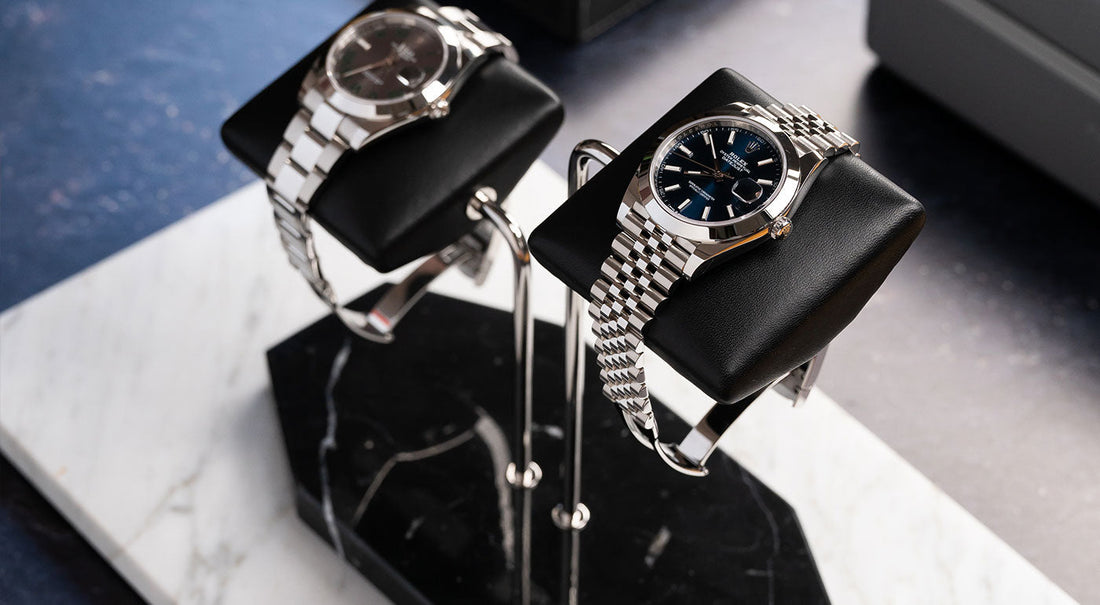 Our watch stands for Rolex Watches
If you want your watch to make a statement even when you're not wearing it, try our watch stands that goes perfectly with Rolex watches.. Whether you prefer your Rolex displayed on a classic marble pedestal-style stand, or you want something that truly stands out, like a tiny robot figure, your watch can continue to shine, even after it's off your wrist. 
A little about Rolex
Founded in 1905, this watchmaker has garnered influence in the world of timepieces, mainly due to the high-end products Rolex offers. Discerning watch aficionados have always appreciated that Rolex provides such consistently beautiful variety.
Pedestal stands for single watches
There is something elegant in removing a beautiful watch and placing it for display on a watch stand. To give your Rolex the setting it deserves, the stand itself should be equally remarkable. The Carrara Watch Stand is one such example. Made from Carrara marble, this stand will be in your life for many years. This piece of art comes with a hexagonal black marble base and a black leather cushion. This is held aloft by a high-quality steel rod. Because of its size, you can place the Carrara watch stand on your work desk or home console.
Classic stands for two watches
A perfect home accent for the couple who loves their watches. These watch stands are always wonderful for the person who likes to regularly change between two favourite watches. The best examples of these have heavy marble bases. For example, the Pearl Lilac watch stand uses Milas Lilac white marble cut into a unique oblong octagon. From this base rise 2 high-quality steel rods supporting two leather watch cushions. This watch stand offers you a great way to store — and display! — your timepiece.
Another stand-out example of this style of watch stand is the Royal Salmon Stand. With its Guatemala green marble base and golden-hued metal rod, this watch stand is stunning. The Norwegian Fjords' salmon leather on the stand's cushion undergoes rigorous treatment and assembling, meaning that your watch will always be perfectly supported.
Statement piece watch stand
Made from stainless steel, these unique watch stands guarantee durability. Under this category, you can find products like Wallie, inspired by the 2008 animation Wall-e. This watch stand is a suitable guardian for your Rolex and even makes things a bit fun, with the opportunity to play with its arms, legs, and hands when adjusting it. Wallie contains materials such as copper and acrylics, thus it will be a long-lasting and eye-catching addition to your home. This Rolex watch stand stands at a height of 16.5 cm.
Another robot-themed single-watch stand clocks in at 14 cm. With silver as the main colour, it also features adjustable limbs to help give your robot a personality. If you'd like something other than the usual silver, this R2 Bot also comes in orange.
For a change from the robot theme, the Watchley Davidson Watch Stand takes things a notch higher with its biker shape. This watch stand is made from hard-wearing acrylic, stainless steel, and copper, making it the perfect heirloom. The watch stand has a height of 13.5 cm, with a leather cushion on top of its head for your watch to rest.
IFL Watches – Our watch stands
Our Watch Stands are lovingly handcrafted to take care of your watch. The perfect accessory for the watch enthusiast. Place it on your night stand, in your office or your desk.
Rolex Day-Date Puzzle Dial - Which Celebrities Own It
These timepieces, available in white, rose, or yellow gold, feature jigsaw-inspired enamel...