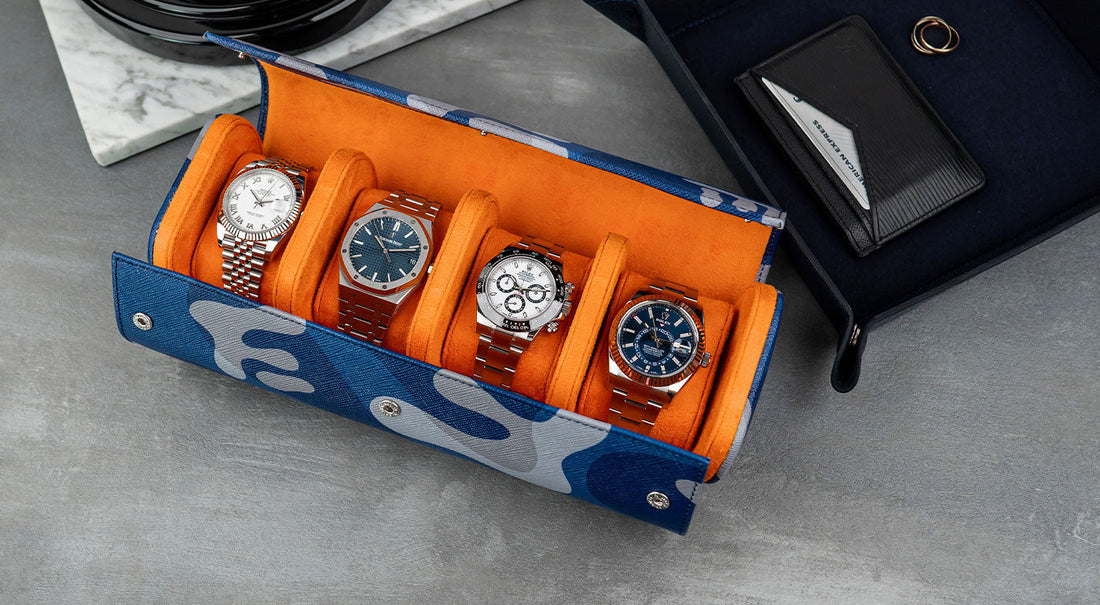 Camo Watch Roll – Classic watch protection and storage with a twist! A vast watch collection undoubtedly comes with storage challenges. Keeping them in an ordinary drawer can risk damaging the precious objects. How are watches protected from scratches when they are not being worn?
Watch enthusiasts are often known to travel with at least one or two extra watches. This begs the question, how should expensive watches be stored safely while traveling? Watch manufacturer boxes take up a lot of space, and it is difficult to fit them all in drawers.
How does one go about protecting and storing these precious timepieces? A Camo watch roll comes in handy to keep all types of wristwatches safe and in pristine condition. 
Camo Watch Roll Options
The watch roll is available in two versions. There are leather/canvas wraps or rigid hard cases. Structured hard case rolls have a watch pillow that is designed to keep the shape of the item. However, the hard-structured cases prove to be bulkier than the standard watch roll.
Instead, camouflaged leather bags provide a modern take on most classic styles. The leather used in our Camo watch rolls is Saffiano Leather with different colors and a snap-on button for ease of use. Paired with Alcantara® lining this camo watch roll truly is one of a kind!
Design and Detail
Our camo watch rolls are handmade in Italy and designed in Sweden. They have a gentle charm with their unique patina and character that cannot be replicated by machines. The Camo watch roll measures 10.25×4×2.75 inches and fits easily into any luggage bag. This makes it easy to carry timepieces without the constant worry of damage.
The Camo watch roll comes in an oval or square shape. This is designed to fit easily into the palm and be comfortably held with ease. The soft Alcantara® lining is the only material that touches the watch. The front is secured using a snap-on button. This is designed for easy opening and closing.
Saffiano leather, which is highly durable, is used to create this masterpiece. Camo watch rolls are scratch-resistant and require very little maintenance. The soft suede pillows inside the rolls can be individually removed so as to allow mounting of the watch. The roll can house up to four watches comfortably.
Camo Watch Roll – A Perfect Gift Idea
Choosing the right gift is not always easy. The Camo watch roll has a classic appeal. This beauty can make an excellent gift for anniversaries or birthdays. It is both functional and durable. If you know someone who loves watches, this would be the perfect gift to get them. They will remember you every time they draw out their watches and notice they still look as good as new. Oh, and you could gift yourself an elegant watch roll too!
Check out our selection of Camo Watch Rolls and pick out your own favorite! We have watch rolls for every occasion, for one watch or up to ten watches! We have different colors too – pick the one that fits your style the most.
A Closer Look at Kim Jong Un Watch Collection
Discover the enigmatic watch collection of North Korea's leader, Kim Jong Un....