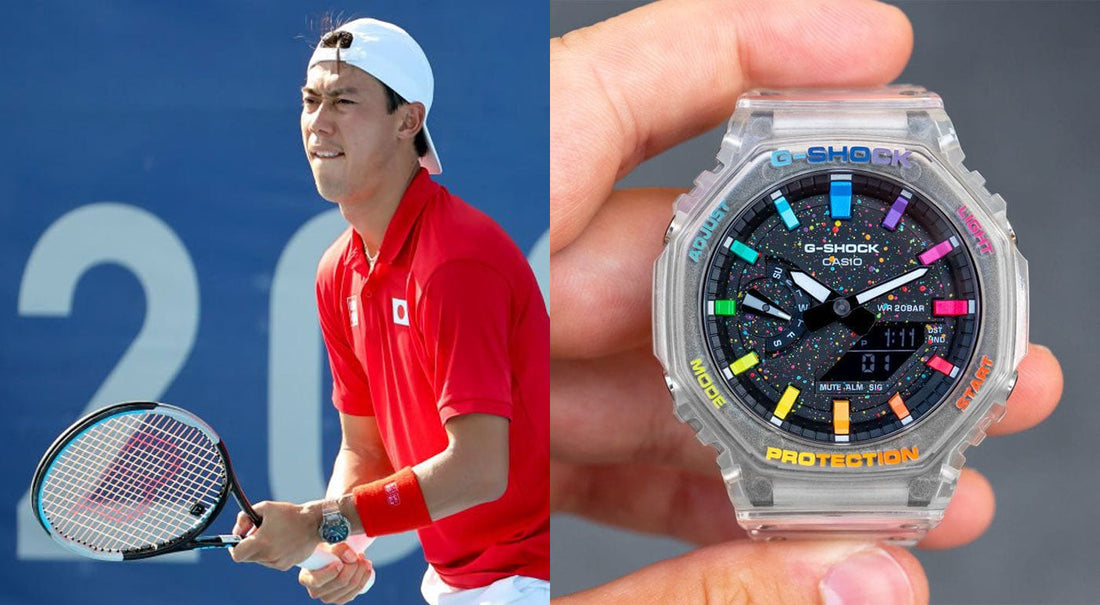 CasiOak Crystal Jellyfish - A Legend to Remember
What are the odds that one of our Limited Edition Crystal Jellyfish watches, made only in 200 pieces, ends up on a Tennis Court in the Olympics? We recall back to the cool moment when Japanese Tennis player Kei Nishikori wore it around the wrist when entering his home stage at the 2020 Tokyo Olympics held from 23 July 2021 until 8 August 2021. 
Kei Nishikori wears CasiOak Crystal Jellyfish at the Tokyo 2020 Olympic Games
Kei Nishikori is Japan's greatest professional tennis player of all time. He is the only man from his country to have ever broken into the top five in the global rankings.
Currently, he is rated among the top 15, having won 12 ATP World Tour titles. His best achievement is most likely reaching the final of the 2014 US Open.
We were (and still are) ecstatic that one of our custom watches, the beautiful and most sought-after Crystal Jellyfish, was worn by such a fine athlete.
Seeing him wearing our G-Shock CasiOak during his matches on the hot field proves that the watch resists shock, vibration, and stress. In case you have missed it, the G in G-Shock refers to Gravitational Shock resistance. 
Kei Nishikori wears the CasiOak Crystal Jellyfish GA-2100SKE-7AER at the Tokyo 2020 Olympics Games​​
Kei Nishikori wears IFLW CasiOak Grey Rainbow at Roland Garros 2021
Nishikori-san is definitely a G-Shock fan and I can say that he really liked our customization as he has two of our CasiOak watches. Another CasiOak that he added to his collection is the G-Shock CasiOak Grey Rainbow.
He was spotted wearing the timepiece at the 2021 French Open held at the Stade Roland Garros in Paris from 30 May to 13 June 2021. The following pictures (source: Getty Images) show him wearing the Grey Rainbow during his match against Alexander Zverev of Germany.
CasiOak Cyrstal Jellyfish
The Crystal Jellyfish name comes from the famous Crystal Jellyfish (Aequorea victoria) that shares the same characteristics as this custom watch. It is transparent and is filled with a beautiful array of colour. The CasiOak Crystal Jellyfish is as playful as it gets, with hand-painted dial, index, and letters on the bezel, all done by our Creative Director (formerly known as The Dial Artist).
Transparent watches have always captured our imagination, and when the GA-2100SKE-7AER got introduced early 2021, we knew we had to create something totally unique and spectacular.
The decision was easy to make, considering we had an overwhelming request to make something fun and exclusive with the new Jellyfish watch.
The CasiOak Crystal Jellyfish was made limited to only 200 pieces. It has been a huge hit among watch collectors since its launch in 2021. It took us by surprise when we saw the watch was trading at least two times or even four times the tag price.
Specifications
Functions: Multi-function analog-digital with analog display of the minutes and hours, and day of the week indication
Material: Transparent resin
Dimensions: 45x11.8mm
Crystal: Mineral crystal
Dial: Customized dial with "splatter" effect and hand-painted indicies in "Rainbow" colours
Bezel: Hand-painted bezel
Lume: Super Illuminator with Auto Light
Water resistance: 200m
Rolex Day-Date Puzzle Dial - Which Celebrities Own It
These timepieces, available in white, rose, or yellow gold, feature jigsaw-inspired enamel...