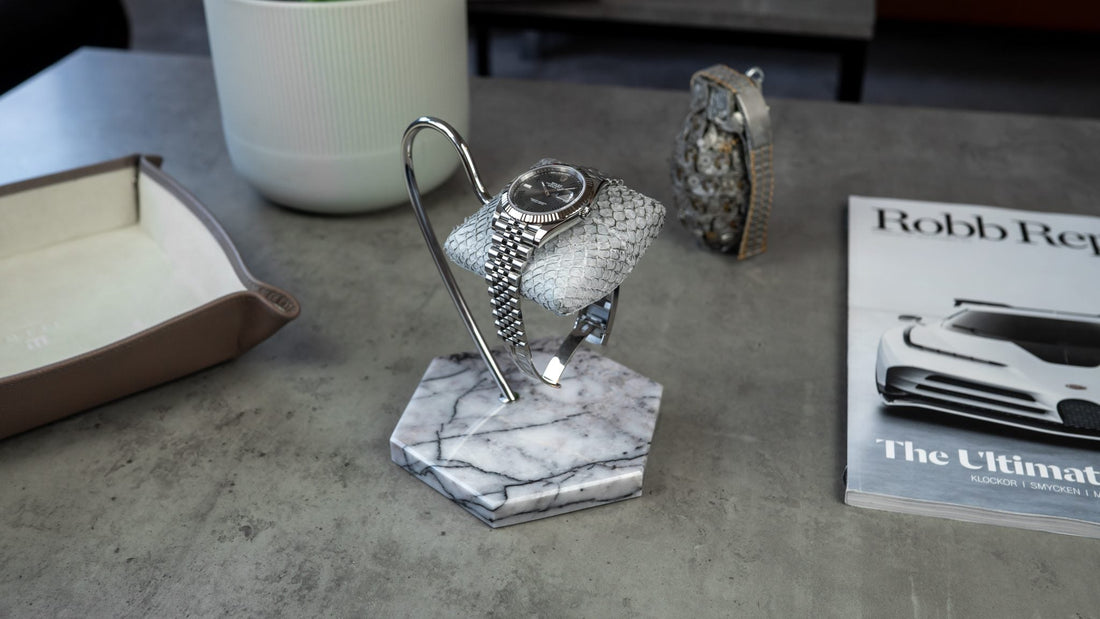 IFL Watches x Sibirien Stockholm
We are happy to announce our latest collaboration with Sibirien Stockholm.
We love to collaborate and it is extra fun when you collaborate with a local artist.
Daniel Ankarstad is an extremely skillful leather craftsman that is based out of Stockholm, Sweden and that has a passion for leather and craftsmanship.

What makes Daniels work at Sibirien Stockholm exciting is that he works with something very exotic – salmon leather. 
We have been looking to add something more exotic to our popular Watch Stand collection for some time. This collaboration ticks three important boxes:
1. A collaboration with a local and very talented local craftsman.
2. A Sustainable material that is rarely seen and worked with.
3. Something exotic that is synonymous with the Nordic countries - salmon.
Salmon leather is not only beautiful to look at, but it is also sustainable too. The leather is sourced from Salmon farms in the Norwegian fjords and tanned in Iceland. It has a rich and beautiful texture and is very eye-catching.
The Watch Stands - IFL Watches x Sibirien Stockholm
We have added a few new models to our current Watch Stand collection:
The Royal Salmon for One and Two Watches – featuring the beautiful green Guatemala Verde marble base and golden bars. Perfectly matched with a green salmon leather cushion.
Then we have the Midnight Salmon Watch Stand for Two watches – featuring a black Carrara marble base, stainless steel bars and a black salmon leather cushion.
Last but not least (and a personal favourite) the Himalaya Salmon Watch Stand for One and Two watches – featuring the vivid Milas Lilac marble base and salmon leather cushions that are tanned with a gradient, so the cushion shifts from dark grey to very light grey/white.
Rolex Day-Date Puzzle Dial - Which Celebrities Own It
These timepieces, available in white, rose, or yellow gold, feature jigsaw-inspired enamel...