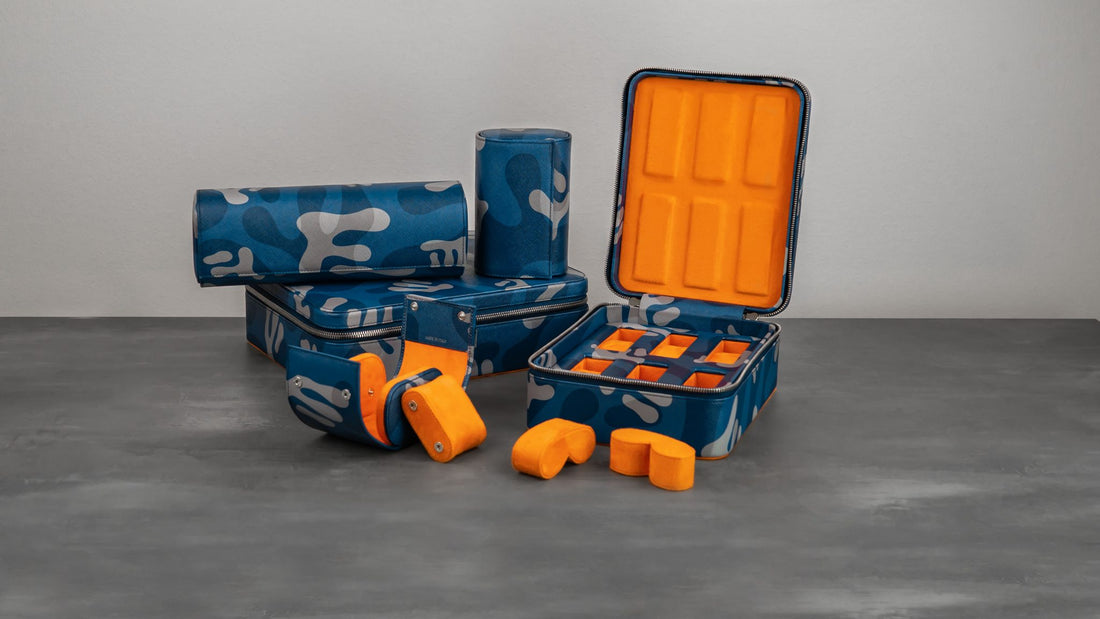 Introducing the IFL Watches Camouflage Watch Rolls & Watch Boxes
It's been a long journey, a 1-year long one to be precise. We are super excited to introduce our brand new IFLW Camo Collection . This camouflage collection is very special to us. We have designed the camouflage pattern from scratch and as always, it is produced with utmost attention to quality and detail in Tuscany, Italy.
Finding the perfect balance in the overlaying of the IFLW logo and colors has been a challenging path that's now resulted in the beautiful and exclusive IFLW camouflage pattern. Ever since we first introduced our first camouflage collection this has been our goal, to introduce a camouflage pattern designed by ourselves.
Our commitment to creating daring and exciting products for the watch enthusiast continue. The leather collection grows now with the camouflage pattern Watch Rolls and also introducing two new Watch Boxes for 6 and 10 watches. 
The collection is available in three colors – blue, orange and green.
The Watch Rolls
Our camouflage Watch Rolls will be available in three sizes – for 1, 2 and 4 watches.They are all made out of the durable Saffiano leather with contrasting Alcantara interior.The blue watch roll is lined with a bright orange interior, the green one features a blood orange interior and the orange one has the smooth beige interior. 
The Watch Boxes
Last but not least, we introduce something completely new as well. Meet our watch boxes for 6 and 10 timepieces.They are made out of the same durable saffiano leather and alcantara lining and color combinations.
The cushion in each slot has a unique shape offers great flexibility for various wrist sizes.
A Closer Look at Kim Jong Un Watch Collection
Discover the enigmatic watch collection of North Korea's leader, Kim Jong Un....