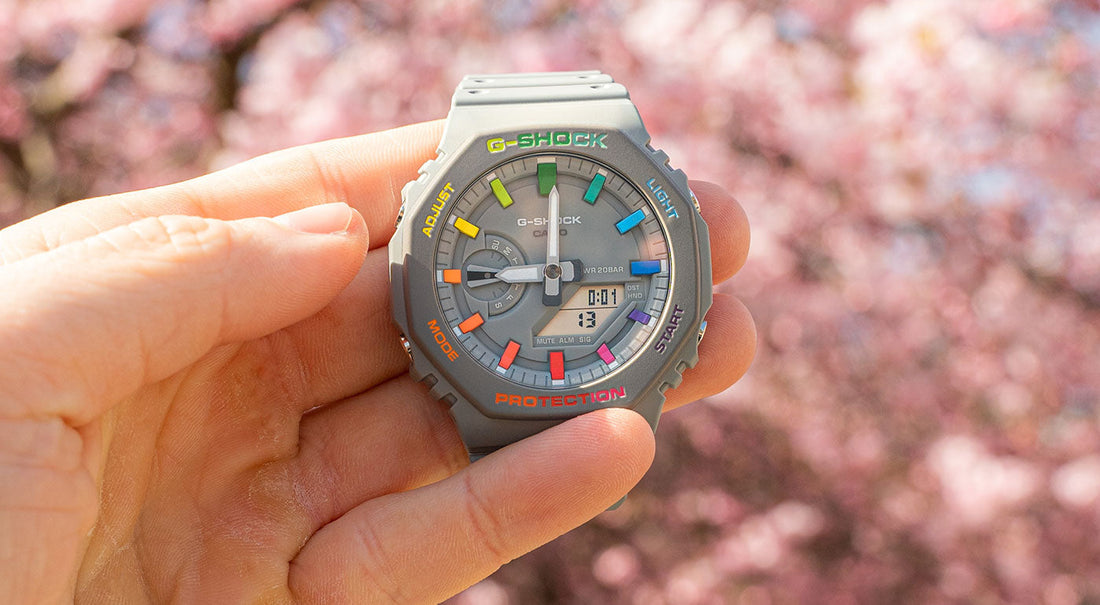 IFLW CasiOak & the History of Casio
IFL Watches is pleased to recognize one of the most popular watch models across the globe, Casio's G-Shock model. Watch enthusiasts rarely delve into the history of Casio. Founded in 1946 by Tadao Kashio, the company was originally launched under the name Kashio Seisakujo. Its first popular product aftermath of the second World War, cigarettes were an in-demand product, and the invention experienced resounding success in the market. Using the funds from this initial success, Kashio and his brothers Yukio, Kazuo, and Toshio applied the profits to developing calculators.  With Toshio's electronics knowledge, the trio completed Japan's first desk-top calculator by 1954. Its unique features set the company apart from competitors, leading to the formation of Casio Computer Co., Ltd in 1957. 
Let's explore the history of Casio from cigarette ring producer to revolutionary global watch and electronics manufacturer, inspiring IFL Watch's exclusive G-Shock CasiOak line of watches.
History of Casio
In 1957 Casio launched the 14-A model calculator, an all-electronic model, which included relay technology and a compact frame.
By the 80s, the company had developed a line of electronic musical instruments, including the popular keyboard. Casio also branched off into developing innovative wristwatches. As one of the first companies to develop and sell quartz watches, the brand distributed analog and digital models.
Continuing to innovate watch models, the company released watches with the ability to display various global time zones. Unique features followed, including altitude and temperature. Outfitted with receivers to align time with global radio towers, Casio became one of the most popular watch brands across the world.
Known for ingenuity, Casio developed the first digital camera for consumers. This landmark innovation led to additional camera inventions, including the three-megapixel camera, ceramic lens technology, and ultra-compact models for convenient use.
Casio Products
Casio's dynamic product selection includes a wide range of electronic and digital products, such as:
- Watches
- Televisions
- Clocks
- Printers
- Mobile Phones
- Computers
- Keyboards
- Digital diaries
- Cameras
G-Shock Model
Known for long-lasting, durable product lines, Casio launched one of its most successful watch brands in 1983. G-Shock watches soared in popularity after a news crew tested the initial model by using it as a hockey puck to discover if the company was falsely advertising its product. The watch held up to the test, which sparked global interest in the G-Shock line of watches.
IFL Watches is a globally popular luxury watch and accessories manufacturer. Developing high-end innovative products, we bring innovation to consumers who enjoy luxury, durability, and fun. By selling the CasiOak line of watches, IFL continues our mission of providing unique watch models and accessories for consumers with discerning tastes.
As one of IFL's in-demand brands, the CasiOak G-Shock model offers consumers a stylish and fun collection of custom watches for timepiece enthusiasts. Born from a collaboration between IFL Watches and The Dial Artist, the customized CasiOak Galaxy model features colorful, hand-painted time markers. Offering variety, ingenuity, and fun for watch owners who relish unique style, the watch is one of IFL's hand-painted products. Following the quality and tradition of the original G-Shock models, IFL's CasiOak line includes limited edition models, such as the CasiOak Inferno for collectors who enjoy exclusivity.
Rolex Day-Date Puzzle Dial - Which Celebrities Own It
These timepieces, available in white, rose, or yellow gold, feature jigsaw-inspired enamel...