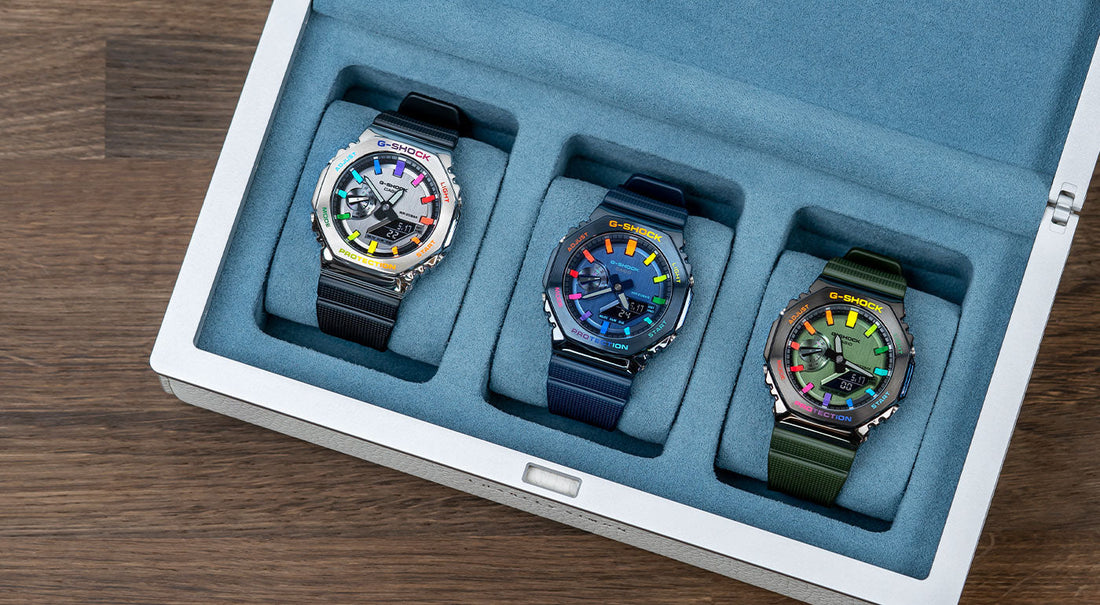 IFL Watches (IFLW) is proud to offer luxury watch cases with a higher standard of protection. Like the Peli case for watches, our products include dustproof and damage proof protection with lifetime durability. For decades, our company has offered watch buyers cases of solid construction built to last. These strong, quality designs keep high-end timepieces safe in storage or on the road. Our brand offers watch accessories to maintain watch quality for lifetime use. 
Our hand-made accessories bring watch aficionados exclusive solutions for expanding watch collections. Developed superior attention to detail our watch cases offer consumers essential durability. Let's explore the benefits of IFL Watches' sturdy protective watch cases. 
Protection
Moving a watch collection between states or around the world is easier with IFLW watch case selections, which rival the Peli watch case. Providing a strong exterior construction, the watch case perfectly complements the lifestyle of those traveling with multiple luxury timepieces.
With individual areas for each watch, our watch cases offer soft cushions on the interior and smooth material to prevent scratches. A beneficial accessory for traveling, IFLW watch cases provide strong exterior protection from crushing in the event of an accident while transporting the case with other luggage.  For maximum durability, consumers trust the durability of IFLW watch cases, which are built to with a strong exterior for maximum protection. Each case helps owners to maintain the pristine condition of luxury watches over long-term usage.
Construction
Key design elements rival Peli case for watches to ensure long-lasting protection. Our products offer strong seals, firm latches, and secure locking mechanisms. For the best luxury watch cases on the market, IFLW spares no expense in enhancing watch protection with durably constructed watch cases. The highly durable craftmanship of IFLW cases makes storing multiple watches convenient and safe.
Features
Genuine IFLW watch cases offer brand specific elements to offer consumers peace of mind at the time of purchase and throughout the lifecycle of the case. Each case offers solid construction to securely store one or multiple timepieces, rivaling Peli case for watches. These cases endure strenuous testing to certify durability and quality. 
During construction, IFLW cases undergo strict standards for strong hinges, tight seals, secure latches, and theft-resistant locks. For lifetime value to protect the valuable appreciation of luxury watch assets, the quality construction, and high-end features of IFLW watch cases are second to none.
Quality
As a globally recognized brand, IFLW offers enhanced quality. By sourcing specialized material to ensure each cases' strength, our company's exceeds quality expectations of discerning watch enthusiasts. Using only exceptional materials, impeccable designs, and expert craftmanship, our quality standard ensures cases protect timepieces in the moment and over time. Our brand's enhanced construction uses in-depth planning and proprietary steps to maintain watch case durability.
Whether a watch owner wants to store watches at home or travel abroad, IFLW offers exceptional craftmanship for high-quality watch cases. Each IFLW watch case includes maximum strength for long-term protection. As the optimal solution to keep a luxury watch safe, our company brings watch travel accessories to global markets to ensure the long-term protection of high-end timepieces.
Rolex Day-Date Puzzle Dial - Which Celebrities Own It
These timepieces, available in white, rose, or yellow gold, feature jigsaw-inspired enamel...