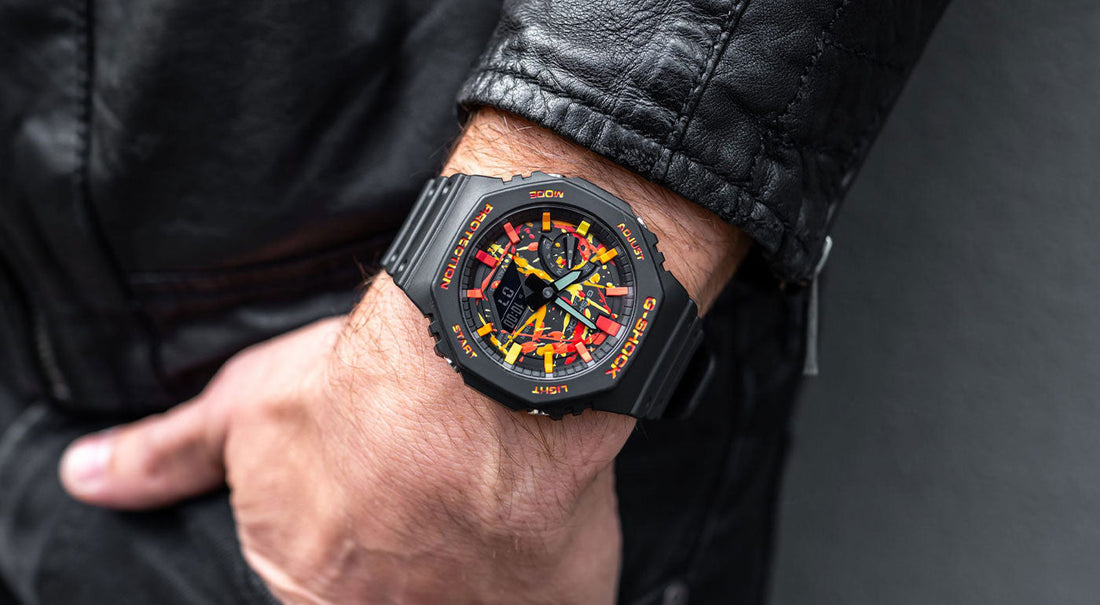 Introducing our Casio G-Shock CasiOak Inferno Limited Edition
The successful collaboration between IFLW and The Dial Artist starts a new chapter. We are happy to introduce the meticulously hand-painted G-Shock CasiOak Inferno watch. This new limited edition uses red, yellow and orange to resemble the chaos of a fiery inferno. As every timepiece is hand-painted, no other watch in this limited series will look like the other.
We started the journey with The Dial Artist with the Triple Black CasiOak around one year ago, and it felt right to bring back a fan-favorite for this release. Abstract splatter dials have been part of Dial Artist signature throughout his customization career, and many beautiful iterations have been created throughout. However, nothing as captivating as the Inferno. 
This watch is limited to 250 pieces worldwide.
The Watch - Casio G-Shock CasiOak Inferno
The beauty of the Casio G-Shock (GA-2100-1A1ER) Triple Black is enhanced within this unique piece, as the watch lends itself to be an artist's favorite due to its plain black profile. The customized Inferno has been inspired by something darker in life, born from the ashes and risen to the light of day. Beautifully displaying the powers of our strongest element, the fire, on its black canvas.
A collector's must-have watch. The uniqueness of each dial is truly something else, as the splatter dial is applied to every dial, different patterns are created and you'll never see another watch that looks just like this again. The same process applies to the outer lettering of the CasiOak bezel, as the base color is set and the other colors are applied, every bezel will have its unique combination of colors.
Rolex Day-Date Puzzle Dial - Which Celebrities Own It
These timepieces, available in white, rose, or yellow gold, feature jigsaw-inspired enamel...