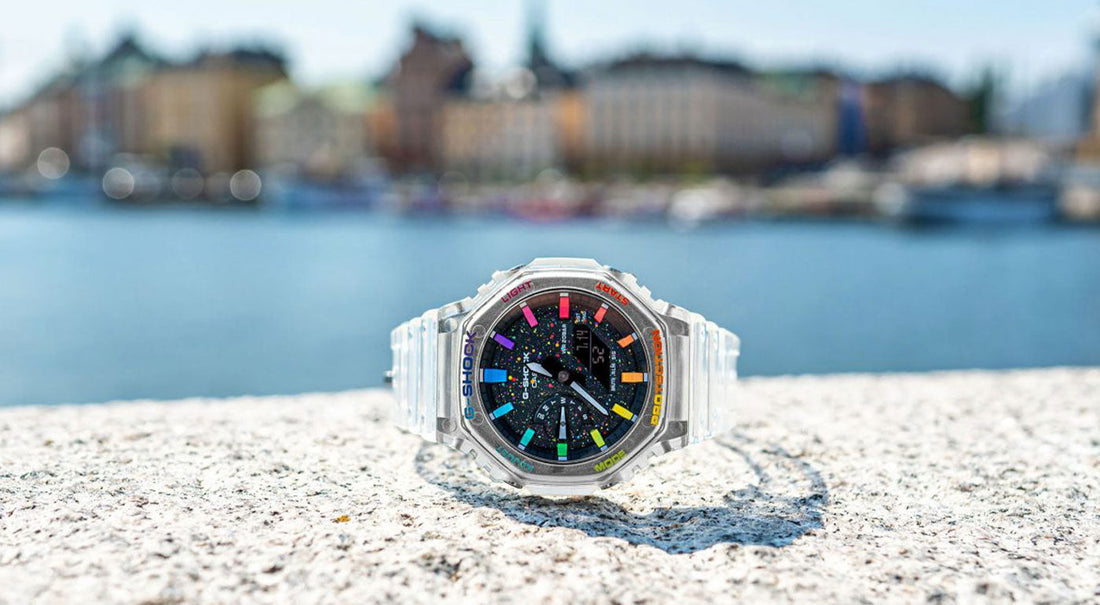 Introducing our Casio G-Shock CasiOak Jellyfish Limited Edition
The successful collaboration between IFLW and The Dial Artist enters Chapter III. Introducing the meticulously hand-painted Crystal Jellyfish CasiOak watch. This new Limited Edition offers a multicolour pointillism artwork dial to pay tribute to the many different species in our beautiful oceans.
The Crystal Jellyfish name comes from the famous Crystal Jellyfish (Aequorea victoria) that shares the same characteristics as this custom watch. Transparent and filled with a beautiful array of colors. The Crystal Jellyfish CasiOak is as playful as it gets, with hand-painted dial, index, and letters on the bezel, all done by the talented The Dial Artist.
This watch is limited to 200 pieces worldwide.
The Watch
Transparent watches have always captured our imagination, and when the GA-2100SKE-7AER got introduced earlier this year, we knew we had to create something totally unique and spectacular. The decision was easy to make considering we had an overwhelming request to make something fun and unique with the new Jellyfish. 
We at IFL Watches and Chris (The Dial Artist) started to play around with different color combinations and artistic takes on the Jellyfish. The blank canvas the Jellyfish watch offers is very appreciated for an artist, it gives us a creative ability to create something truly fun and exciting. 
The Casio G-Shock GA-2100SKE-7AER also known as the "CasiOak Jellyfish" amongst watch collectors has been a huge hit since its launch in 2021. 
The nickname 'Jellyfish' commonly used between watch collectors refers to its transparent and skeletonized look, its official name from Casio is referenced in its reference number 'SKE' that stands for 'Skeleton'.  The Jellyfish is the latest drop from Casio to widen their range of CasiOak offering. The watch is Waterproof, however we would recommend against recurring use in Sea's, Ocean's and Swimming Pools, due to the nature of the Transparent Resin.
Specifications of Casio G-Shock CasiOak Jellyfish Limited Edition
Brand: Casio
Model: G-Shock
Reference number: GA-2100SKE-7AER
Functions: Multi-function analog-digital with analog display of the minutes and hours, and day of the week indication
Material: Transparent resin
Dimensions: 45×11.8mm
Crystal: Mineral crystal
Dial: Customized dial with "splatter" effect and hand-painted indicies in "Rainbow" colours
Bezel: Hand-painted bezel
Lume: Super Illuminator with Auto Light
Water resistance: 200m
Box: Custom box
Warranty: 2-year IFL Watches warranty
Price: 599€
Rolex Day-Date Puzzle Dial - Which Celebrities Own It
These timepieces, available in white, rose, or yellow gold, feature jigsaw-inspired enamel...