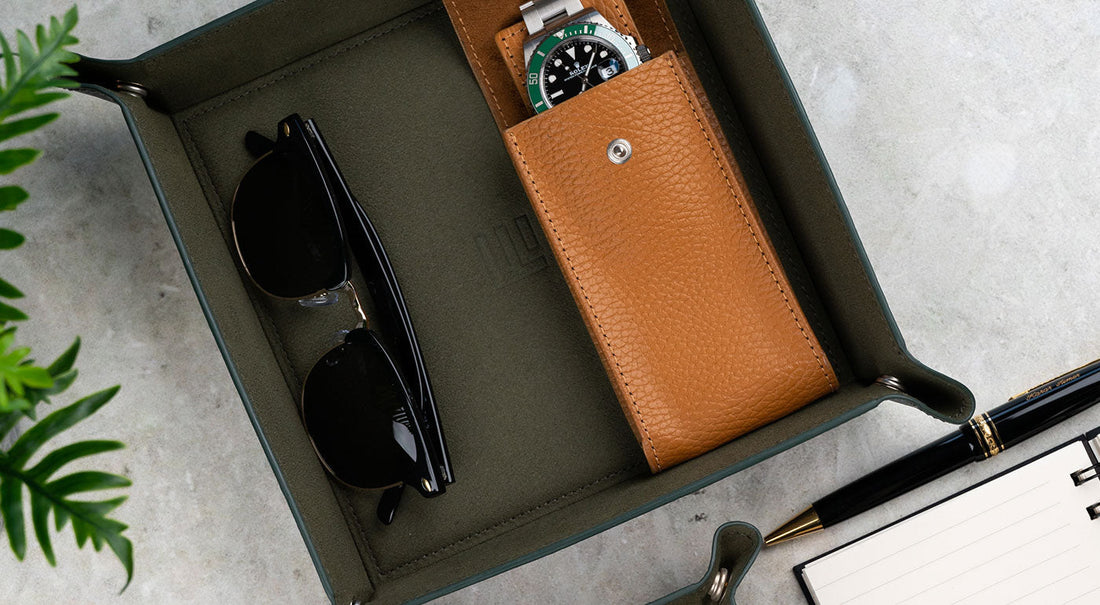 KNOWLEDGE BANK The Best Ways to Use a Leather Valet Tray
Juggling work, school, or family life can be exhausting. Home is where we feel comfortable and safe. No wonder we leave a trail of items after stepping into the house. Keys, watches, accessories, AirPods, and even glasses are the first victims in most cases. A simple tool like a leather valet tray pattern can make it easier to organize these items after a long and tiring day. 
Why is a leather valet tray pattern ideal?
Leather is an excellent material for a tray. It is also durable and stylish. Due to the hardness of the material, leather can withstand harsh temperatures. In the same vein, it also doesn't tarnish your items.
The tray comes in different styles and colours. So if you're a fan of exquisite decor, you'll find something that fits your taste.
Primary uses of a leather valet tray
There are several uses for a leather valet tray pattern. One of the most notable uses is storage. You can use it for storage in different ways. Here are some storage ideas to help you get started.
Temporary watch storage
If you want to wear your favourite watch again the next day, you may be reluctant to place it in a watch case for easy access. This is where a valet tray comes in. You can use this tray to store your watch and keep it safe from humidity.
The tray is wide enough, so you will not have to worry about wear-related friction. Also, the texture of the tray is soft and will not scratch your watch. When you are ready to head out, just pick it up, and you're off.
Multi-purpose storage
Aside from using a valet tray to store your watch, you can use it for other items. Your keys, cash, coin, and other pocket items can fit into the tray. It keeps your table organized and makes it easier to find your items when you need them.
Also, it is handy if you are taking a trip and staying in a hotel. The leather valet tray pattern is flat and easy to move around. You can place it in your box seamlessly.
Household items
Some household items are prone to disappearing. The first one that comes to mind is the TV remote. Remotes are harder to find, especially after a hard day at work. If you have kids, they may also be harder to find.
You can use a valet tray to store your TV remote and other household items. It declutters your living space and makes it easier to find when you need it.
Workplace items
Aside from your household items, you can use the tray in your office. Need a place for your glasses during a meeting? Use a leather valet tray. Also, you can place tags, pens, or smaller notes in the tray. It gives your office a more organized look.
Conclusion
A leather valet tray pattern is an essential tool for every occasion. It is also the perfect storage solution for your watches, accessories, remotes, glasses, and other items.
Rolex Day-Date Puzzle Dial - Which Celebrities Own It
These timepieces, available in white, rose, or yellow gold, feature jigsaw-inspired enamel...