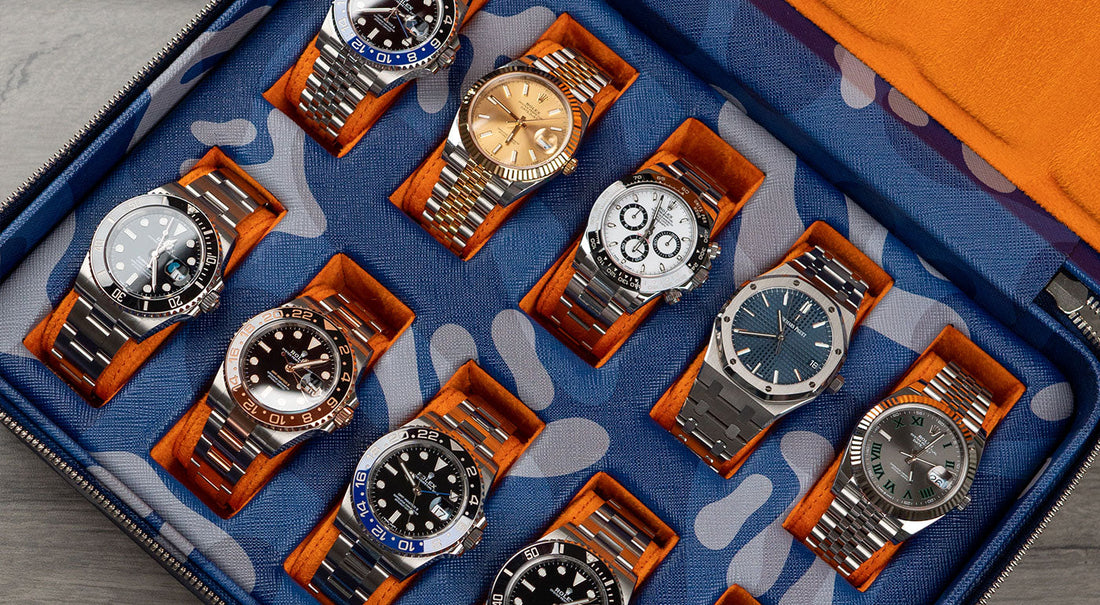 If you are in the market for a new watch case, it can be difficult to choose between standard and large watch varieties. Though there are many sizes in between, deciding whether to go big depends on your personal taste and how many watches you have.
Here are some reasons why you should opt for a large watch case.
Designed for watch enthusiasts
As a watch lover, you will mostly own a couple of timepieces. A large watch case is therefore the perfect option as it has plenty of space to keep your precious watches safe when off your wrist. For instance, you can store from 10 to 12 watches in a single case.
One large fitting watch case is the Marine Mackenzie Watch Case, which holds 12 pieces. There is also Black Mackenzie Watch Case in which you can showcase 10 watches.
Let your case stand out from surrounding objects
Aside from the usual sleek black watch cases, you can make a statement by going for bold colours. Add flair to your timepiece collection with an Orange Camo Watch Case. Or how about the blue or green camo watch cases? Surely, there is not a dull moment with conspicuous large watch cases.
It's all about variety
Watches come in many shapes and sizes, so it's also fitting to incorporate innovative designs into making large watch cases. A larger case allows for greater artistic liberty, which gives consumers more variety.
For example, you can go for colourful boxes or subtle ones. Whether for 12 or 10 pieces, you can find something suitable for your watches.
Fabrication materials
The material for your large watch case is an indication of how well it will hold up over time. As long as you care for your case, it should last for many years without needing any repairs.
Take for instance the Marine Mackenzie Watch Case. Crafted by combining aluminium and carbon fibres, this case comes with a durable protective cover. With a soft Alcantra suede interior lining, you can be sure that your timepieces are protected from scratches.
Ideal for travelling
The fact that you are going for your holiday, or that business trip, does not mean that you have to leave your timeless timepieces behind. Get an elegant large watch case that will secure your watches while on the move. Do not worry about drawing attention to your case because you can lock it with a combination code located on the handle.
Furthermore, since the watch case is designed with high-end materials, it can withstand the pressure of travelling. Plus, with some cases like the Mackenzie, you get extra compartments for small accessories such as bracelets and gloves.
Simple yet sophisticated
Clearly, a large watch case can protect your investment and make sure that you enjoy your timepiece for years. This watch case allows you to make a statement even when you are not wearing your watch. It is an easy-to-use product that compliments and safeguards your timepiece collection. Besides, the anodized aluminium and cherry wood handle tie the whole case together.
Rolex Day-Date Puzzle Dial - Which Celebrities Own It
These timepieces, available in white, rose, or yellow gold, feature jigsaw-inspired enamel...