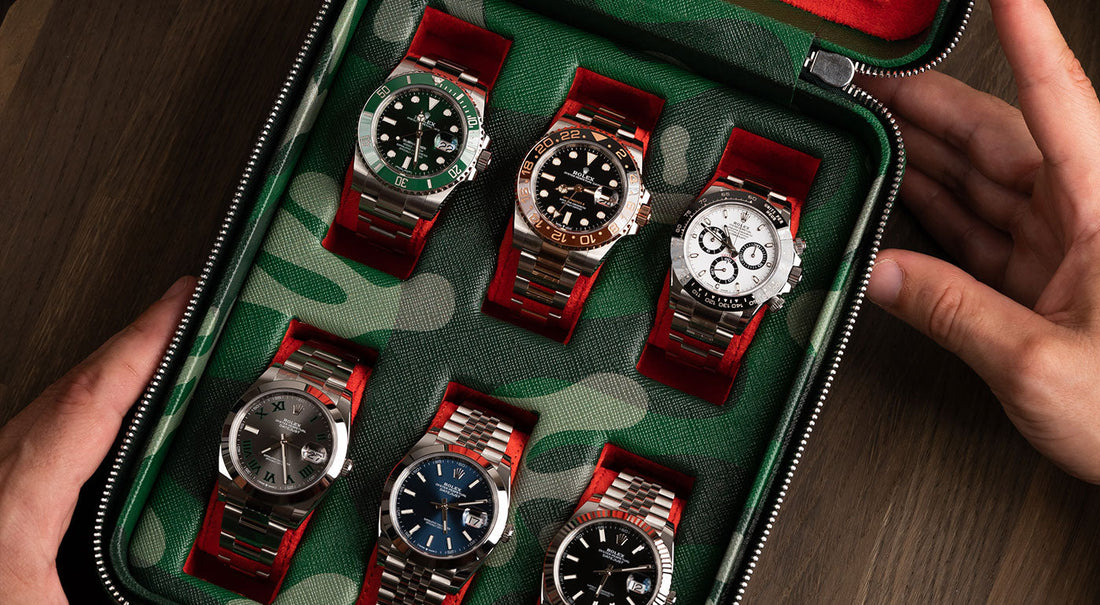 Leather watch case Australia
Watches have evolved from being only a functional item of clothing to being more of a fashion element to complete a look. You may wind up having a large collection of watches that you could use for various events. Or to complement different outfits with different situations. You may wish to organize your collection and keep them all in one spot for ease of access. A fashionable leather watch case is an excellent option. We have the best leather watch case Australia has to offer available for purchase. We have single watch cases and watch cases for multiple watches. Take your pick! 
Why a Leather Watch Case in Australia?
It is recommended that you keep your collection of men's watches in a case that both preserve your valuable watch collection and also looks beautiful on top of your dresser. Your watches deserve more than to sit on your bedside table, waiting to get knocked to the floor as you reach for the snooze button in the morning. They need something more.
A simple investment in an Australian leather watch case is definitely worth it. That's if you want to maintain your watches in pristine condition for many years to come. Of course, the leather watch case should be visually attractive as well. Your collection of fashionable watches shouldn't be kept in an unsightly case.
Some of our leather watch cases have clear glass, which allows them to be used as watch display cases. Not only do they keep your watches safe and orderly, but they also enable you to show them off to your watch-loving friends. And to take pleasure in your personal collection whenever you pass by them.
Watch leather protection
All of our leather watch cases include a soft inside lining which protects your watches from dreaded scratches. We are always expanding the selection of watch cases in an effort to accommodate the preferences of every customer. If you are unable to locate what you are searching for, please let us know by completing our contact us form. You never know, we could have something in the works that's perfect for you. And, of course, we'll be pleased to incorporate your comments into future ideas. 
Mackenzie Watch Cases
Mackenzie's hardwood watch storage box is wrapped in leather and can accommodate up to ten or twelve timepieces. It features two compartments, one for gloves, one for bracelets, and one for other small items. Specially designed watch storage boxes keep your wristwatch safe and secure. 
Charles Simon's collection
The handcrafted Charles Simons collection features a clean and refined style that is both functional and beautiful. It solely makes use of high-quality, high-end materials. The leather artisans produce high-quality leatherwork and sheaths with attention to detail. They have learned their craft from the top French ateliers in the world. 
Conclusion
Some of the greatest leather watch casings are available for purchase in Australia, and they are made of goatskin. Leather watch cases protect and enhance the appearance of your treasured watch collection while also serving as a functional storage solution. Some of the cases feature transparent glass display cases on the front. They also provide you with the opportunity to show them off to your watch-loving buddies. Check out our collection for your next favourite case. 
Celebrity Chef Gordon Ramsay Watch Collection
Explore celebrity chef Gordon Ramsay watch collection, from luxury brands like Rolex...