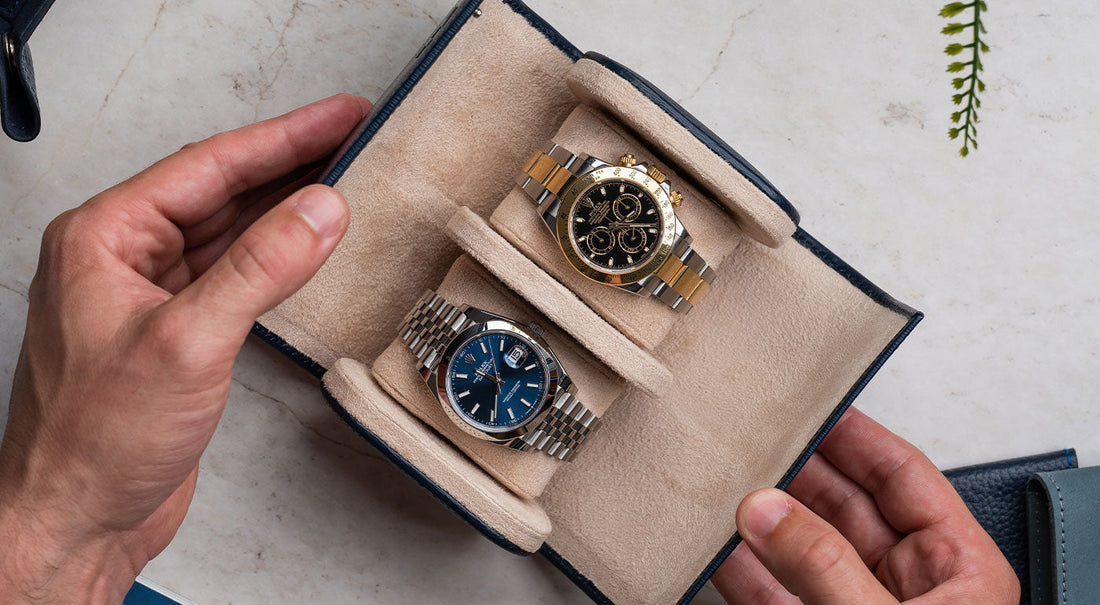 Luxury Leather Watch Roll Pouches
An IFLW luxury leather watch roll pouch is the perfect way to store up to four watches. They are lovingly handmade in Tuscany, Italy from the highest quality leather and lined with Alcantara suede. The watch roll pouches are essential for keeping your valuable watches safe while in storage or traveling. The leather watch roll pouch is lightweight and easy to carry around to protect watches from getting scratched or damaged. They can even be used to display your favorite watches. 
Models
IFL watches have a variety of models and sizes capable of accommodating one, two, three or four watches. There is a watch roll pouch to suit all tastes from the unique IFL camouflage design available in orange, green or blue to the more cautious, traditional Saffiano leather in black, gray and blue. For really vibrant colors, choose one of the EPI-leather watch rolls.
Craftsmanship
All our leather watch roll pouches are handcrafted by some of the world's finest craftsmen in Tuscany, Italy who possess generations of expertise in leatherwork. These artisans use the famous, locally sourced leather and fashion it into exquisite products incorporating attention to detail. Both our Camo Collection and Saffiano leather range are made from Saffiano leather that not only looks sophisticated but is also very durable, scratch-resistant, and water and stain repellent. For lively colors, choose from the EPI-leather collection.
Saffiano Leather
Authentic, luxury Saffiano leather is made from the finest, full grain calf leather, making it the perfect fabric for a leather watch roll pouch. Saffiano leather was originally made by the world famous Prada fashion house. It has a distinctive pattern that characterizes exquisite leather products. The criss-cross design makes the leather peculiarly long lasting, resistant to scratching with water and stain repellent properties, making it a breeze to clean.
EPI-Leather
EPI-leather was created almost a century ago by Louis Vuitton. It is a textured calfskin leather that is tanned using vegetable-based tannins, dyed, pressed and finished off with a special coating that makes the leather waterproof. EPI-leather is smooth, soft, supple and highly enduring whilst also being scratch resistant and water repelling. A leather watch roll pouch in this collection can house three watches and is available in Flamingo, Amaryll, Cayman, Amethy and Macaw colors.
Alcantara Suede
All of our leather watch roll pouches are lined with Alcantara suede including the watch cushions and the dividers. Alcantara suede is a synthetic material that looks and feels like suede, but has the added advantages of being durable and moisture and stain resistant.
Protection Inside the Rolls
Your watches are secure and well protected as they sit on their own moldable cushions. The cushions are secured in place by two snap buttons which also makes them super convenient to detach from the case when you want to take out or replace a watch. The cushions can accommodate wrist sizes from 15 cm and above. Dividers separate the watch cushions, ensuring the watches do not touch each other. This interior protection is backed up with snap buttons on the exterior to fully secure your precious watches.
A leather watch roll pouch allows your watches to travel in style whilst being protected every step of the way. A compact, lightweight design, they easily fit in your hand luggage when traveling or in a  safe when at home.
Celebrity Chef Gordon Ramsay Watch Collection
Explore celebrity chef Gordon Ramsay watch collection, from luxury brands like Rolex...