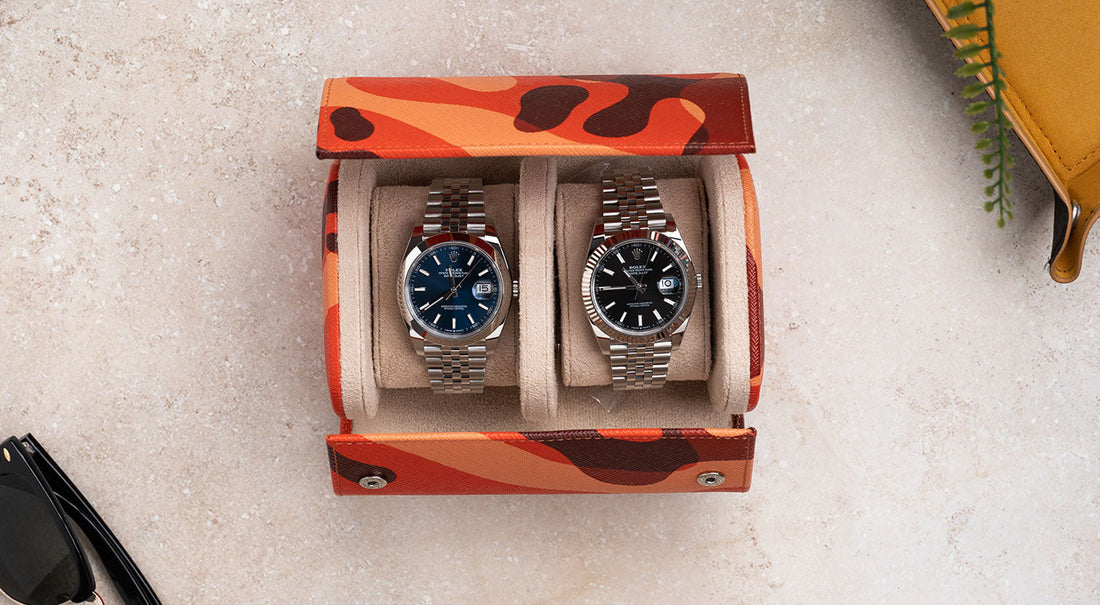 A men's watch travel case is a luxury, multi-functional accessory that can be used for organizing, storing, displaying and traveling with your precious watch collection. It is a convenient place to keep your watches organized and secure when on the move. A men's watch travel case is also the perfect way to display stylish watches whether at home or the office. We at IFL watches have a range of models that incorporate top notch design, materials and artisanship. 
IFLW Camouflage Watch Boxes
Our own one-of-a-kind, LFLW camouflage design is available in three colors – orange, green and blue with contrasting Alcantara-suede interiors. The exteriors are made with Saffiano leather which is a top of the range leather developed by the Prada fashion house. Only the best quality calf skins are selected and then fashioned by world renowned leather artisans from Tuscany, Italy. The result is flawless craftsmanship that pays attention to every stitch and every detail.
Saffiano leather is a high class leather that is very robust whilst being scratch and water resistant for extra longevity. The leather camouflage watch boxes come in two different sized boxes to hold 6 or 10 watches. The exclusive cushion shape can accommodate a number of different wrist sizes. The cushions fit snugly in their separate compartments within the box that are easily removed and replaced as required. The box is secured with a top quality zipper featuring 2 zipper pulls for ease of access.
Mackenzie Watch Cases
Mackenzie watch cases are a luxury, handmade creation from Charles Simon that can house 10 or 12 watches. There are also two handy, additional compartments for gloves or other small jewelry items. It is a robust yet lightweight case fashioned from Canadian timber, anodized aluminum-carbon fiber casing and covered with the finest young bull French leather. It is an interesting synergy of technology, natural materials and craftsmanship in a minimalistic style.
They are available in Black or Marine colors with Alcantara-suede interiors. The Alcantara-suede covered cushions fit securely and comfortably in their own separate chambers to protect watches from being damaged. The men's watch travel case features an anodized aluminum handle that has a comfortable, smooth grip, and is completely secure with a 3 number combination lock that only the owner has access to. To personalize the case, there is an option to engrave the intended owner's name for a bespoke watch case.
Charles Simon + IFLW Eaton Watch Case
This watch case is a limited production made exclusively for IFLW. It is a perfect partnership between a Charles Simon design and IFLW inspired unique color combinations. It is designed to contain 3 watches for travel, display or storage. Handcrafted in Canada, this men's watch travel case is covered in the finest young bull French leather and lined with a contrasting soft Alcantara-suede. The case is secured with a sophisticated aluminum clasp.
These high class, capable of lasting a lifetime, watch travel cases are indispensable for watch collectors on the go. They make an ideal gift for significant males in your life or any watch enthusiast.
Rolex Day-Date Puzzle Dial - Which Celebrities Own It
These timepieces, available in white, rose, or yellow gold, feature jigsaw-inspired enamel...