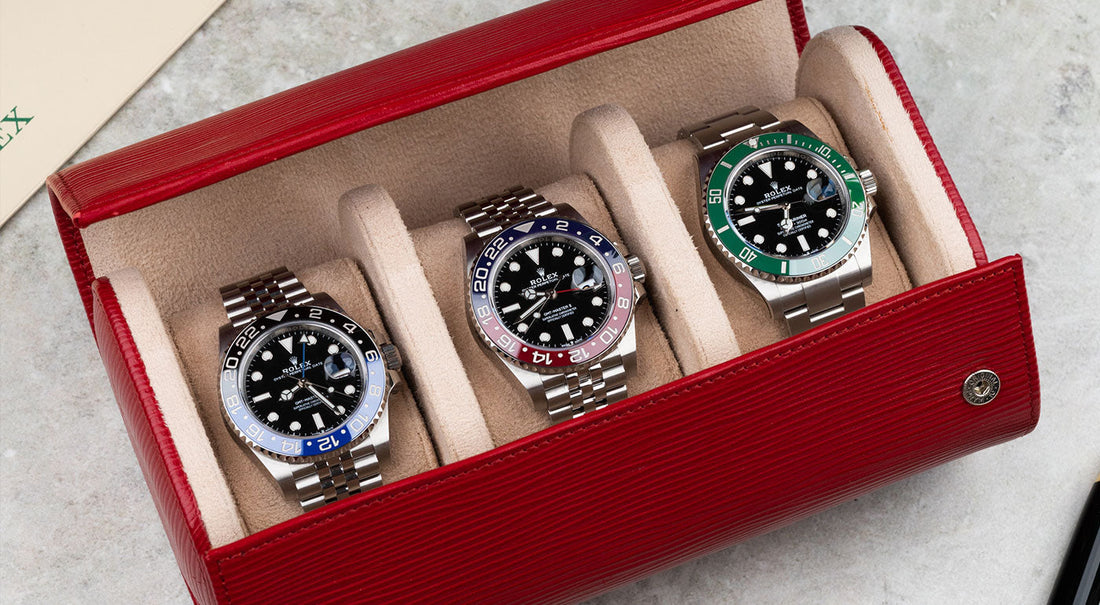 Luxury Travel Cases for Your Timepieces
An IFLW Watch Roll Travel Case will offer both protection and luxury for your watches whilst in transit. Made from premium quality leather and handcrafted in Tuscany, Italy, these travel cases will endure the trials and tribulations of travel in style. They are elegant, high-quality and functional all in one
A Suitable Travel Companion
Our watch rolls come in different sizes. They can carry from one to four watches. With a variety of colours and models to choose from, you are sure to find a travel companion suitable to your tastes and needs as well as those of your watches. 
The design is sleek and slim, easy to transport and store in tight spaces. They open and close by a snap button functionality that securely keeps your watches in place and safe.
. 
A Variety of Designs
Our newest collection of camouflage watch rolls is playful and unique. Eye-catching and vibrant, they stand out and make for an enjoyable addition to your travel equipage. Available in orange, green or blue.
For a more discreet choice, our collection of classic Saffiano watch rolls is equal in quality but more refined. They provide a luxurious and elegant travel companion.
Look to our EPI collection for a colourful and bright choice. With a unique texture, it both looks and feels lavish and beautiful.
Quality that will last a lifetime
All of our watch roll travel cases have been made by hand in Tuscany, Italy, a region well-known for its craftsmanship, in particular, when it comes to leather products. Made with the utmost attention to detail, our watch rolls and cases are made from locally sourced and produced materials from the region.
Leather Luxury
All of our watch rolls are made with either a Saffiano leather or EPI-leather exterior. Both are exceptional choices for your watch roll travel case, with a quality that will endure.
Saffiano leather, initially created and patented by Mario Prada, is emblematic of high-end luxury goods. It is a highly durable material, scratch-resistant and water-repellent. Thus, it is very easy to maintain and care for. Perfect for travel and storage.
EPI-leather has a softer quality with a remarkable texture that gives it a unique look and luxurious feel. The horizontal grains create a beautiful pattern for the exterior of our watch rolls. However, it is not only aesthetically pleasing but is also a very durable and scratch-resistant leather.
Elegant and Functional Interior
A soft Alcantara®️ suede lining covers the interior of all the watch rolls. This soft, plush material protects your watches from any wear and tear whilst travelling.
Furthermore, each watch has its own padded cushion to rest on. These cushions support wrist sizes from 15 cm and up. They fasten with snap buttons and can thus easily be detached and reattached when handling your watches. Between each cushion is a divider that keeps each watch safely confined and protected.
You will not have to worry about your watches getting scratched, or otherwise damaged, whilst carried in the safety of an IFLW Watch Roll Travel Case.
Rolex Day-Date Puzzle Dial - Which Celebrities Own It
These timepieces, available in white, rose, or yellow gold, feature jigsaw-inspired enamel...