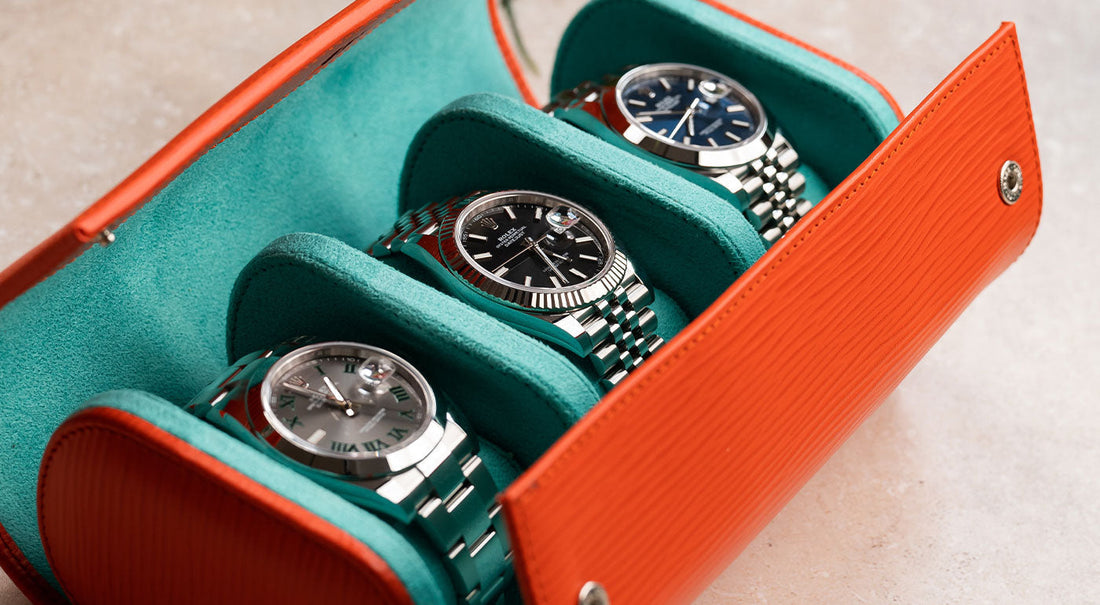 Keep your watches in pristine condition with IFL's luxury watch roll. Made to accommodate multiple watches while providing maximum protection and ease of accessibility, our watch roll is a high-quality and secure way of storing your timepiece.
Our luxury watch roll is available in a wide range of colours, meaning you can use it to match your personal style depending on your chosen collection.
Protect your prized possessions
Whatever type of watch you possess, you need to take care of it. And that is where we come in. Our elegant and practical watch roll comes with soft padded cushions to ensure your watch doesn't get scratched or move around when you are travelling.
Thanks to our luxury watch rolls, you can now store 3 watches in one case. Apart from being aesthetically pleasing, our stylish cases are made from a soft and luxurious leather that will last for years.
On a journey, these watch rolls will allow you to carry your timepieces with peace of mind and eliminate the niggling worry of how to pack your luxury watches.
Moreover, the watch roll offers you protection from the elements. Packing your watches in our luxury watch roll means your wristwatches will be safe and ready to wear as soon as you unpack them.
Keep your watches organized
If you don't travel regularly but would like to keep your luxury watch in great condition, our luxury watch roll can be used as a great storage solution at home. As a result, you will no longer worry about misplacing your prized pieces. Our luxury watch roll will keep your watch collection organized.
Sturdy and stylish
This is more than just a travel case for your watch. Here at IFL, we strive to produce high-quality leather watch rolls to provide a stylish yet timeless accessory which can also accommodate up to 3 watches. The exterior of the luxury watch roll is sturdy, made to withstand the typical wear and tear that can occur from regular use.
While the interior of the watch roll is a plush suede to provide maximum protection, it also provides extra cushioning to prevent your watches from sliding out of place. As the interior cushion can be removed, it is also easy to place and remove the watches. Also, the cushions adapt to different watch strap sizes.
Compact and lightweight
Thanks to its neat compact size, our watch roll will slide easily in your hand luggage without occupying a lot of space. In addition to its lightweight design, your watches will also be well-protected from itchy fingers because of its clever lock. This premium watch roll will give you the peace of mind in knowing that your prized possession is safe and secure.
Final thoughts
Growing a watch collection takes time, money, and passion. The best way to keep your watches safe and secure is with our watch rolls. These are made using the finest leather and softest suede.
Even if you have a small collection of one, two, or three watches, they still deserve the best care. You can bank on our watch case here at IFL to keep your collection well protected and beautifully displayed.
Rolex Day-Date Puzzle Dial - Which Celebrities Own It
These timepieces, available in white, rose, or yellow gold, feature jigsaw-inspired enamel...