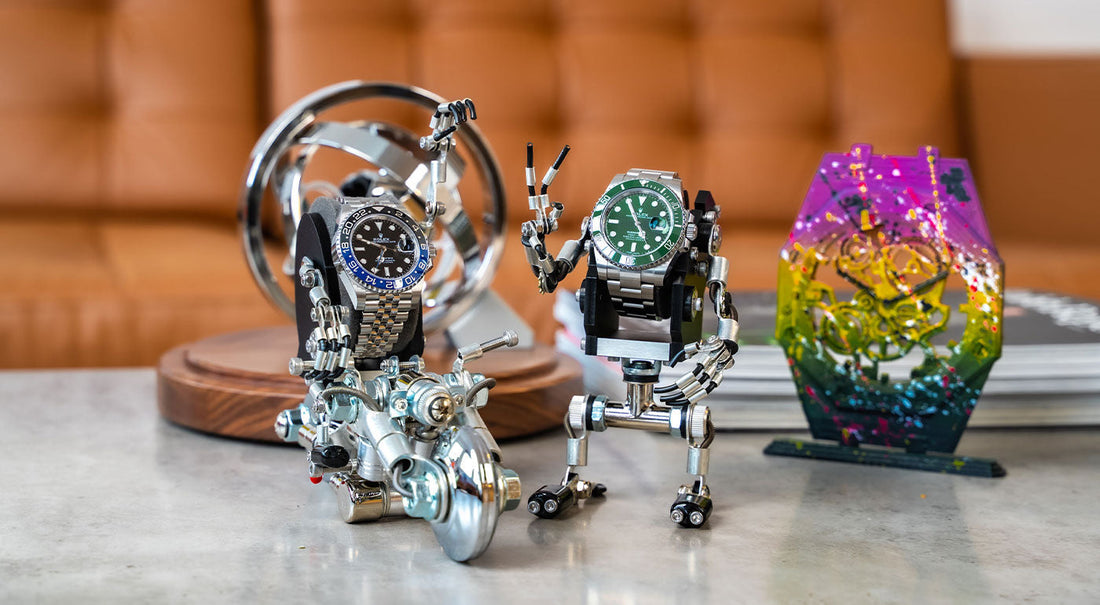 There are only so many hours in a day, and we can't wear a watch for all of them. However, when not wearing your watch, what can you do with it? A watch is a stylish accompaniment to any outfit. It can be light and sporty, or heavy and sophisticated. From a luxury status symbol to a trusty timepiece, your watch can be so many things. But it needs an equally chic place to stay when it isn't being worn. Why not try a robot watch holder?
By now, you are probably wondering what a robot watch holder actually is. How do you use it? What does it look like? Is it really robotic? Don't worry, because here at IFL watches, we have the answers. In this article, we will explain exactly what this specially designed watch holder is and what it does.
Why do I need a watch holder?
A watch holder is a fantastic way to keep your watch safe when you are not wearing it. Sometimes we just have to remove our watches for one reason or another. Maybe this is for sleeping, sports, or taking a shower. Perhaps you have multiple watches, and there is no way to wear them all at once. However, watches can be easily damaged, scratched, or broken if simply left lying around the house. Even expensive or hard-wearing watches can be carelessly lost or misplaced. By using a watch holder, you can make sure that this never happens. So how do they work?
The watch holder is essentially a mount on which you can fasten your watch, keeping it safe when you are not wearing it. What's more, your watch now has its own personal display stand. Mounted on the watch holder, your watch now doubles as a unique ornament. What better way to show off your favourite watch than with an unusual and appealing watch holder?
That's where our range of hand-crafted, limited edition robot watch holders come in. Our watch holders in the shape and form of robots have been carefully designed to safeguard your beloved watches. The watch can be fastened to the body of the robot watch holder, completing the robot with your watch as its head. But that's not all. You can personalise your watch display stand by adjusting the arms, legs and hands of your metal and acrylic robot watch holder. This mechanical android is ready to do your bidding! Check out our range of robotoy watch holders here at iflwatches.com today.
Conclusion
A watch holder is a practical solution to the problem of keeping your watch safe and secure. However, a robot watch holder goes one better. Not only will this inanimate bot keep your watch in safe hands, but it also makes an excellent display piece. A useful, yet decorative tool, the robot watch holder is the perfect addition to any desk, bedroom, or display shelf. It's a great gift for a watch lover! Show off your treasured timepiece with a powerful robot watch holder. The future is in your hands.
Rolex Day-Date Puzzle Dial - Which Celebrities Own It
These timepieces, available in white, rose, or yellow gold, feature jigsaw-inspired enamel...