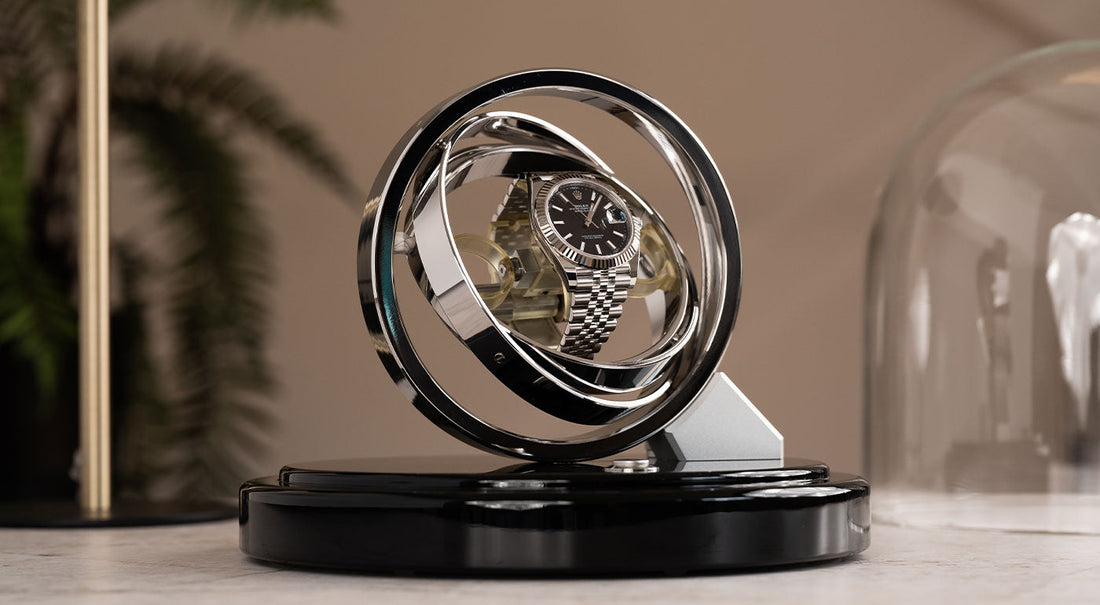 The Orbit Winder was created to perfectly imitate the motion of a tourbillon, one of the most significant inventions in the development of watches. Orbit Winder Co.'s distinctive designs are handcrafted in Finland.
It is a fusion of traditional watchmaking and contemporary style. Combining a winder's functionality with a tourbillon's motion. The Orbit Winder is truly a visual spectacle with its distinctive design.
Reasons for Using an Orbit Winder
An Orbit Winder is a useful inclusion to your collection of timepieces. It eliminates the need for you to spend time resetting your automatic watch. Furthermore, you can essentially leave it alone and focus on other priorities with your leisure time.
Your motion drives the mechanical self-winding movement of an automatic watch when you wear one. To do this, a pivoting oscillating weight that charges the watch's mainspring is used. However, that energy depletes, when you are not wearing the watch. The Orbit Winder takes care of this task.
Although there are already automatic watch winders available, none are as amazing as the Orbit Winder. Simply secure your watch in a place like an astronaut getting ready for the gimbal rig, and the winder will handle the rest. Your watch rolls, pitches, and yawns, causing the oscillating wristwatch to function as it should. Even if you don't particularly care about charging your watch, it's interesting to watch the Orbit Winder in action.
Why you should buy Orbit Winder from us,
We offer you a cutting-edge watch winder that will keep your watch wound and elegantly displayed. It does away with the laborious task of resetting the time on your automatic watch. We offer the following features in our product.
Adjustable and Silent
Our Orbit Winder's captivating gyroscopic motion is propelled by a completely silent motor. It includes a watch mount which you can alter to fit any length wrist strap. A set of weights is provided to assist in balancing any watch in tune with the winder's gyroscopic action.
Easy to Use
You use a standard AC adapter to power the Orbit Watch Winder. Then, with only one button press, you may start the winding cycle.
There are two modes on the power button. The winder rotates for five minutes in the usual mode before pausing for 25 minutes. After the break, the cycle starts up once more. Long pressing the power button activates the second mode. Throughout the first twelve hours of use, the Orbit Winder revolves for five minutes before stopping. Moreover, after stopping for 12 hours, the winder restarts its cycle.
Whenever the watch is on display or when you need to wind it fast, you can select this mode. By choosing this option in the morning, the rotation will end for the day.
The chamfered control knob for managing the pace of the Orbit Winder is the second control you should make use of.
Choice of Different Construction Materials
We offer different options of construction materials for your Orbit Winder. There are several elegant bases to choose from. You have a choice of piano black, walnut, or birch bases. These choices will catch your attention and highlight your collection of timepieces.
Celebrity Chef Gordon Ramsay Watch Collection
Explore celebrity chef Gordon Ramsay watch collection, from luxury brands like Rolex...