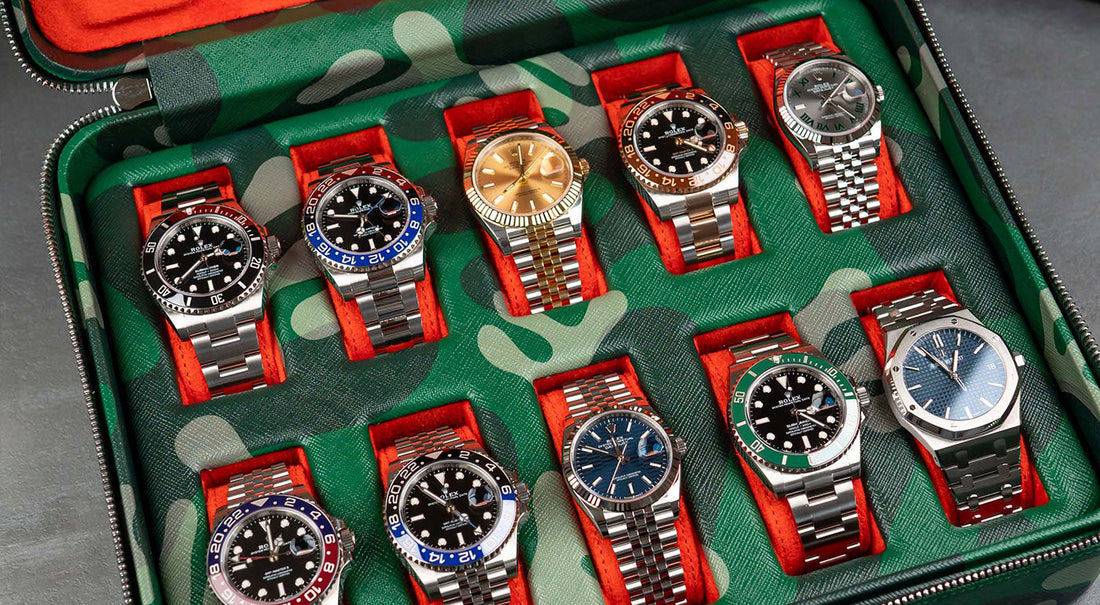 A watch case is a statement piece that protects your watch while you aren't wearing it. This item is useful for people who have numerous watches and want to keep them in the best possible shape. You don't want your brand-new watch to get scratched when you are not wearing it. The watch case, in our opinion, meets all of your needs.
Among the most significant factors for any watch collector is watch preservation. A luxury watch travel case is an excellent travel investment, and there are numerous timepiece casings available. Nevertheless, multiple factors, such as presentation and capacity, should be considered when selecting a design.
It's a small and convenient size, and its advanced and distinctive attributes guarantee high protection for your collection of watches. Whether you keep them or travel with them. Kudos to this innovative shaped design, your watches are separated into isolated compartments, guaranteeing they never collide with one another.
Easy organization
A watch case can assist people in staying organized, particularly when they own numerous watches. Many watch collectors appreciate having a range of options, and spending on a watch case keeps those purchases safe. Furthermore, you may use your holiday watch box for more than simply keeping your timepieces. It may be used to store your accessories or jewellery, making it an excellent choice for a timepiece manager.
Safety and protection
While travelling, carry-on luggage mishaps, spills, and baggage breakage are all too frequent. You would not want any lotion spillage while you're packing your watch with other goods. When you purchase a high-quality case, scratching, spills, shocks, staining, as well as other transportation harm should become thing of the past.
If you are a dedicated watch collector, you should purchase a high-end box to protect your treasures. Fortunately, there are various options. We have a vast range of watch cases to pick between, then you're certain to choose one that meets your own style and needs.
Decoration
There is something appealing about viewing a properly arranged collection of good timepieces. When displayed properly, the grandeur, sparkle, and workmanship are evident, and a watch box may assist you in doing so. Instead of burying your favourite watches in storage, watch containers allow you to showcase them. It also means that you would not have to search through a bunch of boxes to get the right watch. They are all in one area, nicely ordered and safe.
Formal gift
An attractive watch case would make a great present for someone dear to you who is a watch collector. It's also a practical present, and it allows you to give them things they might use on a regular basis. Not only will it keep your watches cleaner than just storing them in a closet, but it can also be personalized and made into an excellent gift. There is no doubt that it will be a perfect gift. On the website, there is a watch box for everyone, whether you desire something simple and beautiful or something as unique as your watch.
Celebrity Chef Gordon Ramsay Watch Collection
Explore celebrity chef Gordon Ramsay watch collection, from luxury brands like Rolex...