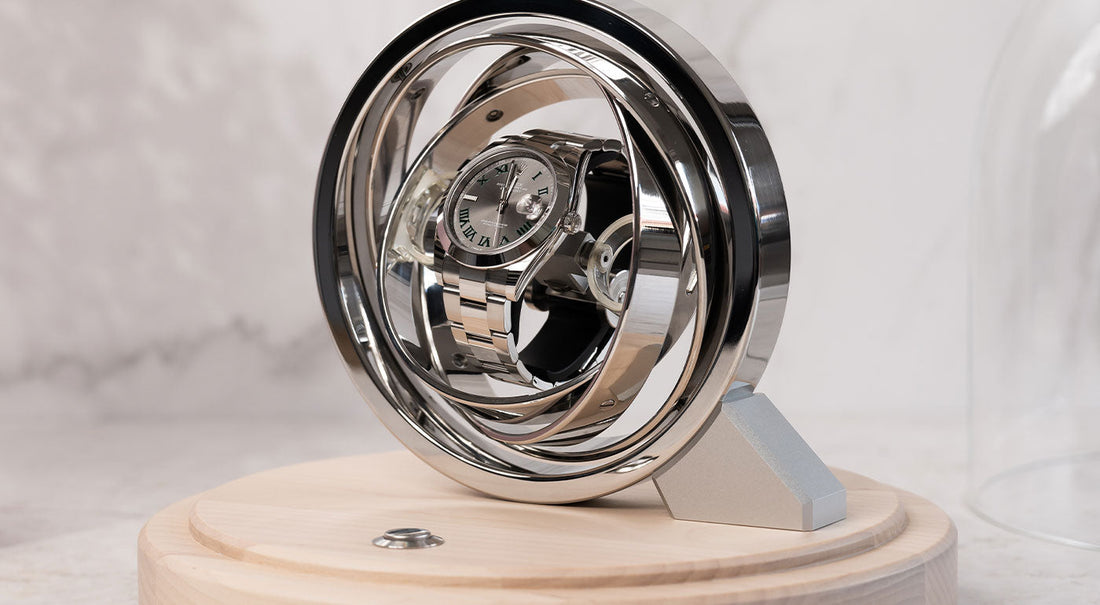 Every person interested in luxury watches will likely enjoy talking about luxury watch winders. Some watch collectors, wearers, and producers will applaud it. Others will dismiss it as unnecessary.
A watch winder may not be a requirement to keep watches running smoothly, but it is synonymous with ease. Watch winders are a wonderful blend of technology and craft, and are a technological marvel.
Some people enjoy the old-fashioned ritual of manually winding their timepieces each night. Others will find themselves simply lacking in time, thus the need for a watch winder.
What is a watch winder?
A watch winder is a piece of electronic equipment. The equipment keeps automatic timepieces fully wound. The winder may be the perfect piece to add to your collection. It is suitable for individuals who have an extensive watch collection or enjoy gadgets.
While winders are attractive and can be as exquisite as the watches themselves, the quality of the winder determines its appearance. That is why luxury watch winders have been favourite to people who love luxury timepieces.
Are watch winders a must-have?
Luxury watch winders are optional accessories. Therefore, users should only consider them after assessing their watch-wearing lifestyle. Also, another determinant will be whether or not a watch winder would improve a person's watch-wearing experience.
How does a watch winder work?
Over time users can take their automatic watch out of their regular wear rotation for a few days or weeks. A watch winder works by slowly rotating the watch within a casing or device. The aim is to eliminate the task of manually winding the watch. Thus, luxury watch winders are a must-have, especially if one has many watches to cycle between and wants to keep them from completely dying, which may be detrimental over time.
When to choose a watch winder
Some users don't wear their watch daily or travel without the watch. Thus, a watch winder might provide them with the peace of mind required. Investing in a luxury watch winder will be, in the end, a personal choice. The decision will be on the frequency of usage. Also, it could be if a watch winder saves users time and makes wearing their favourite watches easier.
About Luxury Watch Winders
With so many beautiful watches on the market, there is undoubtedly an infinite amount of watch winding storage alternatives, with wood, rattan, rose gold, and gunmetal embellishments aplenty. The design of winders aims to complement the creation of a particular watch style.
To spin several watches, you might acquire tandem watch winders. There's also a watch winding case that can hold up to 24 different watches and keep them all wound simultaneously.
Luxury Watch Winders Prices
Luxury watch winders are available at a wide range of prices, starting with a minimum of one hundred US Dollars. When looking to buy one, a person should keep their needs in mind. The luxury watch winders have top features such as an ultra-quiet motor, fully customisable TPD and directional settings. Also, these high-end winders have superior construction and a fair guarantee. Therefore, individuals should always avoid cheap winders at all costs.
Rolex Day-Date Puzzle Dial - Which Celebrities Own It
These timepieces, available in white, rose, or yellow gold, feature jigsaw-inspired enamel...