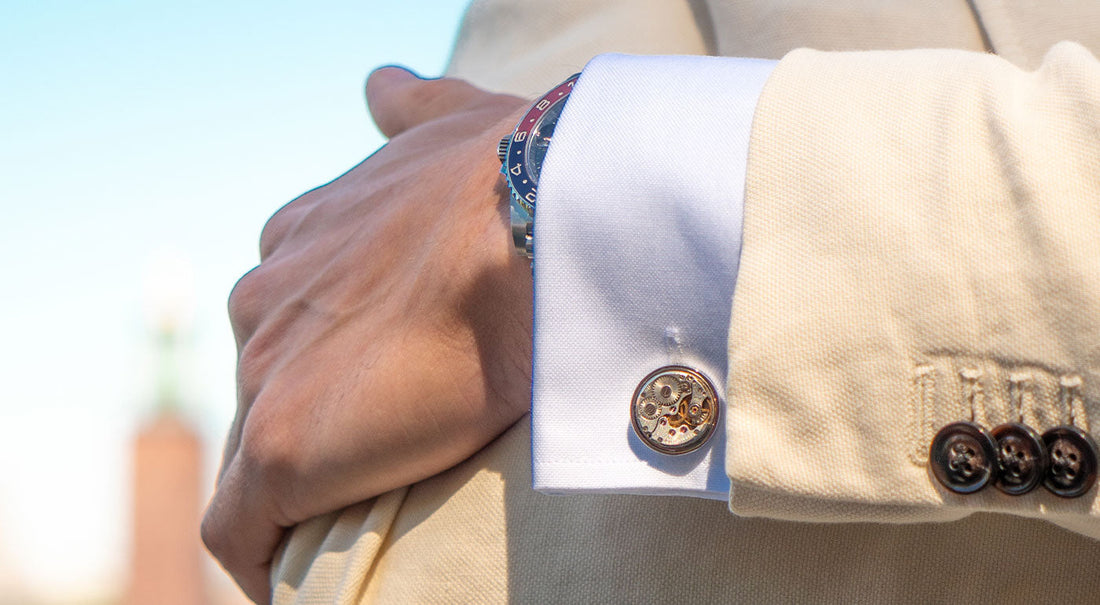 Real Movements in Cufflinks
Curious about real movements in cufflinks? It is not accurate to say that everything in our world is determined by the latest trends in style and fashion. In point of fact, people who are both intelligent and educated tend to buy goods that combine style with substance in the most natural and inconspicuous way possible. This is a trait that they exhibit in their purchasing habits. On the other hand, it is not easy to find things that successfully combine both looks and practicality 
Here at iflwatches.com, we've got you covered. In this section, you will discover cufflinks that are designed to serve purposes in addition to their fundamental function, which is to keep your cuffs in place. You'll find that these cufflinks are useful in a variety of ways that will rapidly get integrated into your typical activities.
Real movements in cufflinks for men are making a popular appearance as a status signal for the wealthy and powerful, as well as a mainstay for the trendy and smart. Cufflinks are worn by high-profile people to compliment their looks. The distinctive details, elaborate design, and bold characteristics that all lend to your own particular flair are what make cufflinks so fashionable these days.
Why Modern Movement Cufflinks
When it comes to jewelry, men often do not have many options. Cufflinks, on the other hand, can liven up your outfit and give flair to your favorite suit. The set of real movements cufflinks are real gears, and as you wind them up, you can see each small gear move. The beauty of the cufflinks is that the mechanism of the movement can be observed.
The running watch mechanism on your shirt will wow everyone! They are more than a set of cufflinks because the design is delicate and durable, and they are constructed with the power of science and imagination. When you place the beautiful cufflinks on the shirt, you'll notice the distinct style.
Remarks
Not only can we make you look amazing when you come to iflwatches.com, but we also provide sets of cufflinks that are designed to complement the aesthetic of your favorite watch. Simply take some time to look through the practical cufflinks department and view our wonderful assortment of watch cufflinks, compass cufflinks, and other options.
Far from old-fashioned, these cufflinks are perfect for the modern entrepreneur. The very definition of elegance and enlightenment, our cufflinks offer a brilliant, streamlined, and contemporary style. You get excellent value for money and a variety of shapes to choose from.
Finally, the materials used to make these cufflinks are of the best quality. As these cufflinks do not tarnish, you will not have to replace them as frequently.
Rolex Day-Date Puzzle Dial - Which Celebrities Own It
These timepieces, available in white, rose, or yellow gold, feature jigsaw-inspired enamel...