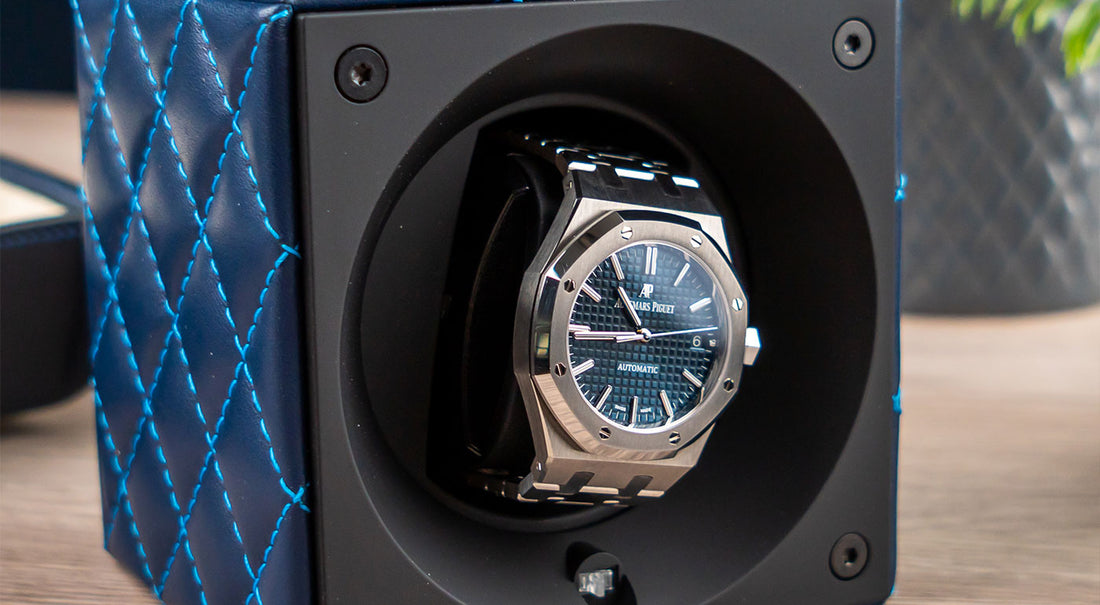 For those of you who want to keep your automatic watch working nicely, a SwissKubik watch winder is the perfect product for you. Thanks to its technology, the watch winder reflects the natural movements of your wrist, rotating your watch automatically for you when you are not wearing it, eliminating the need to wind it manually.
It extremely practical. The watch winders serve as a safe and secure compartment for your watch, while showing off its beauty.
Why SwissKubik Watch Winders?
Amongst the many luxury watches, it is the automatic watches that mainly need watch winders. Automatic watches need to have their main spring wound at regular intervals. Watch winders help your automatic watch keep running even when they are not worn. They help you avoid the hassle of bounding them consistently by hand. It is the SwissKubik watch winders that make the winding process easy.
A Technology Marvel
SwissKubik is a technology marvel and boasts of the coveted Swiss made label. The brand gets to wear the label only if the product is made with superior technology. The technology further enhances these quality of watch winders, which enable you to comfortably store your watch without the worries of it breaking down. In turn, they also act as a nice case for the watch. There is no need to wind your automatic watches by hand any more.
Sustainable & Compatible
While most brands don't ensure sustainability, SwissKubik uses sustainable Swiss motors that are known for their strength and durability. These watch winders support all kinds of brands of watches and their various models. They wind the watch silently and can be operated by either two C- type standard batteries or AA batteries. Furthermore, they can also be plugged directly into the power supply.
Sophisticated Design
SwissKubik watch winders look supremely suave when seen placed in your office space, countertop or even bedroom. The simplicity of their design in terms of its cubic shape makes it compact enabling it to fit effectively in all sorts of places. This also makes them great travel buddies. These watch winders look extremely elegant, with vast array of colour options that make the choice even more interesting. They are available in black, white, silver, brown, orange, pink, gold and more.
Variety & Safety
An extensive range of materials is available in SwissKubik watch winders- the body of the watch winder is accessible in polyamide, aluminium, multiple layers of leather and also wood. The materials are curated thoughtfully to cater to all kinds of exquisite tastes. They are also available with glass doors. The glass doors can be placed on one of the sides to protect the watch from moisture, dust and any sorts of damages.
All, in all, SwissKubik watch winders are a luxurious item and a nice indulgence for discerning customers. These watch winders are a product of high- end technology and prove to be of extraordinary quality in keeping your automatic watches ticking. The makers delve into sustainability as an important factor, in turn making it an even more relevant brand. 
Designed and manufactured by hand in Switzerland. Swiss KubiK watch winders are the product of the expertise which is naturally derived from the country's watchmaking industry.
Rolex Day-Date Puzzle Dial - Which Celebrities Own It
These timepieces, available in white, rose, or yellow gold, feature jigsaw-inspired enamel...