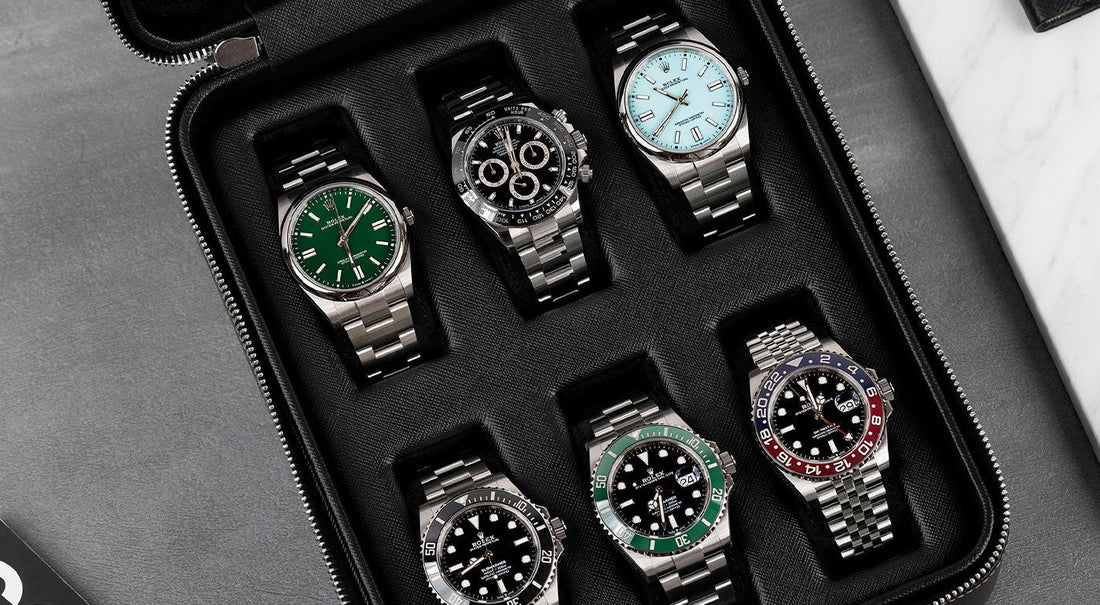 Iconic watches deserve the best protection on the market. IFLwatches.com sells distinctive designs perfect for a Rolex watch to keep luxury watches safe. Securing exceptionally crafted luxury timepieces with sturdy casing on the exterior and soft interior materials, our company ensures watches reach a travel destination in excellent condition. Perfect for short-term travelling and extended vacations, IFL's watch travel cases offer four primary benefits for discerning Rolex watch owners. 
Protection
As the owner travels from one destination to another, he maintains piece of mind with a watch travel case for his Rolex. Preventing damage, the box holds each watch in place in individual compartments. The quality, smooth interior keeps precious watches safe from scratches. For long-term protection, the watch travel case is essential. An optimal travel accessory, the case ensures protection for luxury timepieces in case of a mishandling or mishap.
When the owner unpacks the watch, the necessity of a travel case is clear. It maintains the watch or watch collection's pristine appearance and long-term performance of delicate interior workings. For frequent travelers, the travel watch case ensures protection for precious Rolex watch collections.
Design
A watch travel case complements high-end, luxury timepieces such as Rolex. With plush cushions and tough frames, the cases offer a way to perfectly display or organize lovely watch fashion statements. For travelers who enjoy the absolute best life has to offer, IFL watch cases come in a variety of designs to meet the personal taste of individual high-end watch owners.
From functional craftmanship to fashionable artistry, the distinctive travel cases are synonymous with luxury. Storing one or multiple luxury Rolex watches, an owner may effectively protect various sized timepieces by storing each asset in a box made from carefully sourced, high-quality materials.
Convenience
Traveling with one or multiple luxury timepieces requires careful planning to ensure the long-term safety of precious assets. IFL Watch travel cases offer a convenient solution for ardent travelers. For fashionable presentation, convenient organization, and essential protection, each case pays for itself over time.
Prevention is the key to ensuring an asset's long-term value and appreciation. With our high-end products, travelers may easily store favored timepieces for easy access on the road. Choosing from a selection of pristine, quality watches within the expert IFL quality craftsmanship, a Rolex owner easily dons the best timepiece to match fashionable attire. Owners may safely and conveniently store remaining watches in the luxurious travel case.
Quality
Expertly crafted to ensure long-term usage, IFL Watches travel cases bring enhanced durability to the market.
Following proprietary steps for ensuring a flawless construction, our company carefully builds high-end cases to protect luxury watch collections. Unbeatable IFLW quality raises the bar for watch owners who seek the ultimate solution for protecting valuable watch assets. By sourcing quality materials and using expert case builders, our company ensures each travel case passes a high-quality bar before distribution to consumers.
Offering hand-made products, IFL Watches brings exciting storage solutions to the expanding market of luxury watch enthusiasts. Crafted with the utmost care, our products maintain high quality, long-lasting durability, and exclusive designs.
Rolex Day-Date Puzzle Dial - Which Celebrities Own It
These timepieces, available in white, rose, or yellow gold, feature jigsaw-inspired enamel...