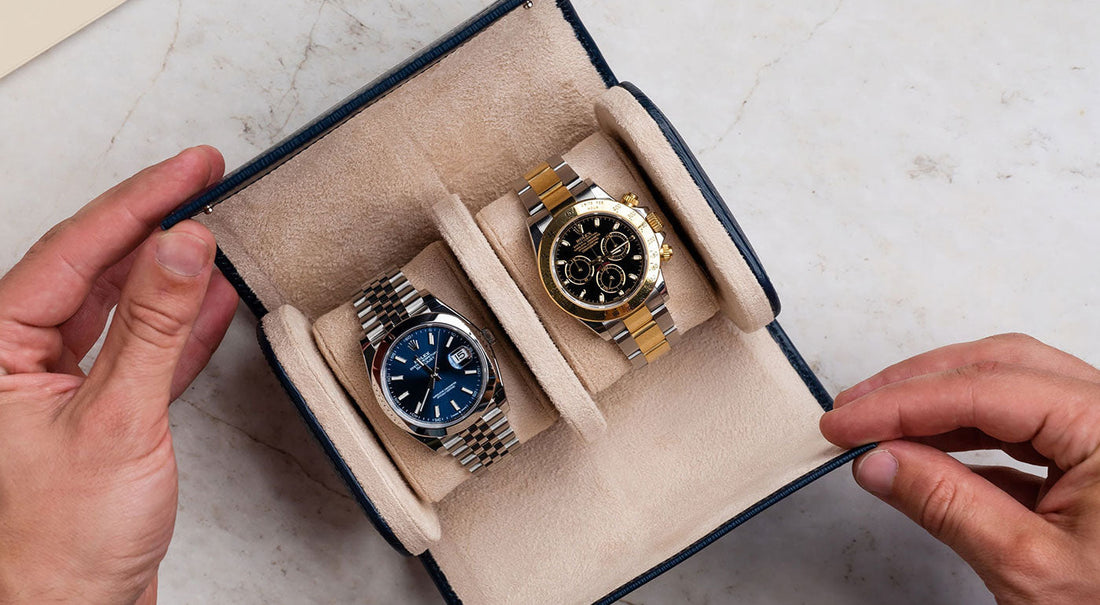 Single Leather Watch Case
When you have a beautiful watch, you must have a secure place to store it. Since it's one piece of accessory, how can you do this but keep it looking great? Well, a single leather watch case can make that possible. Finding a high-quality one that protects, secures, and showcases the best angles of your timepiece can be challenging.
Below, we'll help you find out how to pick a single leather watch case that suits your needs and your personality. But we'll also discuss alternatives for those who want to display their watch and not just store it beautifully.
Leather watch pouch
Made with soft leather that's gentle on your watch but fully protective of it, a leather watch pouch is a great choice. This leather watch pouch comfortably holds one watch with a strap or bracelet of up to 48mm in diameter.
At IFL Watches, we have them in various colours such as teal, noir, charcoal, and mauve. This means you're able to pick one (or more) to suit your personality. The cool teal is perfect for anyone who loves colour, while the sleek noir gives a subtle elegance.
The interior is the same colour as the exterior. In there, there's an insert where you can fit your watch, thus protecting the caseback and face from scratches while on the move.
Watch Roll
One of the most popular ways of storing your watches is the one-watch roll. The hard casing provides great protection, especially when you're travelling around. Keep your precious timepiece scratch-free, dust-free, and dry.
Our watch rolls are all about premium craftsmanship and are made using high-quality materials. They are handmade in Tuscany, using Black Saffiano leather. It's a true statement of pure luxury that your timepieces deserve.
You can get these leather watch rolls in sleek colours such as blue, black, and grey. But, for something a bit more exciting, check out the camouflage colours. These include vibrant blue, orange, and green hues. Flick one open to reveal the beige, black or orange Alcantara®️ lining. The interior is soft enough to keep your watch scratch-free, while the exterior is durable enough to last for years.
Suede watch pouch
If you're not a big fan of leather, check out the suede watch pouches. They are worth their price tag, available in bright biscotti, vibrant tangerine, cool marine blue, and many more. They have a similar design to the leather pouches and include an insert to wrap your watch around.
Great attention to detail ensures that each of these leather suede watch pouches is perfect. Every stitch is expertly placed for a beautiful finish. Then, the snap button that securely shuts the pouch is hidden under the flap. This gives a sleek and seamless look.
Conclusion
It's clear that there are many choices for anyone looking for a single watch pouch. Made with some of the finest leather in the world, IFL Watch's watch cases are designed to protect and give you something you'll be proud to have in your hands.
Rolex Day-Date Puzzle Dial - Which Celebrities Own It
These timepieces, available in white, rose, or yellow gold, feature jigsaw-inspired enamel...